Why The New Future Of Africa's Evolution is SOAD
After the Crimes of Colonial history justice is on its way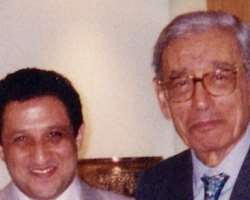 As Special Adviser Prof. Errouaki on the left and former UN Sec. Gen. Boutros Boutros-Ghal
State Of the African Diaspora (SOAD)
As the world shapes beyond the over 70year old unipolar order of US dominance with the raging Russia Vs Ukraine War, so does the state of the African diaspora. There is no doubt that Africa's need for a united state of being has finally found the social,. economic and cultural forces of impetus to become. This revolutionary plan has several strategic and key actors, one of which is the eminent Professor Dr. Karim Errouaki. He has recently been nominated as the Minister of Finance and International Development of the State of African Diaspora (SOAD).
It is noteworthy to express the bigdata reality that at about 350 million inhabitants, the African Diaspora is the "third largest country" in the world after China and India. This is statistically shows SOAD is ahead of the United States with 323 million citizens, Indonesia with 258 million and Brazil following with 205 million people. Before this progressive shifting of the world order ongoing, the State of the African Diaspora (SOAD) was not quite structured, and possessed no potential entity status. It became clear to Mohamed Ould Abdel Aziz, who is the current Chairman of the African Union (AU), to mandate Dr. Louis-Georges Tin to set out and give palpable origin to the African Diaspora bodies. This mandate to "give substance" to the African diaspora therefore was to become a reality.
Under the leadership of renown all African cerebrals critical energies had been mobilised to create the State of the African Diaspora (SOAD), which was officially launched in July 2018. All empowered with its own constitution, government, parliament, ambassadors and actionable programs, the State of the African Diaspora (SOAD) is determined to strengthen the Africa journey to competitive modernization through the diaspora, and the Diaspora through Africa. The State of Africa Diaspora (SOAD) has achieve palpable results as Launching of the Royal Chamber of SOAD, Launching of the Pan-African Caucus, Finance: Creation of her own Currency, the "Lumi", Vote for a European Union (EU) Resolution on Reparation and Restitution, and launching the infrastructures of 33 Smart Cities across Africa. Other milestones include the agricultural revolution in the form of establishment of the Pan-African Agribusiness Commodity Exchange, The SOAD University, the citizenship Masterplan with the creation of the SOAD Identity Card. There is also the creation of the Space and Satellite Program to ensure Africa is not left behind in the democratisation of spacing infrastructure and spacefaring. The tenth is the birth of the Pan-African Olympic Games.
Under the SOAD's Ministry of Finance and International Development meticulously curated by Professor Dr. Karim Errouaki there is set to be a neo-financial model and capital system to sustainably entrench Africa's own chaebol and zaibatsu corporations grown from within as also mass entrepreneurial empowerment to drive commerce and trade with a new wave innovation. It is well known that there is no political sovereignty without monetary sovereignty. This is why the African Diaspora State has opted to the adoption as one of its currencies, the "LUMI". This unique currency is based on solar energy (light) and pegged to gold, as.well as it is intended to support the Pan-African world to thrive on the trade front in all capacities. it is based on this econometrix that every individual in Africa and in the diaspora is entitled to receive the equivalent of 100 dollars in Lumis every month for three years. To become a partaker of this financial revolution one is simply to open their lumi wallet account online. In a world where cryptocurrencies have held sway and new digital payment systems and models based on geolocation on have taken firm grip to drive consumer adoption. Prof. Dr. Karim Errouaki in his new role at SOAD knows all too well that the Lumi no doubt will need to provide geolocation based offers and other contextual based prompts which will provide incremental value to African consumers of this fiat currency which will be essential for digital wallet adoption to grow.
The State of the African Diaspora has made it clear that it is willing to support in the developmental adoption of the Lumi with the African countries that wish to do so. In addition the Lumi was proposed at a valuation and exchange rate of $15:96 and the currency will be institutionally managed by the Central Bank of the Maroon Territories, in Jamaica. Nigeria's Central Bank has been sensitising for the adoption of the e-Naira and expressing that the physical Naira currency will soon go out of circulation. It would be great to see Africa's largest economy orchestrate a Lumi and e-Naira exchange that would be seamless and ubiquitous. This also would need to be witnessed across the other 54 countries on the black continent especially with the signing and ratification of the Africa Continental Free Trade Agreement (AfCFTA) that seeks to make Africa the largest free trade zone in the world. Coordinating this delicate inter-currency balancing act across the would be the job of Prof. Errouaki and his expert team.
Prof. Dr. Karim Errouaki and Fmr. President Olusegun Obasanjo.
In new paradigms of success for Africa the Prime Minister of the State of the African Diaspora is behind the French law which allowed the restitution to Benin of the first cultural treasures. He is also behind the decision of the Belgium Government who finally accepted to restitute the stolen artifacts to the Democratic Republic of Congo. In March 2019, the SOAD Prime Minister obtained another historic victory which is the vote of a resolution in the European Parliament calling on European countries to implement restitution and reparation policies, taking into account the crimes related to slavery and colonization. This definitely is another big remarkable milestone for SOAD and Africa. To put the above in historic and economic perspective Naveen Patnaik, the Indian politician concluded that Britain plundered almost $45 trillion from India between 1765 to1938, based on nearly two centuries of precise tax and trade data. This amount is almost 17 times the current combined GDP of Britain and India. Africa reparations to be paid would be left to the renown Prof. Dr. Karim Errouaki to give numerical expression to, after all mathematics and economics are his original forte of study.
Professor Dr Karim Errouaki was born on April 19th 1959 in Morocco. He is a Canadian citizen. He was educated in Paris and New York. He holds a B.Sc. (Mathematics and Applied Economics) Degree (1976-1979) and a M.Sc. (Econometrics) from the University Paris-Dauphine (Joint Master Program in Econometrics run jointly by University Paris-Dauphine, ENSAE and EHESS) (1979-1981). He holds a Doctorate Degree (Ph.D.) in Economics from the New School for Social Research, The New School, New York *(Joint Doctoral Program run jointly by the New School, *New York University and Columbia University) (1984-1990). He also holds a M.SC in Mathematics and a Doctorate in Mathematics and Neuroscience and several professional and executive degrees in the field of Finance, Strategy, Leadership,Transformational Management, Diplomacy, Intelligence, Political Communication, National Security Strategy, Political Communication and Geopolitics. He holds several Doctorates Honoris Causa.He is an International Expert in International Finance, Money & Banking, Macroeconomic & Monetary Policies, Macroeconometric Modeling,Transformational
Growth & Economic Development, Economic and Strategic Intelligence, Organizational Strategies, Lobbying, National Security Strategy and Geopolitics. He is a leading authority on Capital Deployment Strategy, Global Assets Management, Economics of Fintechs and Digital Currencies, Project Finance and Political Economy of African International Relations. He has served in several international organizations, governments and financial institutions in different aspects of economic development and economic and monetary policy issues in Europe, Latin America, Asia and Africa.
He was a Special Advisor to Prof. Dr. Boutros Boutros-Ghali during his tenures as: Secretary-General of the United Nations Organization, NY (1992-1996), Chairperson of the International Panel on Democracy and Development created by UNESCO (1997), President of the Society for International Development (1997-2000), Secretary-General of the International Organization of La Francophonie, Paris (1998-2002), President of the Institute for Mediterranean Political Studies, Club de Monaco (2002-2006), Chairman of South Centre, Geneva (2003-2006), and President of the Egyptian National Human Rights Council, Cairo (2004-2014).
Errouaki was a Special Advisor to Prof. Dr. Federico Mayor Zaragoza, during his tenures as Director-General of the UNESCO, and co-President of the United Nations Alliance of Civilizations High Level Group. [During this time Mayor was also Chairman of the European Research Council, President of the Foundation Culture of Peace, and President of the International Commission Against Death Penalty.
Errouaki has recently begun working on two new book projects. The first, with Nobel Laureate Robert Mundell and Edward Nell will be a venture directly into International Economics. The book will be an updated version and extension of Robert Mundell's 1968 textbook on International Economics (Macmillan, 1968), extending the discussion to globalization and to international monetary instability. The new book will maintain a strong historical perspective and draw on Mundell's many lectures and research on monetary history since the book was first written. The book will be coauthored with Robert Mundell and Edward Nell and the provisionally titled ―International Economics‖ (forthcoming, Palgrave Macmillan, 2022).
Whilst holding his Ministerial position at SOAD, Prof. Dr. Errouaki is working currently on five books and several articles with Prof. Dr. Edward Nell, Prof. Charles Goodhart, Prof. Dr. Willi Semmler, Prof. Dr. Aris Spanos, Dr. Ibrahima Kassory Fofona and Dr. Rwabizambuga Alexis. He is Also Ambassador of the International Organization of Latino American Mayors for Sustainable Development and Climate Change (OLA-DSCC) to the UN Economic Commission for Africa, the African Union, ECOWAS and CAFRAD with Permanent Mission in Madrid.
Other critical areas for Africa's development will be in sports but also very critical is in space development. The State of the African Diaspora has created a space program run by astrophysicist Cheick Modibo Diarra, who has led several NASA programs, who used to be Prime Minister of Mali and who is also the Minister of Sciences and Industry of SOAD.The economic profits of space have led to signing of different cooperation agreements with strategic partners in India and South Africa, the objective being to create a Pan-African satellite and a Pan-African Space Center. Conclusively, the calculus and economy of space as also of meticulous and sustainable developmental advantages to Africa and it will be part of the responsibility of Prof. Dr. Karim Errouaki given his mathematics background. With the space team amongst others he will need to make invaluable contributions to the SOAD footprint with every inch to shape Africa's future in space and on terra firma for generations to come.
Disclaimer:

"The views/contents expressed in this article are the sole responsibility of the author(s) and do not necessarily reflect those of The Nigerian Voice. The Nigerian Voice will not be responsible or liable for any inaccurate or incorrect statements contained in this article."