Anayo Edwin: Profile Of A Leader Whose Constituency Is Humanity.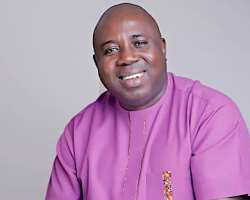 Anayo Edwin began life as a private business man. As a positively unusual person for whom self comes last, Anatex began radical investments into humanity through charity works even before finding strong footing in business. Anatex was also a social galvanizer. He nurtured non-indigenes in Bayelsa State into political relevance. In 2012, he was appointed SSA on Non-indigenes Affairs by Governor Seriake Dickson of Bayelsa State. This grassroots sports developer and man of peace continued his positive influence on human lives.
Hon. Anayo Edwin
His overflowing goodwill endeared him to his people who invited him into politics and voted him to represent Ezza North/Ishielu Federal Constituency in 2015. Following Anayo Edwin's track records in office, the grateful constituents of Ezza North/Ishielu Federal Constituency re-elected him in 2019. This fired Anatex who is rightly seen as a conscientous manager of public trust and charity worker to escalate his investments both in his constituency and in the entire Ebonyi State. Constituency projects like classroom blocks, rural roads, instructional materials for schools, small town and water boreholes, trainings and distribution of wealth creation equipments, bridges and culverts, electricity projects dot the entire landscape of Ezza North/Ishielu Federal Constituency. The icing on the cake was the many federal employments he facilitated for scores of the youths of Ezza North and Ishielu LGAs.
Anayo Edwin accentuated his medical amnesty programme paying bills of discharged but detained patients in hospitals and mobilizing them with funds and logistics for self-reliance. Anatex gave scholarships and educational aids to students from every corner of Ebonyi State. Anayo Edwin was the first to donate modern houses, cars and motorcycles to people across Ebonyi State without political caveats or conditions attached to the gifts. The community of physically-challenged has continued to sing the pristine investments of Anatex in their lives. Anayo Edwin has won accolades for nonviolent and peaceful political career, grassroots sports development and human capital development.
Through all these and more, Anayo Edwin made humanity his constituency. Hence, the patriotic demand or call by Ebonyi people that this humble, peaceful, unassuming and detribalized apostle of Ebonyi common good, Anayo Edwin, come to "Rescue Ebonyi 2023" - a call that Anayo Edwin answered through his official declaration for the 2023 Ebonyi gubernatorial election on 9th April, 2022.
As the Peoples Democratic Party gubernatorial primaries approach on 24th May, 2022, the delegates are presented with a proven astute and conscientious manager of the public trust; a visionary leader with a feasible, home-made economic development masterplan for Ebonyi State; a man whose constituency is humanity - Rt. Hon. Anayo Edwin! A vote for Anayo Edwin is a vote for a prosperous Ebonyi State of equal opportunities for all. A vote for Anayo Edwin is a vote for a new Ebonyi State where prosperity will be measured in the quality of lives of citizens and not on pedestrian decoys. PDP delegates are hereby charged to rebuild Ebonyi State by voting for Rt. Hon. Anayo Edwin, a man whose constituency is humanity!