In The Wings Of Nollywood - Naya Amobi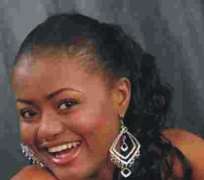 THE first thing that strikes you when you see her is her apparent innocence, then the more you get to know her the vivacious zest for life starts coming through. Then there is a little mischief in the eyes that gets you wondering if you are mistaken about the innocence. Whatever you think of her really you get the feeling that this young woman is destined for somewhere that is not definitely the lower rungs of the ladder.
Neither is her story that of grass to grace for she is a Royal Princess from the ruling house of the Ogidi Kingdom in Onitsha, Anambra State Nigeria.
The fifth child of Prince and Mrs E.C. Amobi she has not stopped at being a natural princess but has gone on to be a beauty Queen whose head has carried the crowns of Miss Diva 2003 and Face Of Abia, 2005, 3rd runner up in the Miss Intercontinental Pageant in 2004 and also a contestant in the Most Beautiful in Nigeria (MBGN) and beautiful she is. She carries an ethereal quality that she hopes will help her conquer the movie industry.
"That is the reason why I am studying theatre arts. I have very tall ambitions I want to conquer the film industry not just in Nigeria but everywhere else."
Tall ambitions for a tall girl. Standing at 5. 10' Naya is not your average beauty without brains because she knows exactly what she wants and is pushing for it. Apart from being a successful actress, she also has dreams of being a successful bag designer and humanitarian. She wants to build schools for the less privileged.
"there are those in our society who are not considered in the scheme of things. Free education is still a mirage in a lot of states and the high fees that are being paid in both the public and private schools means that a lot of the less privileged in our society are not getting the education they need which simply means that the circle of the rich getting richer because they ultimately become better equipped and the poor getting poorer just continues. The schools are also not friendly to the disabled. The walks ways and classrooms are not designed to accommodate their needs. We need to get these things right"
A third year student of Theater Arts at the Nnamdi Azikiwe University Awka, Naya is getting equipped for her dreams but how does she hope to survive in an industry that is riddled with stories of sexual harassment and favoritism
"I believe that with God on your side and a lot of hard work your talents will always be appreciated. Those who are getting harassed are those who leave an opening for the harassment."
A firm believer in the future of the nascent movie industry, she thinks that the Industry as presently constituted has a great future ahead of it. " it is a growing industry, full of talents and very lucrative too. We know that we have problems right now but if we continue working at it, we will get it right finally."
What then qualifies Naya to have an opinion on Nollywood. "Nothing much. I am like waiting in the wings. I have been in a lot of stage plays and I have done a movie , RUDE GIRLS where I played the challenging role of a lesbian."
That might be a no brainer and a death sentence being that there are so many negative stories of sexual perversion in Nollywood. "No I don't think so. It was a sensitive role and it is art. That does not mean I am lesbian. Art represents life so the actress must be ready to represent every aspect of life."
So if women do not catch her interest what about the men? What type of man would she take home to Daddy?
"Someone real, honest and God fearing"
With bag loads of money we might add because Naya's favorite holiday spots are Paris and Calabar. Husband to be should also be ready to handle a woman with strong opinions on feminism. " It's every woman s right to be what she wants to be, regardless of what people say, so far it's in consonance with her belief in God and her principles."
Strong words for one so young but then it looks like strong women inspire Naya as her favorite actresses are Merryl Streep and Liz Benson. She considers Genevieve Nnaji a rock in Nollywood, Mercy Johnson hugely talented and fancies Majid Michael and Tyler Perry.
A believer in educations and with plans to continue her education at the prestigious New York Film Academy Naya does not think it will be fair to run any comparison tests between Nollywood, Hollywood and Bollywood
"I can't compare them because both Hollywood and Bollywood came out way before ours. They are more advanced in terms of technology, locations, costuming etc….for Nollywood, we need more creativity and yes, the government, should support us in terms of funding and giving of locations, props and other production values."
That has always been the song of Nollywood. Everyone believes the government should wave a magic wand and get things to start working. What would Naya do if she was president of the country even if it was for a day.
"Light issues…I will give light to my citizens first because there s this joy whenever there's light even if you are not using it but I I don't have to be president because we have a good president and I believe he is on the right track and if he decides to run again personally, I will vote him."
As she picks up her red designer bag and makes to walk away. She turns and the twinkle which had been hidden for a while by what she considers the seriousness of the interview returns.
"You know I got into pageantry at a tender age and that was because I wanted to be out there doing something for myself. I think every girls should be out there doing something for herself and refuse to depend on anybody but the most important thins is to have fun while you are doing whatever it is you are doing. Life is too short to be wasted on things that don't count."
As she glides off you get the feeling that she might be waiting in the wings but we don't think it would be a long wait. Watch out for this one.

Naya Amobi