ANXIETY OVER LULU'S MUM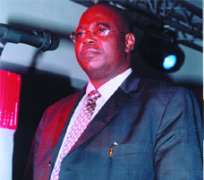 Sanni Lulu
Family of the kidnapped Hajia Laraba Abdulahi, mother of the impeached president of the Nigeria Football Federation (NFF), Sanni Lulu, has lost confidence in the Nigeria Police's ability to locate the den where the abducted matriarch has been kept for eight days.
In a telephone chat with Daily Sunsport, Lulu said that the family had lost faith in the police who had succeeded in securing the release of journalists kidnapped almost the same time with his mother.
He said it was injustice to treat his own case with kid glooves, while the journalists' case was treated with all seriousness.
He further said that the family had agreed to use other means avaliable to them in locating the whereabouts of his mother as the family does not want to lose her.
Lulu said members of the family could not sleep after their mother was sprited out of their home in Idah last weekto an unknown destination.
According to him, instead of relying on the police, we need to move and make our own efforts with hope that it would yield result.
'From the very day our mother was taken away by the kidnnappers, we did not waste time in reportring to the the Commissioner of Police in Kogi State as well as the Inspector General of Police, Ogbonnaya Onovo, but since then, nothing seems to have come out of it. All we want to do as the police continue their own search is to make our own frantic effort,because we are no more comfortable staying home without our mothe as the abductors are insisting on the N200m ransom.
Besides, since the day she spoke to us crying, we are no longer at ease, but have been doing every thing within our power to ensure her freedom.
'As it is, some of our peolple have gone tracing the den of the kidnappers, and we are believe that something positive would come out from it. That is not to say we ignore the efforts of the police.4 We only out to complement their efforts.
'We also appreciate some Nigerians who have been helping in their own ways on the issue. All we are after is the safety of our mother'. It would recalled that since the kidnnppers demanded N200m ransom for the release of the woman, they have rebuffed all pleas of the Lulu's family .