Of Obiano's Touching Farewell Speech And How Loss Of Power Reveals Fake Friends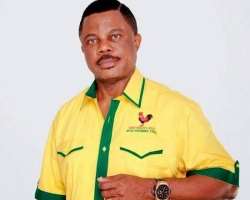 Chief Willie Obiano (Former Governor, Anambra State)
Journalists are wont to boast about the famous people they've met in the course of performing diverse journalistic duties as newsgatherers. Against the backdrop of former Governor Willie Obiano's recent touching farewell speech, one may not be wrong to say that one of the inquisitive journalists might had triggered his emotion that the former governor went on to recall how he stepped on many toes and lost several friends in the course of his eight-year stay in office as the governor of the state. The governor who made the disclosure in his farewell speech on Wednesday, March 16, 2022, pleaded with those he offended to forgive him, emphasizing that his actions were for the good of the state.
He burst out emotionally, "Brothers and sisters, as your governor, I worked under extreme pressure. I took many hard decisions. I stepped on toes. I didn't answer some phone calls. I lost some friends on account of these," he said.
The former governor, who served out his tenure on March 17, handed over to the former governor of the Central Bank of Nigeria (CBN), Prof. Charles Soludo on the same day.
"Umunnem, I'm also aware that I did not fulfil every promise I made. But no government in the world has ever kept all its promises or solved all the problems of its time. However, my intentions were pure and my ambitions sincere. Let history be the judge," Governor Obiano said.
Of more concern to yours sincerely is an unverified version of his farewell speech titled, "Heartfelt Lamentations of Chief Willie Obiano" that is trending on social media landscape.
As contained in the unverified social media version, the former governor asked, "Where did I go wrong and how is it possible that everything that could ever go wrong, has gone wrong right before my eyes?
"I look around me and the walls keep crumbling, from aides in whom I placed so much trust betraying and brazenly disrespecting my wife to many others who only a month ago, swore that I was the best thing after God Almighty, now poking nasty jokes at my expense?"
"My God! Is this how Power is? This transient nature where one day, they hail you to high heavens and tomorrow, they curse the very ground you walk on?"
At this juncture, it is expedient to ask, "What takeaways as lessons are inherent in the foregoing farewell speech? The takeaways cannot be farfetched as the former governor's speech substantiates the fact that when individuals find themselves having power that they equally find themselves within a certain sphere of influence, and are by that surrounded by persons of a certain class or status. So, for example, where someone is a governor, like Obiano was for wont to be, he would be surrounded by a huge populations of followers, hanger ons or better still the "Otinkpus".
In fact, being up there predisposes someone like Obiano to be able to socialize with a certain crowd and be invited to attend their parties and functions. Generally speaking, access and power can allow us to be surrounded by people, and we tend to forget where we are coming from. The lesson we learn from Solomon (Ecclesiastes 5:18-20) is that we must remain humble, because the only thing of lasting value in this life is our relationship with God. How we treat others and the genuineness of our relationships with those closest to us, determine a lot for our future.
Whether we like it or not, "Power comes, power goes". Administrations come, administrations change. Power and influence come, and without warning, they can go; and when these things go, you will then know who your true friends are, and the fake ones will be exposed.
Many politicians that are today ex-this and ex-that can testify to the fact that once someone loss the grip of power that he or she can no longer attend the functions, parties and rub shoulders with the who's who. This is even as the cash at such person disposal will by each passing day be depleting amidst dues or fees to maintain club or group membership, and many praise singers who think the monies are literarily still available as they were. It is at this stage of life that VIPs in the league of Obiano get to understand fake friends are revealed as they no longer take calls and invitation to their yacht cease coming. It is usually a trying moment where anyone that has lost the grip of power. To those in business circles, it is the moment when they are no more introduced as the latest new business moguls on the block, and they are no longer on the 'okay list' of invitees. Instead of a direct connection, they now have to go through the secretary, who always tells them, "He or she is on the road right now. Can I take a message?" Now embarrassment sets in, because you were a star yesterday and today you are nobody. So now, you are feeling like a failure, even suicidal, and you can't believe that the people who you thought were your friends would not even look at your resume or give you a call back.
At this juncture, permit me to talk to former governor Obiano directly in this context. Your Excellency sir, even family members who would invite you over for dinner or call you for a favor or two, won't even give you the time of day.
Now, the people and the church that you might hadrejected, those you scoffed at before because you were so focused on work and lifestyle and even thought were beneath you, and that the pastor was only after your money, and now they will be the only ones who willingly reach out to you.
The very church or organization you scoffed at before, that sought your help in the past for their church or charity and for the benefit of the poor, are at the ready to come to your aid when you are down, despite the fact that while you were in power, you would cough out the last dollar to 'help' those fake friends who have now rejected you.
For those of us that are not there yet, learn the lesson. Never allow your environment to influence your choice or be the basis for choosing your friends or making decisions. Some people neglect their family and the people who genuinely love them, and have their best concern at heart, in exchange for fake friends. There are more fake friends in this world than fake news. The moment people believe that you can't do anything for them, they drop you like a hot potato. Know that despite what you see or think you know, people will surround you only for what they can get from you, and nothing more.
Even the suffering you are going through now is to birth something new in you and to open your eyes and your discernment. Hardship is an eye-opener for sure. Furthermore, your decision-making skills will be better and you will be a better leader for it. Sometimes fake friends blind us from seeing the true pictures and your true potential. While material things may disappear, you are mentally and emotionally stronger having gone through that. Be that as it may, the most salient message in this piece is, never let money or power go to your head. Always remain humble.
Sandra Ijeoma Okoye (Author)