Complaint Of Bad  service From Ibom Air Staff At Calabar Airport:  Demand For An Immediate Apology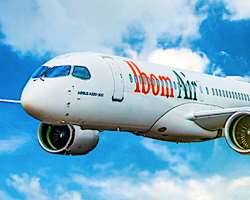 I write as a highly aggrieved passenger of Ibom Air flight QI0500 from Calabar to Abuja of 6th April, 2022.
It started at the check-in area at about 10:45 am or thereabout. I sought to get my boarding pass when a staff of the airline demanded to weigh the single pilot bag I was carrying.
I told him that I intended to make it a carry-on luggage and I had carefully made sure that it was a small bag enough to fit the plane cabin but he insisted on weighing the bag which I obliged him.
Upon weighing the bag, it had 11kg weight and he informed me that I couldn't take it on the plane as carry-on luggage. I protested to him that the size of the bag was small and the only heavy thing I had in the bag was an HP Envy Laptop and an 11-inch Samsung Tablet but he insisted that the size didn't matter but the weight and the airline regulation is that a passenger couldn't bring onboard a carry-on luggage that is beyond 7kg in weight.
I told him that I had arrived Calabar from Abuja two days earlier on the same Ibom Airline with the same bag and same weight as carry-on luggage, and made known to the airline's attendants in Abuja to be a carry-on luggage and they allowed me. They didn't even weigh it. I told him that I didn't see minimum weight of carry-on luggage in the terms and conditions written on the earlier mail the airline sent to me. I brought out a copy and showed him yet he insisted, saying the regulation is stated on their website.
Barrister Frank Tietie's photo on billboard around Calabar airport road as Guest Speaker at the ongoing NBA Calabar Law Week
When I opened the website I saw the minimum of weight of carry-on luggage stated to be 7kg indeed and I agreed to have the item checked-in but again the attendant said I should remove the laptop and the big Samsung Tablet from the bag before it would be checked in. I told the him it would be difficult for me to hold the laptop, the 11-inch tablet and my phone in my hands since I am carrying a single small bag which he was demanding I must check in. He insisted!
So I demanded to see the manager if there could be any consideration for my situation and if I could make the bag a carry-on luggage since the bag could fit into the cabin though over and above 7kg as stated in the website of the airline. But the attendant told me that I couldn't see the manager as he/she was not on sit.
I was then in the open hall, forced to open my already arranged bag to remove my laptop and the 11-inch Samsung Tablet. The airline attendant took the bag from me again and weighed it and it became 9kg in weight. He brought the bag from the scale himself and asked me to push down the flip-up handle of the bag. I vehemently asked him why he couldn't do it? He insisted that I must do it myself. I was very angry and asked him in a high tone whether he had anything against me to fail to reason that I was carrying two delicate machines in addition to my phone in my two hands yet he was insisting I must push down the flip-up handle of the bag? He insisted that he was not going to push the handle down. I asked him whether he wasn't he the one who had just carried the bag onto the scale by himself and weighed it? And why couldn't he just push down an ordinary flip-up handle of a bag? I raised my voice at him asking if anything was wrong with him? He insisted he wasn't going to help push down the flip handle before he would put it on the scanning carriage as he was expected to do. So I leaned and bent down to use the my elbow to push down the flip-up handle of the bag before he carried off the bag on the scanner and it rolled off.
Reeling from the humiliation I had just received from the airline attendant, as a lawyer wearing a three piece suit and now holding my laptop, the 11-inch Samsung Tablet and my phone- three gadgets in my bare hands and without a bag, I not only felt awkward within, I became an irregular sight from peering eyes.
In that moment while holding my gadgets, near the counter I saw a man who sauntered to collect his boarding pass. I noticed that he had two bags with him and one of the bags was obviously much bigger than the one I was carrying which was subjected to the airline's scrutiny. I also noticed that the man did not subject his bag to be weighed and when another of the airline attendant demanded that the bag to be weighed, the man (passenger) said something to him and the airline attendant backed off.
The said passenger who was casually dressed quickly collected his boarding pass and began to proceed to the departure lounge. Again, I became curious and asked myself if the airline attendants had anything against me, perhaps for dressing in a three piece suit. So I paced up to the passenger who had just enjoyed the privilege I was denied and asked him how he was able to carry a carry-on luggage with one apparently bigger than the one I was denied entry. I further asked if he was a military man or had a business class ticket and he smiled and said no. And that if I was ready to "play ball" (give a bribe), the airline attendants would have allowed me take in my bag as carry-on luggage.
The two bags that were not weighed belonging to the passenger who told me that the airline attendant were giving me a hard time because bi didn't "play ball" At that point I became infuriated and while he was there, I turned to the airline's attendants and questioned them why they were allowing the other passenger to go with two carry-on luggage which were not weighed or was it because I didn't give them a bribe? The attendant replied that I had defamed him for insinuating he had taken a bribe for allowing the other passenger to proceed without weighing his bags.
With a sense of discrimination from the unprofessional conduct of the attendant and with no superintendent of the airline to complain to, having been told they were not available, I quickly turned to the SERVICOM desk in the departure hall and demanded to lodge a complaint of discrimination on account of perceived refusal to give a bribe.
The SERVICOM officials refused to accept my complaint in writing but chose to take me to the Ibom Air office in airport where I was further humiliated by a woman said to be the manager but a highly untrained and temperamental personality.
When the SERVICOM officials brought me to the office of the airline, I met a courteous man seated in the front desk, who asked me what the problem was and thinking he was the manager, I began to explain to him that I would have come to him earlier but his staff in the hall had said he wasn't around and that I had a complaint of discrimination against his staff and concluded that they gave preferential treatment to a man who told me that it was because I didn't "play ball". The man then pointed me to talk to a woman sitting beside him who is the manager.
My single bag that was denied entry for weighing 3kg more.
The said manager started interrogating me and challenging me for daring to say her staff took bribes? I tried to explain to her that I didn't say so but that she should listen to my complaint first but she kept ranting that I cannot prove that I saw her staff collecting bribe. At that point, the man I met earlier in office corrected her that I never said that the staff collected bribe. Instead of taking the correction, she pounced on the man (her colleague) with a verbal attack on him that he should stay away from the matter and turned to the SERVICOM staff for rescue but they repeated to her that I never said the her staff collected bribes. Realising that she had goofed, she kept a bold face and began to raise her voice at me that I said her staff collected bribe. I told her that I was so disappointed in her if that was her reaction as a manager. She further raised her voice again threatening me that I shouldn't insult her. And I simply walked away to stay by the SERVICOM desk but she briskly and defiantly walked past me to the SERVICOM desk and demanded to see the supervisor and when they told her that she he wasn't around, it was then she decided for the first time to go and question her said staff on what actually happened. She never got back to me. I am supposed to be a passenger of the airline that employs her.
I was forced to hold my laptop and tablet in my bare hands all through the time of the flight delayed in the departure lounge and all through the flight.
The flight was delayed and I took pictures of the bags with the man who did not weigh them. I also waited to the point of boarding to see whether the man would be requested to submit his bags for check in on account of the size being bigger than mine that was checked in earlier. It didn't happen. I saw the said manager standing by as the passengers filed along to board the aircraft. Thinking she was going to apologize for her unprofessional conduct, it was then another attendant demanded to put sanitizers on my hands. Which hands? I said that I had just washed them and I was holding in my bare hands my laptop, and 11-inch Samsung Galaxy Tablet, my boarding pass and my identity card, how am I supposed to apply sanitizer to my hands? Which hands? At that point the manager blocked me and said if I didn't apply the sanitizer, I wouldn't be allowed to board the plane. When I realised that she was incorrigible and unwilling to reason with me and being at the foot of the plane preparing to board, I cramped my items in one hand and stretched out the other hand for them to apply the hand sanitizer. And they made sure they poured a handful of it on my palm. I simply immediately swung off the stuff from my hands and boarded.
I consider all of the above to be bad treatment and bad service. Therefore, I am giving the airline 72 hours to publish an apology to me in whatever form or else I will deploy every known legal resources to seek redress.
I was in Calabar as a Guest Speaker at the ongoing NBA Calabar Law Week. And in my address on the way forward for the future of Nigeria, I identified the need for government and all authorities to treat individual Nigerians right by respecting their rights as individuals. Such focus on individualism will change the paradigm of both public and private treatment of citizens which will make for a better and enduring country.
I will not accept such cold-hearted, poor treatment and violation of my consumer rights by fellow Nigerians who assume that working for a government airline makes them above the law and can treat people anyhow. Thus after spending time to come to Calabar for two days to urge lawyers and hundreds of other person for the rebirth of our country's values thorough active engagement of institutional wrongs, I will not accept this kind of mistreatment from an indigenous airline. Mark my resolve on this matter. If they can do this to me, I wonder what they may have been doing to others? This is unacceptable!