KABUL SUICIDE BLAST KILLS THREE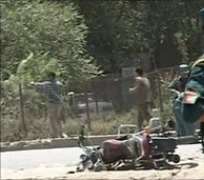 At least three people have been killed by a suicide bomb in the Afghan capital, Kabul.
Television pictures of the blast site showed a motorcycle overturned in the middle of a main road.
Security has been tightened across Kabul ahead of an international conference on Tuesday.
Among those scheduled to attend are the heads of Nato and the United Nations, as well as the US Secretary of State, Hillary Clinton.
Last month, the Taliban launched rocket attacks and fired shots timed to coincide with the opening of an Afghan conference, or peace jirga.
The interior minister and the head of the intelligence service resigned as a result of the incident.