Who Is Abya Ahmed Ali, Let's Know More About Him?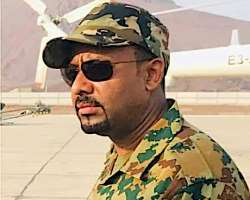 Some view him as a war criminal others as a national hero. Some view him as a dictator and others as a liberator. Whether you love him or hate him, you can't deny the fact that he is one of the most influential leaders in East Africa today.
Abiy Ahmed Ali ( Amharic: አብይ አሕመድ ዐሊ; born 15 August 1976) is an Ethiopian politician serving as the 4th prime minister of the Federal Democratic Republic of Ethiopia since 2 April 2018.
He was the third chairman of the Ethiopian People's Revolutionary Democratic Front (EPRDF) that governed Ethiopia for 28 years.
At the age of 14, in 1991 he joined the army.
At the age of 33, in 2008 he became head of intelligence.
At the age of 34, in 2009 he earned a Bachelor's degree in computer engineering from the Microlink Information Technology College in Addis Ababa.
At the age of 36, in 2011 he earned his Master's degree in transformation leadership from the International Leadership Institute in Addis Ababa
At the age of 38, in 2013 he obtained his second Master's degree (MBA) from the Leadstar College of Management and Leadership in Addis Ababa.
At the age of 40, in 2015 he became the Minister of Science & Technology.
At the age of 42, in 2017 he earned his PhD from the Institute for Peace and Security Studies, Addis Ababa University.
At the age of 43, in 2018 he became the Prime Minister of Ethiopia.
At the age of 44, in 2019 he was granted the Noble Peace Prize for settling a more than 20 yrs old conflict with Eritrea.