Executive Indolence And The Travails Of Effium War Refugees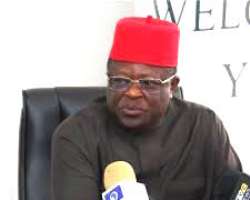 As an NYSC Batch B ex-corper, I was in Effium motor park on 22nd January, 2021 when a misunderstanding over motor park management rights broke out in Effium, a rainbow community in Ohaukwu LGA of Ebonyi State between Paul Elom and Godwin Nwankwo both, I learnt, were loyalists of Ohaukwu LGA Chairman, Clement Odah. That this misunderstanding festered into a war with death toll of about 5000 and massive destruction of properties under the watch of a governor who has severally mentioned his officials in live broadcasts as those who caused and are sponsoring the war beats human imagination. What is more confounding is that while those the governor identified as sponsors of the war move freely, he has continued to look elsewhere why people die daily in the avoidable war. I have continued to follow the war on behalf of the rights group I work for, and I have discovered the following. Many mercenaries arrested were released. Reports of panels which the governor put in place to inquire into the remote and immediate causes of the war and to investigate the alleged escape of mercenaries arrested and handed over to the police by the GOC 82 Division of Nigerian Army in April have all been swept under the carpet by the governor. Many meaningful suggestions on how to end the war have equally been ignored by the governor. Yet, scores of people die daily in Effium Community.
The mobilisation of five engineers to a road construction site in the war zone by the governor is another wonder which many have been trying unsuccessfully to fathom. The governor said in a security meeting in Abakaliki that the engineers were abducted, but people ask the following questions. Was the road project a higher priority than the war? What value does the governor attach to Ebonyi or Effium lives? Why did the governor send them to the war zone without security? Is it possible that people in nearby Enugu (the alleged place of residence of the engineers) who have business interests in the war-ravaged Effium Community did not hear the news of the carnage that has been on in Effium for close to a year now? Were they not aware of the general insecurity in the country so as to request for security escorts? Were they engineers going to construction site as the governor said or war mercenaries going to war as some people think? If they were mercenaries, on which side of the war were they sent to fight?
For a second time, security men had been attacked in Effium war zone. In the first attack, one of the attackers was gunned down in the duel by the police who kept quiet when desperate attempts by Uffiom people to hang the attack on security men on Ezza Effium natives was debunked by available incontrovertible evidence. Ebonyi State Police Command did not also investigate that attack on security operatives. The recent attack on security men in Effium war zone is gradually being converted to an object of propaganda and for settling unlawful emotional scores by Ebonyi state actors, the police in Ebonyi State and security operatives in the war zone. A few hours after the alleged attack and before investigations into the attack of the security operatives would commence, the PPRO Ebonyi State Police Command issued a statement alleging that it was Ezza warriors that attack security men at the cost of heavy casualties on the side of the attackers. Thereafter, the governor accused one Ambassador Paschal Oluchukwu of sponsoring the war and Ezza Ezekuna people of sheltering killers in their ancestral homes. After these rash allegations, combined teams of heavily armed soldiers and policemen have been subliminally unleashed daily on refugee camps in Igbudoke, Nwenewo, Umuoghara, Unwuezoka, Ameka, Amana etc where Ezza refugees including children, women and the aged have been at the receiving end of the fire power of the soldiers and mobile policemen who are allegedly accompanied by Uffiom warriors in their daily attacks on Ezza refugees camps and even dwelling places where the war was yet to spread to.
Following the alarm of some of the refugees in those villages Ezza Effium and other concerned members of the public as well as their petitions to President Muhammadu Buhari and outcries to Inspector - General of Police, Chief of Army Staff, Amnesty International, human rights organizations and other agencies, I led a team of investigators on what has become the most adventurous media outing and fact-finding visit to the villages in Effium where many claims of the refugees were confirmed. For instance, combined teams of soldiers and mobile policemen kept terrorizing Ezza Effium refugees in their camps and burning dwelling places and homes of Ezza Effium natives in Igbudoke, Nwenewo, Umuoghara, Unwuezoka, Ameka, Amana and so on where the war was yet to spread to. The security operatives also go with dolmer engines with which they cut down economic trees in the homes of Ezza Effium natives. They also loot properties and food supplies of Ezza Effium refugees. As at Wednesday, 8th December, 2021, our team which was trapped in the security operatives' attack counted a total of 37 compounds and eight refugee camps belonging to Ezza Effium natives burnt by the rampaging combined teams of soldiers and mobile policemen across the aforementioned villages. From hiding in Umuoghara village alone, the team watched the rampaging soldiers and mobile policemen burn the five homes belonging to Okohu Imeze, Ekuma Okohu, Odo Igwealegu, Nwafor Anwuefie, Iduma Nwali and Chukwuka Nwakirika respectively; as well as two large refugee camps amidst heavy firing on that particular Wednesday 8th December. Other homes burnt by the combined team of Nigerian security operatives in Ezza Effium villages of Igbudoke, Nwenewo, Unwuezoka, Ameka, Amana include the respective compounds of Ukpa Nwafor, Nwuzo Nwite, Nwokporo Nwiribo, Oyiba Igwe, Azi Ogbu, Nweke Aliegu, Ikpozu Nworie, Oyibe Ali, Mkpuma Ovu Nchi, Nwafor Elom, Johnson Onuma, Oliver Nwokporo, Ewa Nwankwo and Azubuike Usulor. Others are the homes of Elom Onwe, Egede Omenyi, Oroke Ijere, Akputa Nwunoke, Ngwuta Odum, Akpuede Ugama and Onele Abaragu as well as six refugee camps sheltering women, children, the physically-challenged and other vulnerable people.
In an interview, Mrs. Virginia Onele, a widow and one of the persons whose homes were burnt by the security operatives asked, "Why are the policemen and soldiers attacking us, killing us and burning our houses? We did not attack anybody. The war had not even spread to this place. The only sign of the war we had were the refugee community made up of women, children and old men who came here and lived in the refugee camps which the soldiers and policemen have burnt. Why did they steal our garri, yams, egbùrú [raw fufu], rice and other food items? How did we offend them? Why is Dave Umahi doing this to us?"
Mrs. Virginia Onele sent a Save-our-soul message to the wife of the governor of Ebonyi State. She asked the reporter to "Tell Rachael Umahi to plead our cause before her husband, the governor, and to tell the security men to stop killing and attacking innocent Ebonyi women and children. She should tell the security men to return our food items they stole and pay for our economic trees they cut down", she pleaded.
A blind old ex-policeman, Odom Nweze, whose refugee camp house was burnt down by the security operatives wondered what business the security operatives had burning dwelling places and refugee camps. He called on Ebonyi State Commissioner of Police, Aliyu Garba, to "ensure the prosecution of those criminals in uniform".
That was not all about the travails of Ezza Effium natives. Earlier in the previous week, the body language of Ebonyi State Government made the people of Ebonyi Local Government Area who were the immediate neighbours of Effium to whom Ezza Effium refugees ran for shelter and safety to issue quit notices to Ezza Effium refugees. A highly-placed senior stakeholder of Ebonyi Local Government Area who held a prominent national office in the past spoke on condition of anonymity said, "The leader of Ebonyi State is not happy that we allowed Ezza Effium refugees to stay in our place. He is the owner of the state for now, so we have to do his bidding. Because the quit notice to Ezza Effium natives is oga's agenda, it is even aired free of charge in Ebonyi State-owned broadcasting stations", the stakeholder said.
Worried by these negative developments, Ezza Ezekuna stakeholders across political and philosophical persuasions issued a communique signed by Senator Julius Ucha, Prof. Michael Awoke, Senator Paulinus Igwe Nwagwu, Dr. Kenneth Ugbala, Prof. Humphrey Nwobashi, Engr. Kenneth Eze, Dr. Sylvester Nwambe among others condemning the unabating Effium Community war, the killing of road construction workers and security men; and appealed for restraint and cessation of hostilities. They equally called on "few leaders in the state of Unwuekumenyi clan who invest their resources, time and energies in blackmailing and demonizing the people of Ezza Ezekuna using their illogical generalization, fallacies and public deception to desist from their wanton wickedness and malicious misrepresentations of what Ezza Ezekuna represents as a clan and who we [Ezza Ezekuna] are as innocent law-abiding citizens of the state". The communique averred that Ezza Ezekuna clan are peace-loving and accommodating people. To buttress this was the example of "Amuda with the status of an autonomous community and a traditional ruler in Ezza North; a status the people of Ezza Ezekuna has been denied in the two senatorial districts of Abakaliki divide". The communique stated that Ezza Ezekuna clan has no record of invasion or conquest stating that they were invited to all the places they live across the state through peaceful negotiations and agreement for Ezza Ezekuna's traditional peace-keeping and protective roles.
In all these, it is on record that security operatives are attacking innocent refugees and vulnerable groups in Igbudoke, Nwenewo, Umuoghara, Unwuezoka, Ameka and Amana villages in Effium Community and burning refugee camps and homes of lawful citizens therein. That is unlawful and we seek the interventions and collaboration of all rights groups as well as the Federal Government of Nigeria and Amnesty International to stop those criminal acts and make the agencies responsible to pay compensation to Ezza Effium refugees. The police should follow due procedures in investigating the alleged abduction of road workers and killing of police men. Security operatives should neither take laws into their hands nor transfer aggression to innocent refugees and lawful Ezza Effium natives. Lives of Ezza Effium natives and refugees matter and should matter!
Disclaimer:

"The views/contents expressed in this article are the sole responsibility of the author(s) and do not necessarily reflect those of The Nigerian Voice. The Nigerian Voice will not be responsible or liable for any inaccurate or incorrect statements contained in this article."