Reminder: AHRC Live Virtual "Spirit of Humanity" Gala Tomorrow Thursday, December 2, 2021 At 6:00 p.m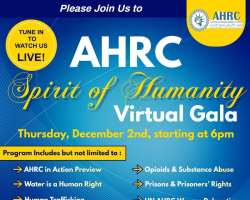 The AHRC virtual Gala's tomorrow is free and open to the public, brought to you complimentary of the gracious support of our esteemed sponsors this year. The program will begin at 6:00 p.m. and conclude at 7:00p.m.
The AHRC team has prepared a program that we hope you will watch and enjoy with family and friends. The program includes a number of dignitaries and special guests sharing their reflections on these exceptional times we are living in.
In addition, The Gala program tonight will address few pressing changes facing our society and the community at large. Topics are but not limited to, Water, Opioids, Human Trafficking, Hate Crimes, Prisons & Prisoners' Rights, Disability rights, AHRC U.N Women delegation and more.
The program will be aired through multiple social media outlets and on YouTube.
"We deeply thank this year's Gala sponsors for their generosity. Your support of and attendance of the Gala is a statement of your dedication and commitment to advance the cause of human rights" said Dr. Saleh Muslah, President AHRC Board.
For more information and further details, contact 313-914-3251 or email: [email protected]