Ekondo -Titi: Ambazonian Governing Council Condemns The Senseless Killing Of Students Ans A Teacher
Says It Is An Act Of Terrorism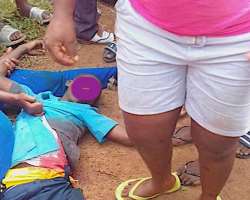 The Ambazonian governing Council has condemned in its entirety, the murder of seven students, a teacher and injuring of many others in Ekondo-Titi.
The Council says that her preliminary investigation fingers the "expendable 100" who are directly under the control and authority of the Ambazonian Interim government's self-acclaimed President, Dr. Samuel Ikome Sako.
In a Press Statement obtained by The Nigerian Voice and issued by the office of the Defense Chief, Ambazonian Governing Council, signed by the Deputy Defense Chief, Capo Daniel, the Council frowned at the shooting of unarmed students by the terror group, wondering why explosive ordinances was deployed in the operation.
The Council therefore demands that Dr. Samuel Ikome Sako issues an unreserved apology to the families of the victims, the Ambazonian people and publicly condemn the 'horrendous act of terrorism' against the Ambazonian people. It further demands that the perpetrators of the evil act be brought to justice.
Attached is the release: