Law Enforcement Officers Sue For Defamation To Protect Your Earned Reputation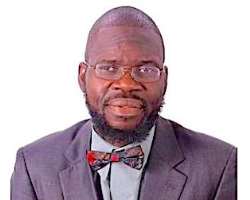 Prof John Egbeazien Oshodi
Every law enforcement officer is not bad; therefore, it is important to protect one's name and image through the laws of defamation.
There is no attempt here to endorse all officers and staff of the Nigerian law enforcement agencies which include the Economic and Financial Crimes Commission, Nigeria police force, Nigerian Security and Civil Defence Corps, State Security Service, Nigeria Custom Service, Nigeria Immigration Service, and others; as there are genuine moral, ethical, and behavioral concerns about their membership.
It is reasonable to say that across these law enforcement agencies their officers and staff including the ones in uniform and non-uniform, cannot be generally treated as "bad apples." Or bad law enforcement officers and staff.
On a general note, many men and women across law enforcement agencies are doing a good job under extremely difficult circumstances.
Indeed, there will always be "bad apples" within these forces and agencies who cause citizens to lose confidence and trust in these organizations.
But when some of the "good apples," who are not embarrassing their agencies or that one official who obeys the law, and enforces the laws is painted with the same broad strokes as the "bad cops "or being falsely accused, demeaned, and soiled in their capacity as a law enforcement official he or she has the right to protect their image and name.
Those involved in unjustly accusing law enforcement officials must be held liable and responsible for offensive spoken words and written statements.
Nigeria remains a constitutional democracy for the most part, as such when an officer or staff of law enforcement agencies realizes that his or her privacy has been violated or becomes aware that a person is disseminating bad personal information about him or her, through online or printed media, it could mean they are being defamed.
The officer or staff should sue anyone that have accused them of crooked behavior. To sue for defamation, one need to prove that the statement made against your person is false, damaging, unprivileged and public.
From the lens of human psychology as it relates to rules and laws, to engage in harming a staff or an officer's professional reputation and image, on a social, emotional, and public level, points to being denigrated or harassed or put in danger.
Across Nigeria it is common to read or hear law enforcement officers and officials been targeted for harassment, faced with false accusations and threats. This has gone on for far too long.
Psychologically, when a hardworking and rule abiding law enforcement officer or staff member hears or comes across oral or printed false statements about him or her that unjustly damages their reputation, it causes people who know about the person and hear or see the communication about the individual to think of them negatively.
As the accusation sinks in the victimized individual could become hit by emotions of anger because it hurts. In certain cases, silent suffering, or emotional distress sets in.
Libel which refers to written defamation, and slander that refers to oral defamation, can lead to psychological trauma or even physical symptoms for the victim.
It is the invasion of one's person. Having one's reputation slandered by someone cannot only affect the victim's personally but could also impact their finances and professional work.
Defamed persons sometimes have their thinking affected in their emotional effort to explain to supervisors, coworkers, friends and even neighbors that something going around about them is untrue.
Certainly, citizens have the right to be critical of public service organizations, including law enforcement agencies, as it is a first Amendment right that we protect right of expression. A right we cherish but slandering its members of law enforcement deserves a response.
Very often Nigeria news agencies including online and print media run stories and statements that perpetuates false-light depiction of an officer or staff. It is a high time law enforcement begin to sue for libel or slander, including truth.
On a personal and official level any Nigerian law enforcement worker who truly believes that another person through a reporter or media outlet published something false, he or her must try to clear their name in a court of law. One does not have to be a lawyer, jurist of judge to recognize written falsehoods or spoken fabrications especially when it lacks objectivity.
On a human level, it is very important that before anyone including public service, non-government agencies or private corporation leader make statements they must check to see if the statements they made are true or false.
Because that is something a reasonable and prudent person would do before they made a statement that could harm another person.
Any other backward way to qualify one's assertion about others should cause the offender pay for their recklessness.
It is important to know that in most democracies there are some forms of defamation that can be a crime. Especially written statements that are seen as illegal. Like false statements about the internal operations, investigations, or probes by a law enforcement agent or his or her agency, could have criminal implications, however, that is left to the lawyers and the courts to decide.
I am for bad-mouthing a bad officer or official that is clearly known and proven to be intentionally and wholly unethical. But whereby there is a smear campaign orchestrated with a string of lies, disinformation and misinformation on a truly hard working and proficient officer or staff, the abuser should face fine, or even punishment of imprisonment.
It is time to keep in all our minds that remedies are a powerful deterrent for those who make or plan to engage in the most flagrant and patently unjustified sorts of misinformation intended to offend those men and women in law enforcement who are just trying to do their work in a sincere manner.
John Egbeazien Oshodi who was born in Uromi, Edo State in Nigeria, is an American based Police/Prison Scientist and Forensic/Clinical/Legal Psychologist. A government Consultant on matters of forensic-clinical adult/child psychological services in the USA; Chief Educator and Clinician at the Transatlantic Enrichment and Refresher Institute, an Online Lifelong Center for Personal, Professional and Career Development. A former Interim Associate Dean/Assistant Professor at the Broward College, Florida. The Founder of the Dr. John Egbeazien Oshodi Foundation, Center for Psychological Health and Behavioral Change in African settings. In 2011, he introduced the State-of-the-Art Forensic Psychology into Nigeria through N.U.C and the Nasarawa State University where he served in the Department of Psychology as an Associate Professor. The Development Professor and International Liaison Consultant at the African University of Benin, and a Virtual Faculty at the ISCOM University, Benin of Republic. Founder of the Proposed Transatlantic Egbeazien University (TEU) of Values and Ethics, a digital project of Truth, Ethics, Openness. Author of over 40 academic publications/creations, at least 200 public opinion writeups on African issues, and various books.
Prof John Egbeazien Oshodi, a forensic psychologist based in the United States, wrote in via [email protected]
Disclaimer:

"The views/contents expressed in this article are the sole responsibility of the author(s) and do not necessarily reflect those of The Nigerian Voice. The Nigerian Voice will not be responsible or liable for any inaccurate or incorrect statements contained in this article."