Anayo Peter Edwin-nwoñu: An Excellent Parliamentarian And The Future Of Ebonyi State.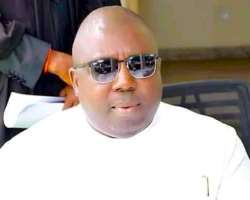 Rt. Hon. Anayo Peter Edwin-nwou
Since the birth of Jesus Christ when wise men from the East visited Him, sages have continued to rise from the East. From Ebonyi State in the East of Nigeria, another sage, the new face of Ebonyi State and the winner of the 2021 Independent Newspaper's House of Representatives Member of the Year award, Rt. Hon. Anayo Peter Edwin-Nwoñu (Anatex), has risen! Born 46 years ago into the family of Late Chief Edwin Nwoñu and Mrs. Nnenna Nwoñu of Ekka Community in Ezza North LGA of Ebonyi State, this business man and astute politician is both a 1998 graduate of the famous Igbo business apprenticeship scheme; and that of the prestigious University of Portharcourt, Rivers State, which Bachelor's degree in Public Administration he obtained in 2012.
The guiding star for Anayo Edwin-Nwoñu took the form of God's grace and directed him to Bayelsa State where he plied his businesses of building materials supplies, construction and general contracts under the flagship of Anatex Multi-Links Nigeria Limited in Yenegoa. Anayo Edwin-Nwoñu soon became a known name within Bayelsa business circles as well as the rallying point for non-indigenous people in the state. As Anayo Edwin-Nwoñu's goodwill grew, so did his fortunes and political relevance even in distant Bayelsa. Anatex diversified into paint production and distribution in 2005; and expanded the geographical scope of his businesses beyond the Niger-Delta. Amidst all these blessings, youthful Anayo Edwin-Nwonu wore humility like a robe and followed all men with peace. With a philosophy which holds that "Anything that cannot be given is lost", Anayo Edwin-Nwoñu increased his investments in humanity, sponsoring free medical outreaches and medical amnesty programme for the aged, less-privileged and other vulnerable groups; scholarship programmes for indigent but gifted children; and sponsored the annual Ezza Ezekuna Unity Cup. He equally mentored many young men and gave them start-up capitals and other logistics to start businesses.
As Ebonyi people's eyes opened to the qualities of Anayo Edwin-Nwoñu, they persuaded him to join politics. In 2009 Anayo Edwin-Nwoñu joined politics and contested the National Assembly PDP ticket for Ezza North/Ishielu Federal Constituency in 2010. In 2012, Governor Seriake Dickson of Bayelsa State appointed Anayo Edwin-Nwoñu as Special Adviser on Non-indigenes Affairs, a position he resigned from in 2014; recontested the National Assembly election in 2015 and won. He was re-elected in 2019 and appointed Chairman of the House Committee on Reformatory Institutions.
An excellent manager of public trust, Anayo Edwin-Nwonu, put his position at the services of his people, allowing his achievements to speak for him. He facilitated the employment of several youths from his constituency in choice federal establishments; and attracted road and electricity projects in Ezza North LGA, small town water projects, many classroom blocks, large chunks of instructional materials in Ezza North and Ishielu LGAs; and water boreholes in all the 27 wards in his constituency. Anatex has continued his free medicare and medical amnesty programme in higher scales, setting free those detained in hospitals for unpaid bills and giving them funds to start new lives. Each of the town union leaders in the communities and PDP chairmen in the wards in Ezza North/Ishielu Federal Constituency got brand new motorcycles and other incentives from this unique federal legislator. Anayo Edwin-Nwonu's scholarship programme and post-Covid-19 special grants for indigent students have saved many budding professionals' educational careers and made him an icon in the student community in Ebonyi State. Anatex, while working hard on his mandate where he has sponsored bills, moved many motions and presented petitions of his constituents and transformed the Nigerian Correctional Services sector, has continued to respect elders, traditional rulers and stakeholders of Ebonyi State. Hundreds of youths and women have been trained on skills and agro-preneurship; and provided with tools, fertilizers and funds to pursue self-reliance. A man for whom nothing is too big to be given out, Anayo Edwin-Nwonu has commissioned modern bungalows he built for his constituents while others are under construction.
Rt. Hon. Anayo Peter Edwin-Nwonu holds innumerable honours and awards: He was voted as "The Best Federal Legislator from Ebonyi State" in 2017; honoured with the unprecedented "Award for Non-violent Approach to Politics" by the youths of Ebonyi State in 2021; and won the "2021 Independent Newspaper House of Representatives Member of the Year" award conferred on him on 17th November, 2021 at the Sheraton Hotels and Towers, Abuja. This award which celebrates Anatex as a paragon of legislative excellence equally confirms Ebonyi people's confidence in Anatex which they demonstrated in 2015, 2017 and 2019; and which Ebonyi people are determined to assert in 2023. Consequently, the teeming Anatex support base across the 13 LGAs in Ebonyi State, comprising members of Ebonyi First Movement; Odimma Ebonyi State; and PDP Frontliners have rolled out their talking drums in celebration of Anayo Edwin-Nwoñu who is the leader they trust, love and understand; and a personification of the leadership that Ebonyi people crave in the coming dispensation. Ebonyi people also celebrate Rt. Hon. Anayo Edwin-Nwoñu's acceptance of their broad and bold request that he contests the forthcoming 2023 Ebonyi State gubernatorial election.
Congratulations to Rt. Hon. Anayo Edwin-Nwoñu - Winner of the 2021 Nigerian Parliamentary Excellence Award! Certainly, the best of Anayo Edwin-Nwoñu who personifies the future of Ebonyi State is yet to come.
Monday Eze, a public affairs analyst, contributed this piece from Abakaliki, Ebonyi State.
Disclaimer:

"The views/contents expressed in this article are the sole responsibility of the author(s) and do not necessarily reflect those of The Nigerian Voice. The Nigerian Voice will not be responsible or liable for any inaccurate or incorrect statements contained in this article."