EDO PDP IS DEAD, AC HOUSE OF REPS ASPIRANT BOASTS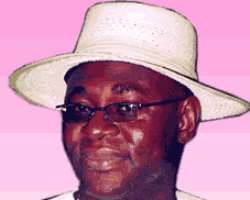 As the 2011 general elections approach, an Action Congress (AC), House of Representatives aspirant, Hon. Crosby Eribo, has dismissed the Peoples Democratic Party (PDP) as no threat to the AC.
Eribo, who is a two-time chairman of Egor Local Government in Edo State, is seeking to represent the Egor \Ikpoba Okha federal constituency. Recently, he defected to the AC from the PDP.
He told Daily Sun in Benin City, that with the giant strides of the current AC government, the 'PDP is dead'. However, he dismissed insinuations that he left the PDP for his new party because, he wanted to contest election into the House of Representatives. According to him, the internal wrangling in the PDP necessitated his defection to the AC.
He also spoke on the PDP member currently representing his constituency in the lower chamber of the National Assembly.
Excerpts:
Why I want to go to the House
My motivation is the urge to continue to serve my people in the sense that I have been in the grassroots, and I know what and where constituency projects should be sited. There must be relationship among councillors, local government chairmen and the House of Representatives member. That is really why I am motivated to want to contest and win.
I also want to serve my people through better representation whereby the issue of recognition for my people would be there. We are bringing in experience and trust. We have been tested and trusted. The experience we have in the council and the experience we have in representing the people is what is really motivating me. Yes, the AC is the party that believes in one man, one vote. So, definitely, there is going to be primaries. In whatever manner the congress is going to be done, the same people in Ikpoba Okha and Egor local government will know who they want for true representation.
Nothing has happened in the past. Most of the jobs that are being done now as constituency projects are being rushed, because of the 2011 elections. Nothing had been going on for the past four years. We know that money has been given for jobs to be done, and to enhance and build the constituency. But majority of what I am seeing in Egor/ Ikpoba Okha constituency is absolutely not what anybody can actually say he spent much money to do. It is ridiculous. It is very ridiculous. On my own, I have said if I can be a local government chairman twice, and serve my people, I don't see any reason why I cannot represent my federal constituency properly.
The issue of challenge is always there. I think the people now have seen that imposition is a thing of the past. The PDP imposes people. And that imposition has not helped in true representation in the federal constituency. Whoever is there now cannot claim they know what is on ground more than a local government chairman.
The areas are affected by flood, schools and so many things are involved. That is why I am saying nobody can actually come and say they can do more than somebody who had been at the grassroots. We are going to choose the right candidate to go for the election.
There is nothing to write home about the man representing my constituency at the moment. With the figures they collect, there is nothing to write home about. If you want to compare what we as local government chairmen get and what they get as constituency allowance, there is nothing to write home about there. I have not seen anything done. No developmental strides at all.
Why I left PDP
I left because of internal wrangling. They say the PDP is a family or a family party and two children are fighting and going to court, the same family could not tell the two children to withdraw the matter. Meanwhile, one will go behind and say go on, kill him. The other one will say no, don't worry you will win. Internal wrangling. The matters are in court. There is no justification to remain in the PDP where you don't know who is who or who is doing what. I left the PDP because I got totally fed up with the system. A system of deceit. A system of imposition, where they will just decide who should go and who should not go. That was why I left.
I saw the AC as a party that would listen because of their ideology of one man, one vote. And I personally did not leave the PDP because I want to contest election. Of all the council chairmen, I was the first to leave. I left boldly not because of my intention to contest. But if you see the opportunity to serve in proper capacity under the AC, you don't have a problem. But the insinuation that we are leaving the PDP, just because we want to go and contest elections in the AC is totally wrong.
As I am talking to you now, do you know that Chief Sunny Uyigue is saying he is the acting chairman of the PDP, while Chief Dan Orbih is saying that he is the party chairman. Who is who? You tell me. When the next election comes, who is going to nominate candidates? You see it has not been settled at all. There is a problem. It is a big crisis and it is going on. One says he leads this faction of Akhigbe and Ogbemudia. Another says he leads the Anenih faction. I think those still in the PDP are in darkness. They cannot decide for themselves. They should take their destiny in their hands.
We have left the PDP. We are in the AC. And we will continue to be in the AC.
PDP is dead in Edo State. It is totally dead. PDP is dead. If it is what Comrade Adams Oshiomhole is doing, it sends signals for you to forget PDP. The reason AC members are the grassroots people. PDP is dead. It is one man, one vote, and that is what we are campaigning for. With one man, one vote, PDP is totally dead.
House of Reps crisis
Nigeria would be 50 years on October 1, 2010 and we are behaving in such a barbaric manner. It is not a welcome thing at all. I think first and foremost, there is the need for dialogue. And if there is the issue of fraud, the right thing should be done. Push it to the right body to investigate. That is the best thing to do than using violence to solve issues.
That crisis should not have happened in the first place. The Speaker should learn to carry everybody along, if that is the problem. And there should be total transparency in the House. But the issue of violence and fighting, injuring one another is not welcome at all. Nigeria is bigger than that.