HOW I USE HUMAN SKULLS TO CURE HIV/AIDS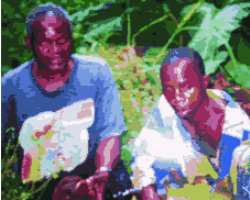 Also in the police net over the same alleged offence was a grave digger at the Trinity cemetery, Olodi-Apapa, Lagos, Akanji Afolabi, 36. He was said to have tried to sell two skulls to a herbalists at the rate of N6,000, before he was nabbed.
A woman, who saw the human skulls in a polythene bag was said to have raised alarm, which led to Afolabi's arrest. When he (Afolabi) was being tortured, he confessed that it was his master (Alabi), who sent him to buy the skulls.
Following his confession, police compelled him to lead them to where Alabi was arrested. He also led the detectives to arrest another grave digger, Moshood Adebisi. Afolabi had told the detectives interrogating him that Alabi needed the skulls to prepare concoction for the cure of various diseases. He also claimed that he used the skulls to cure HIV/AIDS, fibroid and deliver pregnant women of babies, especially, those that had complications and risked having their babies through ceaserian operation.
'We give them our concoction and they deliver babies with ease. I have never bought human skull before, but I usually went to the cemetery each time they were digging graves, to collect human bones. I grind the bones together with local chalk, skin of tiger, black soap, osun and mixed them with local gin. 'Pregnant women drink it for safe and easy delivery. I use human skull with other herbs to cure HIV/AIDS. For cure of fibroid, we use the black soap, bits of human skull, ege, a special thorny yam, emu opiri, bala, lime, among others,' Afolabi said.
On how he was arrested, Afolabi revealed how he hired the services of a motorcyclist at Trinity bus-stop and permitted a strange woman to join him on the bike. And on their way, the woman inquired what he was carrying in the bag but he refused to tell her. 'When I didn't yield to her request, she raised alarm and the motorcyclist stopped and members of a vigilance group arrested me. The woman vanished,' he said.
Adebisis, who claimed to be a bricklayer said it was his first time of selling human parts. 'It is a disgrace that I sell human parts. Though, the skulls are not fresh ones,' he said. Alabi, however, has denied any knowledge of the human parts business. The suspect, from Oyo State, said he only used of herbs to cure people of their ailments.
He said: 'I'm a native doctor and Afolabi is also a native doctor. I only use herbs to cure diseases. He lied against me. I did not send him on such an errand.'