Secondus V. PDP: Edwin-Nwonu Congratulates PDP, Hails Judiciary For Strengthening Democracy In Nigeria.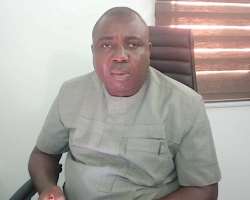 Rt. Hon. Anayo Edwin-Nwonu
The leading gubernatorial aspirant in the forthcoming 2023 general elections in Ebonyi State and Chairman of House of Representatives Committee on Reformatory Institutions, Rt. Hon. Anayo Edwin-Nwonu, has congratulated the Peoples Democratic Party, PDP, over her victories in the two suits cases filed against the PDP by her immediate past National Chairman, Uche Secondus, seeking to set aside his suspension from the party by the executive council of his ward; and to stop PDP from holding its 2021 National Convention scheduled to hold tomorrow, Saturday, 30th October, 2021.
Reacting to the decisions of the Court of Appeal on the matters, Rt. Hon. Edwin-Nwonu who spoke in high spirits to journalists in Abuja said, "I congratulate the leadership and members of my great party, Peoples Democratic Party, PDP, over their victories in the cases which, from all indications, were filed with the malicious intentions to derail the ongoing reinvention of the PDP; and to thereby truncate the hopes of Nigerian masses who are looking up to the PDP to rescue the nation from the state of hopelessness where the misrule of the rutherless ruling party has taken the country into.
"In the same vein, I wish to applaud the Nigerian judiciary for these landmark rulings which have strengthened the hope of the common man in the judiciary. By these rulings, the Nigerian judiciary have strengthened democracy; and I heartily congratulate them", he concluded.
Edwin-Nwonu who represents Ezza North/Ishielu Federal Constituency in the National Assembly welcomed all delegates to the 2021 PDP National Convention, charging them to "Utilize the opportunity of the convention to demonstrate to Nigerians the preparedness of our great party to take the country charge of the country through democratic processes and give Nigeria a new beginning".
The Portharcourt Division of the Court of Appeal had in separate rulings which it delivered on Thursday, 28th October, 2021 and on Friday, 29th October, 2021 struck out embattled Secondus' appeal challenging his suspension and declared that the Peoples Democratic Party had right to hold her 2021 National Convention as scheduled. By those developments, all issues surrounding the suspension and the termination of Uche Secondus reign as the National Chairman of Nigeria's main opposition party, PDP, have been put to rest. The coast is therefore clear for the party to hold her National Convention and give the party a new beginning.