'Biafra and Ambazonia Have Alliance Based On Common Interest' - Ambazonia Governing Council (AGovC)
As Ambazonia Governing Council (AGovC) Refute More Misleading Statements Made By Samuel Sako Ikome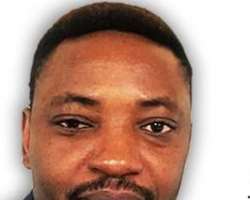 Capo Daniel (Deputy Defence Chief, DDC Ambazonia Defence Forces)
The Ambazonia Governing Council (AGovC) has taken notice of statements made by Samuel Sako Ikome in a zoom meeting with Nigeria, Ghana, and Cameroun reporters over the weekend. We want to draw the attention to the pressmen that Samuel Sako Ikome is an impostor who claim to represent the IG (Interim Government) group, an organisation whose leader is in the Kondegui prison in Yaoundé, Cameroun. Sako Ikome who presents himself as a PhD holder without any evidence that he has one should not be taken as someone legitimately representing the IG organisation.
Regarding the claims he made about the constituent of the AGovC; Dr Cho Ayaba is the leader of the Ambazonia Governing Council which is the leading liberation movement behind the Ambazonia War of Independence (AWI) with AGovC Missions in over 32 countries worldwide. The AGovC is the only movement that physically controls territories on the ground. In the past October 1st Independence Day celebrations, the Ambazonia Governing Council mobilised hundreds of thousands of our citizens in liberated areas where we control. To say that the Ambazonia Governing Council represent only a handful of people is a deception that needs to be corrected.
Also, the statements made by Sako Ikome demanding Nigeria's president recognises Ambazonia independence, such an appeal that has zero possibility to be realised is proof that Sako Ikome has been bought out and is being used by the Nigeria and Cameroun governments to reassure their public and international partners to have a false sense of security. The alliance between Biafra and Ambazonia is based on our common interest facing a common threat from both Cameroun and Nigeria both of whom have signed a treaty to fight against our common course to exert our rights to self-determination. Dr Cho Ayaba and Mr Nnamdi Kanu are credible leaders legitimately representing their respective organisations and people into an alliance of self-preservation. The military wings of both leaders are already
collaborating, and the process cannot be reversed or stopped by any paid agent. What the Nigerian government should know is that collaborating with Cameroun to maintain the occupation of Ambazonia (Former British Southern Cameroons) illegally will come with a price. Nigeria's kidnapping and renditioning of Ambazonians to Cameroun has consequences. The international community needs to know that Nigeria and Cameroun will not be able to guarantee security and stability in the Gulf of Guinea without the respect and recognition of the fundamental rights of self-determination of the Ambazonia people and the Biafra people.
The Biafra and Ambazonia forces under Mr Nnamdi Kanu and Dr Cho Ayaba already control large parts of our borders and Nigeria and Cameroun do not have the necessary support amongst our people to be able to stop us or to secure our common border. The military and strategic cooperation between Ambazonia and Biafra cannot be stopped, it's for self- preservation for both peoples.
Signed.