WHY IRISH POTATOES ARE NOW SCARCE IN PLATEAU, BY JOS TRADER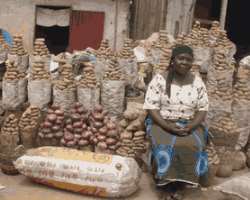 Until recently, with little money, citizens of Plateau could afford to feed and live well on different types of fruits and vegetables grown in the State. But today, Irish potatoes is fast becoming rare food on the breakfast table of the residents; including other parts of the country, which rely on Plateau for the supply.
Daily Sun visited Yan-doya, one of the markets where Irish potatoes are sold in abundance in Jos, to find out what could be responsible for the current shortage. A trader, Mrs. Ladi Simon, who had been in the business for over 20 years, attributed the fall in the farming of potatoes to the frequent crises on Plateau and the high cost of production.
'The business has been very bad for us. We are only in it because we have been involved in the trade for a long time. The frequent crises in the city affected all things. When I started the trade, potatoes were sold for N1. 50 per bag; gradually it went up to N3. Later, it rose to N5 per bag, until recently when it went as much as N10, 000 and 10, 800 per bag.
'But because new potatoes are now in the market, it has come back to between N5, 000 and N6, 000 per bag. Still it is difficult for many people to buy. We no longer have customers as we do before.
'When business was good I was not only sending my children to school but also registered with an adult education class. Now I have stopped the class, my concentration is only on my children. We are worried about the development and have even been speaking to the farmers but they said it is not their fault because the farm inputs are also expensive.
'Before now, a basket of potato seedlings sold for
between N1, 500 and N2, 000 but now it is sold for N5, 000. At that cost, not many people can cultivate large expanse of land to plant the crop. Fertilizer is also untouchable for most farmers because of the cost. It is only the rich farmers that can cultivate the crop this year. For this reason, one should be expecting the price of the vegetable to be skyrocket,' she said.
Daily Sun findings also showed that some parts of the State also experienced flooding which destroyed some farmlands. For instance, there was a case of a woman who after investing close to N100, 000 on potato farming lost the farm to flood; not a single potato came out of the farm. Such things, investigations further revealed would account for more scarcity next year. If Plateau State government is serious about promoting the production of potatoes as it is mainly grown here, it needs to show this by its action. First of all we need peace for the farmers to go to the farms without fear of attack and for us to be able to sell in the markets.
'We were many here at Yan-doya selling potatoes but many have left because of what we experienced here. During the 2008 crisis, we ran and left our things in the market. By the time we can back, all our potatoes have been stolen. Some left the trade while others changed to other places. Even though I came back, I have not recovered from the loss.
What I sell now is not up to half of what I used to have before the crisis. As if that experience is not enough, after the January 2010 crisis, I was driven from the front of the shop I was formerly staying. Even though I was paying the owner of the shop on a regular basis, he still asked me to move away. He said he also wants to start selling potatoes but I know I had that problem because of the sour relationship between us because of the crisis. Government must take action against the youths taking drugs and fomenting trouble everywhere. They are beyond the control of their parents. But their actions would reduce if government should come out and ask parents to warn their wards that anyone arrested with dangerous weapon would be killed.
'When peace has been restored, government needs to encourage those of us in this business. As it is today, no help is going to either the farmers or those of us involved in the trade. Farmers need to be assisted directly with fertilizer. In many instances the rich men 'corner' the fertilizer and sell to the end users at exorbitant prices. Those of us in business of buying and selling also need loans from the government. They should provide an avenue where we can borrow money and repay.
'There is the need to have a machinery to monitor those who will not default in repayment and assist them accordingly. There are big companies coming in to buy potatoes. Businessmen come with Lorries from other parts of the country to buy this product. Many people will be employed and hunger would be reduced if Plateau State government looks seriously into the production of this crop,' Mrs. Simeon added.
Disclaimer:

"The views/contents expressed in this article are the sole responsibility of the author(s) and do not necessarily reflect those of The Nigerian Voice. The Nigerian Voice will not be responsible or liable for any inaccurate or incorrect statements contained in this article."