FEMI FANI-KAYODE: NIGERIANS YET TO SEE THE BEST OF A VETERAN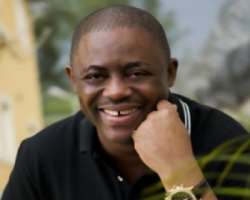 PHOTO: MR FEMI FANI-KAYODE.

Who are the veterans within the framework of Nigerian political landscape? A lot of our supposed leaders who are seemingly mere opportunists lacking vision and ideas which can drive the nation have lost out to merit this ''title'' so to say. They have perpetually remained an albatross to our socio-political and economic life. Meanwhile, they shamelessly repeat the spread of this scourge very often as though it is within their constitutional privilege to do so, which is at the detriment of defenseless and impoverished Nigerians.
However, it is clearly not doubtful that among the wolves there are sheep, those who availed themselves as catalyst of change to revive the economic fortunes of Nigeria and bring back her dignity in their respective constituencies or portfolios have neither been killed, brutalized, dehumanized, silenced or even incarcerated in order to give opportunity to those group of individuals who never wanted the good of the nation. Base on records of events in Nigeria (may be until the emergence of President Goodluck Jonathan), Military, EFCC, Police, Code of conduct Tribunal, ICPC, SSS, Customs and other key organizations have been consistently used as instrument of oppression in carrying out some of these barbaric, uncivilized and anti-democratic actions against these great men, therefore reducing the nation to a state of socio-economic and political ''quagmire'' and obviously making our independence from the British imperialist (after Sixty years) a worthless one.
Without fear or favour, and inspite of the erroneous and vicious opinions of the fifth columnist, Chief Femi Fani-Kayode is one of the very few living veterans of our time in Nigeria. Emerging facts clearly show that whilst at Public Affairs, Chief Femi Fani-Kayode was President Obasanjo's Chief ideologue and propagandist. He was loved, respected and admired by those who supported Obasanjo but he was intensely disliked and feared by those who opposed him. This was as a consequence of the passionate and aggressive way in which Femi Fani-Kayode took on Obasanjo's many traducers and defended the President. The office of public affairs within the Presidency had effectively become a shadowy and powerful weapon of war in Obasanjo's arsenal whilst Fani-Kayode ran and headed it. He reported directly to Obasanjo and he was regarded by the President more like a son than an aide. For this he paid a price and he often admitted the fact that his job at Public Affairs had cost him many friends and relationships.
During the senate ministerial screening session in 2006 when Femi Fani-Kayode had to appear before the whole of Nigerian Senate in order to be screened before his nomination as a minister could be confirmed, he shed some light and offered some explanations on his role as Special Assistant to Mr. President on Public Affairs. When asked about the fact that he attacked and hurt many Nigerians as a result of his defense of Obasanjo and whether he had any regrets about doing so, He said the following " President Obasanjo is a great man and I have no regrets about doing my job effectively though i do regret it if anyone was hurt in the process. I was simply doing my job and if I wasn't prepared to do it I would not have taken the job in the first place. I did not wish to hurt anyone and I do not believe that anyone should take whatever may or may not have said personally. If i did hurt anyone then I am deeply sorry and I hope that they will find it in their hearts to forgive me as I have found it in my heart to forgive them for what they have said about me and Mr. President.
Many of those that I clashed with and joined issues with on behalf of President Obasanjo were either old friends of mine for whom I had , and still have , tremendous respect for or those that I have always looked up to from the day that I was born. But I had to do my job and my job was to defend Mr. President night and day and take on his enemies and detractors. Even though he is not an angel President Olusegun Obasanjo is the most vilified , misunderstood and misrepresented leader in Nigeria today and yet this man not only loves Nigeria but he also believes in Nigeria and Nigerians , just as he believes in Africa and in Africans.''
It is however pathetic that not long after President Olusegun Obasanjo relinquished power in 2007, an unprecedented wave of virulent criticism, disinformation, false accusations and misrepresentation was unleashed on Femi fani-Kayode and all those that worked closely with him from various quarters. Femi Fani-Kayode was not left out and has had his own fair share. This is because some believe that it is time to "pay him back" for his vigorous and unrelenting defence of President Olusegun Obasanjo whilst he was his Special Assistant on Public Affairs. Despite this he has resolved to continue to play a role in the affairs of his country well into the distant future.
Another bizarre attack on this distinguish veteran (Chief Femi Fani-Kayode) was the incident which was concocted by some heartless, jobless imbeciles and hatchet writers who lend themselves and their pens to falsehood all for a little cash. In 2007, there was a report on the internet and a Nigerian newspaper that Chief Femi Fani-Kayode's (former) Special Assistant Chioma Anasoh was arrested and detained at the airport for laundering 250,000 USD for him. The report also stated that Chief Femi Fani-Kayode was at the airport to plead for her release. This report was totally false as this never happened. The Nigerian customs also denied that she was ever caught or arrested with 250,000 USD at the airport. Chioma Anasoh later denied the allegation and refuted the story in Thisday Newspapers (www.thisdayonline.com/nview.php?id=82302). To the best of my knowledge she actually sued The Mirror Newspaper in Lagos High Court for publishing the story.
It is absolutely correct that in June 2008, Chief Femi Fani-Kayode and some others were arrested, detained and interrogated for a few days by the EFCC (Economic and Financial Crimes Commission) over the 19.5 Billion intervention fund of the Aviation sector. After a thorough investigation all charges against Chief Femi Fani-Kayode were withdrawn from the court by the EFCC as it was clear that there was no evidence that he had anything to do with the misappropriation of the intervention fund. As a matter of fact it was established clearly that he exposed the scam (www.aviationsquare.org) and My Mandate page (www.femifanikayode.org/mandate.html). All others that had been originally arrested and detained with him were later charged at the High Court but Chief Femi Fani-Kayode was not amongst them.
On the 22nd of December 2008, Chief Femi Fani-Kayode was re-arrested by the Economic Financial Crimes Commission (EFCC) for alleged allegations of money laundering. He was arraigned on a 49 count charge for money laundering. This was clearly politically motivated and provided more evidence of the persecution that the late Yaradua regime was unleashing on all those that worked closely with Olusegun Obasanjo. Amongst those that have been subjected to similar persecution are Nuhu Ribadu , Nasir El-rufai and others. There is absolutely no evidence of money laundering against Fani-Kayode and he has sworn to clear his good name in the court of law.
Unfortunately the appellate court have to overturn and set aside the judgment of Justice Ahmed Mohammed of the Federal High Court in Lagos which earlier exonerated Chief Fani-Kayode, with the claim that computer-generated statement of account of the former Minister of Aviation, Chief Femi Fani-Kayode, was admissible as exhibit. For those familiar with history the Supreme Court ruling which the appellate court have sought to overturn is the 1975 case of Yusufu v. ABC which was presided over by Chief Justice of Nigeria, Justice Atanda Fatayi- Williams who read the ruling of the Supreme Court himself on that occasion. In this country, based on the principle of precedence and "stare decisis, it is only the Supreme Court that has the ultimate and overriding power to overturn or overrule its own previous decisions on any matter and certainly not the Court of Appeal or any other lower Court. Be that as it may, there have been a lot of reactions emanating from both men of the bench and bar over this contentious issue. One of them is Barrister Anosike Nwagu. According to him:
''I cultivated tremendous interest on this issue of admissibility of computer-generated bank statements under our Evidence Act right from the start. I read Justice A.R.Mohammed's ruling at the Federal High Court on this matter and frankly I could not fault it because it was based on a Supreme Court decision and on the law of the land. We may not like it but that is the law. The law must surely be applied as it is by the courts and not as we would want it to be. If we are not happy with the existing law it is left for the legislature to change it and make it better and not for the courts to do so.
I have just read the ruling of the Court of Appeal on the same matter and in my view the position that they have adopted is not only against the law as it stands today but it also represents a grave and terrible injustice to Chief Femi Fani-Kayode. Simply put the ruling of the Court of Appeal and their reasons for adopting it is scandalous. If I had initially doubted the assertion that the case against Chief Femi Fani-Kayode was politically-motivated and simply rooted in malice from day one, I have absolutely no doubt about that now having read the Court of Appeal ruling. It appears that some forces are just trying to keep the former Minister busy and out of the 2011 governorship race and they will do anything and go to any length to achieve their objective. One really does wonder what the Court of Appeal was thinking and what really motivated them before they came up with this shameful ruling. And yes we all agree that the war against corruption must be fought vigorously but surely it must be fought within the law and according to the rule of law and not outside of it. This ruling is not only a slap in the face of the Supreme Court but it is also a clear case of judicial rascality and it has no basis in the existing law.
I am glad that Fani-Kayode has gone on appeal and in my view these are just some of the questions that he should put to the Supreme Court when he gets there: should the war against corruption not be fought according to the law and according to the existing rules and legal precedents? Is it not a greater form of corruption for the Court of Appeal to violate the principle of "stare decisis" and precedents by ignoring a Supreme Court ruling which dealt extensively with this matter ( Yusufu v. ACB 1975, delivered by Chief Justice Atanda Fatayi-Williams) and the last Court of Appeal decision on this matter (U.B.A v. Sani Abacha Foundation 2004 which again dwelt extensively on this matter and which was delivered by Justice Coomasie who is now in the Supreme Court) and not even attempt to distinguish them?
The National Assembly had finally begun to do its work and had started to amend the Evidence Act in order to allow it to admit computer-generated bank statements as evidence in a Nigerian court of law but the Court of Appeal appears to be now telling the world that that is no longer necessary and that they have the power to not only interpret the law but also to change it. This is clearly a dangerous and ridiculous position and it is certainly not grounded in our laws. It has also set a very ominous precedent. The question is this, has the Court of Appeal now become the legislature which is able to make laws as it sees fit and thereby completely violate the principle of separation of powers? Does the Court of Appeal not know that the job of making and changing laws is that of the legislature and their's is only to interpret such laws? Does ignoring and attempting to overrule a Supreme Court decision help the war against corruption or does it not represent a corruption and abuse of our legal system and injustice itself?
''When the Court of Appeal talks about "helping the Federal Government to fight its war against corruption" in this ruling does that not mean that they have already determined that the accused is guilty and does it not violate the very basic constitutional provision of the presumption of innocence of anyone that has been accused of any crime? Is the Court of Appeal now working for the prosecution and the state? Is it not meant to be an impartial arbiter that interprets the law and dispenses justice fairly and according to the law? These are just some of the questions that need to be answered in the light of this controversial ruling and in my view these are just some of the issues and questions that need to be raised by Chief Ladi Williams S.A.N, Chief Femi Fani-Kayode's counsel, before the Supreme Court during the course of his appeal.''
Further observations from this astute legal luminary, Barrister Anosike Nwagu over the Court of Appeal ruling in the Fani-Kayode case which just doesn't add up are as follows:
1. Court of Appeal wrote in their ruling that during Festus Keyamo's address he said that the computer generated bank statement which he sought to tender as evidence was a "certified true copy". This was not true. The record of proceedings from the Federal High Court shows that neither Keyamo nor his bank manager witness, Mr. Bayo Shodipo, ever said that. What the witness said was that if he saw copies of the computer generated bank statement he could recognize them and when he was now shown one he indeed said that he recognized it as one of those statements. He did not say that it was a certified true copy and neither did Festus Keyamo claim that it was or say so. Why should the Court of Appeal seek to help the prosecution in this way and assert things for them that they never even claimed all in an attempt to try to admit the computer generated bank statement evidence at all costs even though their authenticity may not have been credible and they were certainly not certified. This is just inexplicable, unprofessional and illegal.
2. Secondly the Court of Appeal spoke about "banker's records" in their ruling and yet at no point were "banker's records" mentioned anywhere else, either by the prosecution or the Evidence Act. Rather the Evidence Act speaks of "banker's books" and not records. U cannot say that a computer generated bank statement is part of the "banker's books" by any stretch of the imagination. The best you can say is that u can keep copies of the bankers books inside a computer.
3. Thirdly the Court of Appeal erred in law when they said that the issue of non-admissibility of computer generated bank statements is a "mere technicality". This is not a mere technically but rather it is a fundamental point of law. Under the Evidence Act such evidence is not only not admissible in law but is also specifically excluded by the Act itself, the Supreme Court and previous Court of Appeal decisions have confirmed this. How can a lower court than the Supreme Court describe this as a mere technicality? What they have done is very insulting to the Supreme Court, it sets a very dangerous precedent for legal practice and due process in this country and it is most unjust.
4. These observations coupled with the earlier ones that I made suggest to me that there is far more to the behaviour of the Court of Appeal judges than meets the eye. I am convinced that foul play is at work here and the matter should be reported to the National Judicial Council for closer scrutiny and investigation.
I believe very convincingly that Nigerians with dispassionate and unbiased mindsets have got a lot of lessons to learn here, and can also see what our justice delivery system has turned to. For many years until now, I used to be one of the greatest critics of Chief Femi Fani-Kayode especially when I heard that he is running for the position of Governor in my State in 2011 (Osun State), now I have a positive change of heart for this selfless, articulate, visionary and God fearing veteran. This is also an indication that as worst as PDP seem to be to the Nigerian public we still have a few of its members with distinct credentials and wherewithal to driving the affairs of the Nigerian State. By the grace of God I will always stand on the side of nothing but the truth.
As a woman, a mother of three, I have refused to limit myself to any challenge and I believe my challenge in life should serve as a stepping stone for me to greater heights, with regards to this premise I implore my fellow women not to allow themselves to be subjected to gender inequality by the male counterpart, constructive societal criticism should not be the affairs of the men alone; we can also make a change and we can also play pivotal role to make our system work for good and ultimately to correct the misconceptions in the media about people who have distinguished themselves as veterans in the Nigeria political landscape: Such individuals include Chief Femi Fani-Kayode, Mallam Nasir el-Rufai, Mallam Nuhu Ribadu, Stella Obasanjo (of blessed memory) Madam Oby Ezekwezili, Prof Dora Akunyili, Madam Ngozii Okonjo Iweala, Hajia Esther Nenadi Usman, to mention but a few. On this note I completely agree with Next newspaper editorial and I will like to hinge my position on their stand point (July 2, 2010):
''The place of women in Nigeria's political and social firmament has always been a strong one. In history, myths and legends across the country, noble roles have been ascribed to them in the past and they have served as agents of change to bring positive verve to the tone of life in the society. A few instances would suffice: in Ife Moremi Ajasoro is a name that is revered till today because of the role she played in the liberation of her people. '' In the north, the legendary Queen Amina of Zazzau was a powerful force in the administration of the kingdom in the 15th and 16th centuries. In modern Nigeria, among other names that denote the power of women are the late Margaret Ekpo after whom the airport in Calabar is named, the late Gambo Sawaba who fought tirelessly against the suppression of women in the north, and of course the late Funmilayo Ransome-Kuti, who led women to protest against heavy taxation in Abeokuta, a move that eventually led to the dethronement of the Alake of Abeokuta.''
Barrister Temitope Olayemi-Philips writes from Oshogbo, Osun State.
Disclaimer:

"The views/contents expressed in this article are the sole responsibility of the author(s) and do not necessarily reflect those of The Nigerian Voice. The Nigerian Voice will not be responsible or liable for any inaccurate or incorrect statements contained in this article."
Articles by thewillnigeria.com