EFCC Grills Attah For 7 Hours Over $300M V-Mobile Shares Deal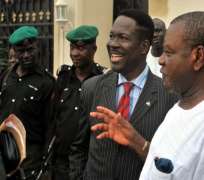 ABUJA, July 14, (THEWILL) -Former Governor of Akwa Ibom State, Obong Victor Attah was today grilled for over 7 hours at the Headquarters of the Economic and Financial Crimes Commission (EFCC) Abuja, over a $300 million erstwhile V-mobile share sales deal involving the Akwa Ibom Investment and Industrial Promotion Council (AKIIPOC), and African Development Funds Incorporated (ADFI), the agency that handled the deal.
Chief Mike Ozekhome, (SAN) counsel to Obong Victor Attah emerged with his client (Victor Attah) at exactly 5.10p.m Nigerian time into the waiting hands of the press who had waited throughout the duration of the interrogation.
Ozekhome who spoke to newsmen after the interrogation said his client was given administrative bail after he made a statement to show that he does know anything about the deal.
He said Akwa Ibom Investment and Industrial Promotion Council (AKIIPOC) handled the V-mobile share deal on behalf of the state government and that the former Governor was not involved at all.
Speaking further, Ozekhome stated that the EFCC has since given a clean bill of health to African Development Funds Incorporated (ADFI) who brokered the sale on behalf of the parties and has not found them wanting since the investigation commenced two years ago.
He said the anti-graft agency had ordered that the 5 % commission due to ADFI be given to them accordingly hence the account which was formerly frozen was de-frozen to enable the firm collect their brokerage.
He explained further that ADFI as a result went to court to file a notice of discontinuance of the case they had already instituted before Justice Olokoba after the payment of the commission, stating that his client knew nothing about the transaction.
"But you know 2011 is here and a lot of people are doing what we call "political engineering" to start a smear campaign to see whether former Governor Victor Attah will be messed up", he said.
"You all know too that Attah is a great supporter of President Goodluck Jonathan, and at time when nobody was sticking out his neck to support Jonathan when Yar'Adua was still alive, Obong Victor Attah was already behind him. There are a lot of fears out there about what Victor Attah wants," he stressed.
"Apart from that he is highly connected with the northern establishment in this country, and he is one incorruptible former Governor one can vouch for. Even if you use a magnifier or telescope on the affairs of his administration, you can never find anything, because I have seen all the documents connected with the case".
Asked whether anybody or group have been suspected to be the mastermind of the petition before the EFCC, Ozekhome said he sees it more like a witch hunt, a political witch hunt. He said when we are close to politics; you cannot say who is doing what. It is like saying the witch cried last night and the child died this morning. You should know who actually killed the child.
THEWILL learnt however that investigations carried out by the commission revealed that the sale of Akwa Ibom shares was actually done outside an agent.
THEWILL sources said, "Two foreigners were later used to form African Development Funds Incorporated (ADFI) to come into the shares disposal to make it authentic with all the documents backdated.
"The amount was paid as commission to African Development Funds Incorporated for allegedly 'assisting' to dispose the state's shares.
"Also, the sum was allegedly laundered through 22 different companies coordinated by African Development Funds Incorporated (ADFI).
"The fund was moved to some foreign accounts in the United Kingdom through some accounts domiciled in a new generation bank in Nigeria.
"We also discovered that the ADF, which was used for the deal is not a registered
company in Nigeria, it was not known to law when it was engaged.
"Preliminary investigation further revealed that the same ADF later metamorphosed into three other companies which are African Development Funds Limited; African Development Finance Limited; and African Development Funds Capital Limited."
A source in the commission said: "We have probed the activities and involvement of some of the 22 firms and a few others are still being investigated.
"Many people have made statements, including Akwa Ibom Government officials and private individuals."
The Akwa Ibom Investment and Industrial Promotion Council (AKIIPOC) actually managed the investment.
In January last year, Attah's associates had stated that the ex-governor knew nothing about the transaction.
They said that AKIIPOC's transaction with the ADFI and V-mobile made Akwa Ibom richer with N20 billion naira.