Malami Should Resign Says South East Family Union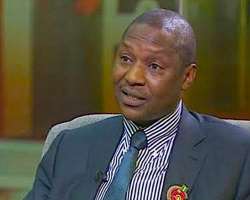 Abubakar Malami (Minister of Justice and Attorney General of the Federation)
The South East Family (SEFU), a socio-cultural advocacy union for stable and progressive family and society has expressed shock and outright condemnation of the wanton killings and destruction of lives and properties across Anambra State, and the reckless insinuation about decalaration of State of emergency in the State by the Minister of Justice and Attorney General of the Federation, Abubakar Malami.
The call for Malami's resignation was made in statement to newsmen in Awka over the weekend by the zonal coordinator of the group, Arc. Donatus Chime and the secretary, Dr. Dubem Okafor
SEFU expressed surprise that the Attorney General could display utter lack of restraint and guile in his partisan mission to compromise the peace in Anambra under the cover of bogus law enforcement. According to SEFU:
"We are surprised that while we are all calling for solution to the sudden violence that pervades the entire country, the Minister of Justice and Arttorney General of the Federation, Abubakar Malami SAN, chose to embarrass the President of Federal Republic of Nigeria with his unguarded suggestion that a state of emergency may be declared in Anambra. Much as the President has assured against that, we insist that Malami failed to live up to the demands of his office and should resign".
"We consider the call by the Attorney General thoughtless in view of the fact that Anambra has over the years been relatively peaceful and cannot be considered for an emergency rule because of a breach or two". SEFU believes that in comparison to other states where violent death has become common, Malami's complicity in the grand plan to make Anambra ungovernable has become evident.
Doubtless, as the Chief law officer of the Federation, Abubakar Malami is increasingly becoming an embarrassment to the President, judging from his blatant anti democratic tendencies and utterances. Against this background, SEFU is of the opinion that it is in order to call on him to resign forthwith.
"It is glaring that Abubakar Malami has forgotten his position and assigned role as an impartial law officer and has become an overly partisan prosecutor and enforcer of the ruling party, contrary to his oath of office."
SEFU as a peaceful union cannot stand akimbo and watch the killing and despoliation of Anambra state by agents whose brand of scotched earth politics is aimed at destabilizing and bringing Anambra State on its knees to grab power. The fact that the AGF is associated with such idea is shameful and should be condemned by all men and women of goodwill.