Senate Debates Motion On Kidnap Of Journalists, Okays INEC Commissioners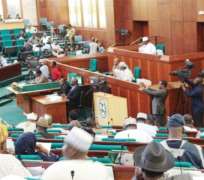 ABUJA, July 13, (THEWILL) - The Senate notched up the general angst against the last Sunday kidnapping of the four journalists today, as it put on notice its readiness to hold open discussion of a motion Wednesday on the spate of kidnapping in the country, particularly in the South East.
The motion is coming on the heels of the outcry that is trailing the abduction of four journalists in Aba, Abia State.
Also the Senate confirmed the nominations of Dr. Abdukadri Oniyangi and Amina Zakari as INEC National Commissioners, thus bringing the number of confirmed INEC commissioners to nine. It now awaits the replacement of the two that were dropped by the President. Oniyangi and Zakari could not make it along with the others as a result of the non inclusion of their curriculum vitae.
However, the motion was sequel to a point of order 42 of the Senate's standing rule raised by Senator Anthony Manzo (PDP, Taraba).
Manzo complained that the general slide in security is affecting every part of the country and lamented that 'Nigeria is at the verge of a security crisis as the spate of kidnapping in the country has left much to be desired."
But Senate President, David Mark explained that some senators have already briefed him on the rampart and unprovoked kidnapping in the country, and advised that the motion be debated tomorrow. Nonetheless, he subjected the issue to voice vote, which was carried.
On the screening of the INEC commissioners, Oniyangi discarded the clamour for electronic voting saying the system would disenfranchise the people adding that; "the essence of voting is for people to exercise their right. I don't think electronic voting will give room for the people to exercise their right."
On the issue of bribery in the commission, Oniyangi said he is not hungry and stressed that national issue is more important than taking bribe. He argued that INEC would get it right in the coming elections.
He disclosed that the image of INEC would be enhanced through the performance of the Commission. "It will take collective efforts to get it right", he said.
In the same vein, Zakari advised that people should be properly educated before electronic voting system is introduced adding that; "we need enough education and without that it will be difficult for the people to understand. We need to educate our people. I don't believe we should adopt the American system of voting, but rather we should adopt the local method."
She however, lamented that late arrival of materials remains the biggest problem facing the nation's elections, "if we plan early and plan well, I believe 70 percent of these problems are solvable. We need to have very good logistics to be able to address these problems."