Strike Notice: F-G And ASUU Should Save The Careers Of Nigerian Youths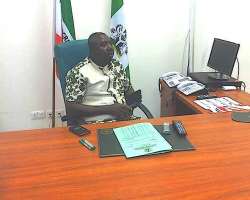 Rt. Hon. Anayo Edwin-Nwonu
(Being the text of a press release issued by the House of Representatives Committee on Reformatory Institutions and member representing Ezza North Ishielu Federal Constituency, Rt. Hon. Anayo Edwin-Nwonu on Saturday, 11th September, 2021)
In reference to the strike notice served the federal government by ASUU, I hereby call on both the Federal Government and ASUU to hold a patriotic and fair dialogue in order to avert another trade dispute or ASUU strike which translates to a major disruption of our academic calendar as well as the careers of our youths.
This call is necessary because the epileptic implementation of the academic calendar of our university system arising from intermittent ASUU and other strikes over the years as well as the COVID-19 lockdown have drastically reduced the quality of our education and affected the functionality of graduates of Nigerian universities. In the same vein, the psychological impact of strikes on our youths is frustrating; and this frustration in turn feeds the youth restiveness witnessed in all parts of our country. That fact ultimately contributes to the security challenge we have in Nigeria today.
Having said that to the Federal Government, I wish to also advise ASUU to be fair and realistic in their demands in view of the economic realities in the country. I appeal to ASUU to be mindful of the fact that there are things the government should do which the economic situation in the country cannot permit now.
In all, I urge both the F-G and ASUU to factor the interest of our children as well as the realities in our country in the handling of their impeding trade dispute so as to save the country another disruption in the academic system which will only frustrate our youths and compound our problems as a nation.
SIGNED:
Rt. Hon. Anayo Edwin-Nwonu
(Chairman, House of Representatives Committee on Reformatory Institutions)