Cocoa Estates Royalties: Gov Ayade, Others Conspire Against AIG Mbu.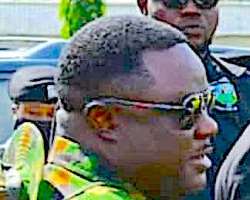 Gov. Ben Ayade (Gov of Cross Rivers State)
A few months back, the Etung Cocoa Estates Host Communities revoked the Power Of Attorney they donated to the former Committee, Etung Cocoa Estates Landlord Communities' Committee which will subsequently be refered to as The Committee. The former Committee was headed by late Engr Lt (NN) Hon Ata Obi Tangban who passed on to Eternal Glory on Saturday the 22 of August 2021at a glorious age of 87yrs, AIG Njar Egbe Njom (Rtd) as his vice and others. With the exception of the late Chairman, other members were accused of compromising and falling into the soiled hands of embattled Oscar Ofuka. They were accused of not pursuing the out of court settlement agreement reached at by the High Court in Effraya, Etung LGA, Cross Rivers State. Attached below is the document. The COMMITTEE had been there since 2013. No payment has been paid as royalty since 2020.
Investitigation has revealed that Whereas one block of cocoa was duly allocated to the late Chairman, his vice, AIG Njom had eleven blocks allocated to him because Mbek who is Oscar's chief allocation officer hails from Etome, the same community with AIG NJOM. The block numbers for the eleven blocks will not be made public immediately. However AIG Njom has been extremely supportive of the embattled Osca Ofuke, the Special adviser to the governor on Cocoa.
The Landlords were upset because he was supposed to regulate Oscar. So far, seventy blocks of farms valued at N280 million have been traced to Mbek. So far, one hundred and sixty blocks of cocoa farms have been traced to Etung Gold controller and SA on cocoa, Oscar Ofuka. These are valued conservatively at N640 million. One of the out of court settlement conditions is that 70% of the farms should be allocated to the indigines, ie the host Communities, especially the youths while 30% should be allocated to everyone outside the host communities. In the same agreement, the fees that beneficiaries will pay for the lease, 70% will go to Government and 30% to the Host communities as royalties.
But out of over N1.4 billion estimated acrued revenue from the exercise, Oscar did not remit any funds to the host Communities' account. Note that Oscar Ofuka hails from Bendeghe Ekiem, the largest Community in the entire Etung LGA, while AIG Mbu Joseph Mbu hails from Abia, the second largest Community in Etung and the highest land donor among the host Communities.
AIG Mbu lives in Abuja but has been in touch with his local Government Area. He was announced as the new Committee Chairman because of his pedigree. He was summoned from Abuja and was inaugurated to chair the new Committee. He is believed to be one of the upright citizens of Etung who cannot be compromised by Oscar Ofuka
In principle, he cannot be intimidated, especially, when he is in the pursuit of justice for the ordinary people.
Investigation so far has revealed that the royalties to be released to the host Communities is put at over N400 million. Secondly, another wooping sum of N1.5 billion in an undisclosed account has almost been emptied. Oscar Ofuka has personally withdrawn over N173 million from another account within a year.
It has also been revealed of a grand conspiracy between Gov. Ben Ayade, Tanko Ashang, the State attorney general, the newly promoted Ccommissioner of police, Alhassan, posted to Cross River State, the DC and AC OPS to dare AIG Mbu whose premature and wrongful retirement is being settled out of Court by the Police Service Commission. Meanwhile, all the cocoa host Communities and their youths are strongly behind Mbu in pursuit of fairness, equity and justice for all.
It has just been revealed by those saddled with the responsibility of verifying cocoa estate allocations that Oba tambe Multi-purpose cooperative Society was allocated 40 hectares, Mboto Farms-MPCS 50hectares, Esu Farms-MPCS 48 hectares, Onob Eji- MPCS 30 hectares, Agbo- MPCS 30 hectares, Osonabiji-MPCS 50 hectares. More revelations on how a commonwealth of the people of Etung is shared is expected soon.