Edwin-Nwonu Congratulates The Catholic Church And The New Bishop Of Abakaliki On Successful Episcopal Consecration.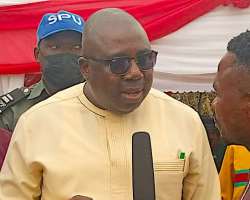 Rt. Hon. Anayo Edwin-Nwonu
A frontline Ebonyi 2023 gubernatorial aspirant and two-term member representing Ezza North/Ishielu federal constituency in the House of Representatives, Rt. Hon. Anayo Edwin-Nwonu has congratulated the newly consencrated bishop of the Catholic Diocese of Abakaliki, Most Rev. Dr. Peter Nworie Chukwu. In his congratulatory message to the Catholic Church and the new Bishop, the chairman House Committee on Reformatory Institutions who was physically present at the episcopal ordination prayed God to bless the episcopacy of the new Bishop, Most Rev. Dr. Peter Nworie Chukwu.
The Catholic Bishop of Abakaliki, His Lordship, Most Rev. Dr. Peter Nworie Chukwu
Speaking further in an interview with journalists immediately after the episcopal consecration ceremonies at St. Theresa's Catholic Cathedral Abakaliki, the federal law-maker and who brimmed with joy said, ''I am excited and I feel happy to witness this monumental episcopal ordination of His Lordship, Most Rev. Dr. Peter Nworie Chukwu. For your information, this is the third episcopal ordination on Ebonyi soil and the second time an Ebonyi son is being ordained as the Bishop of Abakaliki Catholic Diocese of Abakaliki which was created in 1973. The last episcopal ordination held in Abakaliki in 1977. So what we have witnessed today is oftentimes a once-in-a-lifetime ceremony. I celebrate this happening in my lifetime, knowing the great miracles and graces that God will use the ministry of the new Bishop to pour on the faithful in Ebonyi State. I also appreciate the papacy for appointing the new Bishop; and I thank the Papal Nuncio, Most Rev. Antonio Guido Filipazi who represented His Holiness, Pope Francis, here today''.
Bishop P. N. Chukwu receiving papal blessings from the Papal Nuncio to Nigeria, Bishop Antonio Guido Filipazo.
Going further, Hon. Edwin-Nwonu thanked the Catholic church for the choice of His Lordship, Most Rev. Peter Nworie Chukwu whom he described as ''a humble and charismatic shepherd loved by the church and his people of Ebonyi State. The general jubilation witnessed here and the joy you see in the faces of the people are evidences of the way the faithful feel about His Lordship's appointment, consecration and installation''.
The ordination ceremony attracted the Papal Nuncio, Most Rev. Antonio Guido Filipazi; the retired Bishop of Abakaliki Catholic Diocese, Most Rev. Dr. Michael Nnachi Okoro; Catholic Bishops of Nigeria; the clergy and religious of the Catholic diocese of Abakaliki; the governor of Ebonyi State, Engr. David Umahi; members of the Ebonyi Caucus of the National Assembly; the Catholic faithful; a broad spectrum of Ebonyi people and their friends and well-wishers.