Cocoa Estates Land Lord Communities: Aig Njar Njom (rtd.) Challenges Appointment Of Aig Mbu As New Chairman In Court
As Former CHAIRMAN, Others Distance themselves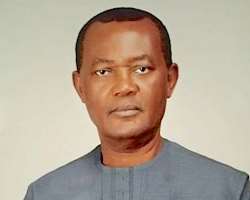 Recall that Etung Cocoa Estates Land Lord Communities in July 2021 revoked the power of Attorney donated by the Chiefs of Cocoa Community the previous committee chaired by Engr. Hon. Ata Obi Tangban, deputized by AIG Njar Egbe Njom (Rtd) and others. A new power of Attorney was donated to the current committee headed by AIG Mbu .J. Mbu Rtd, Mr. A.N Abang as vice chairman and others. The development has become dramatic.
The former vice chairman of the dissolved committee, AIG Njar Njom and others, who are somewhat scared of the 'no nonsense' new sheriff of the Committee went to Etung high court Division to file an exparte motion pleading with the court to stop AIG Mbu and Mr. A.N Abang from parading themselves as chairman and vice chairman of the Etung Cocoa Landlord Communities committee.
The former chairman who was surprised at the action of his former vice, AIG Njar Njom, has as a matter of principle refused to be part of the court proceedings. Hon. Engr. Ata in a radio announcement disowned those who went to court and has said that he is not a party to the suit.
In another twist, the chiefs of the Cocoa communities have sent a letter to relevant quarters and the media admonishing AIG Njar Njom Rtd and others questioning their audacity to interrogate their elders who gave them the power and have withdrawn same.
The acceptance of the offer to serve as chairman by AIG Mbu came as a surprise to many who know him. Since his untimely retirement, he has recieved various offers but has turned them down. This appointment to him is the greatest as it involves service, justice, equity and empowerment of the youths embroided in transparency to his people. AIG Mbu has held the following appointments while in service aside his normal postings: -
Chairman Presidential Task force on Monitoring and Distribution of petroleum products 2000-2002, NIGER STATE.
Chairman Inspector-General of Police Task Team on Monitoring and implementation of Police Projects.
Chairman Nigeria Police Hall of Fame Committee.
Chairman Enforcement Task Team on CITY CLEANING AND MANAGEMENT, FCT ABUJA.
Co-chairman, Inspector-General of Police Committee on Communal Clashes.
Engr. Hon. Ata O. Tangban the former chairman is AIG Mbu's mentor. In the words of AIG Mbu, "...he is one of the most transparent human beings that I have ever encountered in this world..". AIG Mbu's second son Lumumba Ata Mbu is named after him. Mbu's vice chairman a retired permanent secretary and a one time Area manager of the Cocoa Estates, a no nonsense and highly principled man is AIG Mbu's mentor since Mbu was nineteen. AIG Njar Njom, a onetime CP of Taraba state Command and onetime commandant of police Academy and Mbu were very close. Since his retirement, Mbu has been supportive to his senior especially as they come from neighboring villages. However, their relationship went sour when his fight against against the embattled SA to the governor on Cocoa, Oscar Ofuka to render account of the people's royalties started. When Aig Mbu watched the video clips where AIG Njar Njom was instructing ACP Elema to shield Oscar from arrest and prosecution for a mind boggling misappropriation of the people's money. This invariably angered Mbu. AIG Mbu made sure all the procedures were followed, justice prevailed and Oscar was arrested and taken to Abuja. He was relased after two days' detention. AIG Njar Njom and ACP Elema continued talking. It was later discovered that ACP Elema who was in charge of IGP monitoring team worked under Njom somewhere. ACP Alema has been redeployed. Sources say AIG Mbu commands a large followership in the police force.