Ebonyi Guber 2023: "I am Contesting To Win", Hon. Edwin-nwonu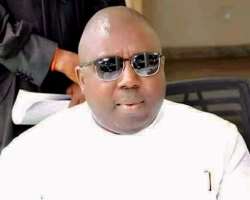 The member representing Ezza North/Ishielu Federal Constituency in the National Assembly, Abuja, Rt. Hon. Anayo Edwin-Nwonu has confirmed that he would contest the gubernatorial election for the position of the Governor of Ebonyi State in the approaching 2023 general elections. The two-term federal legislator who doubles as the Chairman of House of Representatives Committee on Reformatory Institutions made this confirmation in Lagos on Sunday, 1st August, 2021 during a chat with journalists. Brimming with confidence, the unassuming but vibrant law-maker told journalists: "I want to confirm today that by the special grace of God, I am going to contest for the number one seat in Ebonyi State in 2023. By the special grace of God I am going to win and become the Governor of Ebonyi State come 2023".
Hon. Edwin-Nwonu and some members of his entourage with Comrade Emmanuel Chukwu who is the Chairman of Ezza Union, Lagos branch.
Speaking further, Hon. Edwin-Nwonu who chaired the well-attended 2021 Oke-aku celebration of Ezza Union, Lagos branch congratulated the chairman of Ezza Union, Lagos branch, Comrade Emmanuel Chukwu; and extolled the organizers of the event stating that culturally, Oke-aku Ezza Ezekuna was a festival of love and unity. The law-maker who charged the people of Ezza Ezekuna in particular and Ebonyi people in general to remain united in love posited that a loving and united people were bound to receive unlimited blessings from God who is the personification of love and the author of unity.
Rt. Hon. Anayo Edwin-Nwonu taking questions from journalists.
Giving insight on the programmes his administration intended to run for Ebonyi people if he becomes the Governor of Ebonyi State, Hon. Anayo Edwin-Nwonu said that the focus of his administration would be to restore Ebonyi State to Ebonyi people through realtime status-enhancing empowerment through which beneficiaries could live in self-sufficiency; improvement of the wages and remunerations of Ebonyi workers; massive investment in Education, revival of foreign scholarship programme and general retooling of our education sector aimed at giving Ebonyi people functional education; Agricultural revolution where Ebonyi farmers will be practically encouraged with both state and federal incentives to farm and produce food for the Ebonyi and neighbouring States; and opening up rural roads and construction of satellite towns to check rural - urban migration. Others include "benchmarked" renovation and revival of the primary and secondary health institutions and facilities to make them serve our rural folks; radical involvment of Ebonyi people in the management of the factors of production and wealth creation etc. "We will do all these and more to reinvent or recreate Ebonyi people and equip them to further enhance their integrity, honour and selfworth", Hon. Edwin-Nwonu concluded.
Ezza Ezekuna people celebrating their culture in Lagos.
Rt. Hon. Anayo Edwin-Nwonu was accompanied to the Ezza Ezekuna cultural fiesta by prominent stakeholders of Ebonyi State like the immediate past Secretary to Ebonyi State Government, Dr. Hyginus Nwokwu; pioneer member of Ebonyi State legislature, Hon. Joseph Onele; Abuja-based entrepreneur and CEO Glonest International Concepts Nigeria Ltd, Hon. Ernest Ede; some university dons; and youth leaders among others. From all indications the entrance of this young and ebullient politician into the 2023 Ebonyi gubernatorial contest has automatically changed the trajectory of the contest raising the bar to an all-time high.