Akpabio Tasks NUJ on Quacks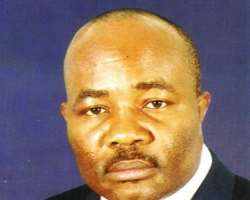 Godswill Akpabio
Governor Godswill Akpabio of Akwa Ibom State has charged the Nigeria Union of Journalists (NUJ) to rid the union of quacks. He said one of the greatest challenges and threats to the media industry in the country was the menace of quacks in the profession.
The governor, who spoke while declaring open the National Executive Council (NEC) meeting of the NUJ in Uyo, at the weekend, regretted that touts have soiled the 'noble' profession.
"Protecting your investment means you much have to wipe out the quacks in your midst and ensure that only qualified and responsible persons become your members.
"Many mushroom newspapers run by ill-trained human beings calling themselves journalists and who make themselves machinery to fight constituted authorities, constitute the greatest threat not only to your profession but also to democracy".
Akpabio, who was conferred with Good Governance Award by the NUJ said that the greatest challenges facing the National Executive of NUJ today and the entire journalism profession in Nigeria was the issue of quacks and how to protect what is invested in democracy.
He thanked the NEC for the award and dedicated it to all Akwa Ibom people. He promised that the award would spur him to work harder in his quest to bequeath a lasting legacy in the state.
The National President of NUJ, Alhaji Mohammed Garba had earlier said the Union had already set up a committee to flush out quacks from the profession across the country.
This Day