Gov. Ben  Ayade  Is my Friend  And My Governor but We Are Bound To Disagree On Some Issues......AIG Mbu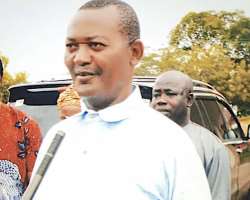 AIG. Mbu Joseph Mbu is a name that can not be easily forgotten in the security arena, especially in The Nigeria Police Force during his service to our Nation and humanity. In the course of his service to the Nigeria people, his bravery, courage and daring stance on critical issues and total loyalty to the Government of the time made him an outstanding officer to date.
Same with his infrastructural developments where ever he went. He earned several awards in Nigeria, Ghana, South Africa and in the USA. He also has the Nigeria Police Medal as well as the Nigeria Police Medal Of Courage and so many commendation letters from some IGPs and Organizations. AIG MBU had gone round the Police. He was DPO in over six Police Divions Area Commander in not less than four Area Commands supervising not less than sixteen Police Divions from 2000 to 2006. He was appointed Commissioner in Charge of Police Education, Commissioner in charge Police Mobile Force MOPOL , Commissioner in charge Oyo state Rivers State and also the Commissioner FCT Police Command. He also served as the Assistant Inspector General of Police Zone 7, Abuja, and also as AIG in charge of Zone 2, Lagos. His last appointment was as the Commandant of Police Staff College Jos where senior Officers from the ranks of ASP 1 to DCP go on courses and he left remarkable changes as usual.
The controversy that he found himself while in service was as a result of his rigid stand against injustice and cheat. He was later understood and appreciated by even his adversaries.
As an individual who does not tolerate injustice, AIG Mbu Joseph Mbu is once again at the centre of cheap blackmail and ridicule concocted by alleged enemies of the people of his Etung local government area of Cross River State who also produced Retired AIG Njangor E. Njom, now in his late seventies . Mbu has obviously stepped on toes of fraudlent individuals who want the status quo to remain and the old order to continue to prevail to the detriment of the masses.
In this probing interview with The Nigerian Voice correspondent in Abuja, AIG Mbu takes us to the genesis of his encounter with powers-that-be and exploiters of the masses but insists that Governor Ayade is his close friend and he is not aware of what his aides are doing especially Oscar Ofuka the SA on cocoa development.
The Nigerian Voice: Mr Oscar Ofuka, the Special Adviser to Governor Ben Ayade on cocoa development recently became critical of your stance on the agreement entered into by Cross River State government with the host communities of Cocoa estates. What happened?
AIG Mbu: Cocoa landlord communities took the State Government to court over default and neglect. There was an out of court settlement. Terms were accepted by both parties and signed. The allocation committee will have three representatives from th landords to monitor cocoa allocation and ensure farms are leased out in this format : 70% of the farms to indigenes of the communities and 30% to non indigines. This was intended to reduce youth restiveness and cultism. What did Oscar Ofuka do? He allocated only 20% to landlord communities and 80% to non indigenes. Revenue from the lease is to be shared as follows; 70% to the government and 30% to communities as royalties. So, for every NGN100 million, NGN30 million goes to landlords. Since 2019 that Oscar took over, he has not remitted any money to the landlord communities including the back log. This is my offence for asking for over NGN300 million for our people and proper allocation based on the out of court settlement.
It sounds absolutely preposterous when a parasitic individual like Oscar Ofuka goes about looking for cheap popularity by involving Gov Ben Ayade in our communal disagreement. For Gods sake how does his Gov. Ayade come into this matter? Who is more important to the Gov is it Oscar or me?
The Nigerian Voice: Why was it necessary to dare Oscar Ofuka knowing his loyalty and close relationship with the governor?
AIG Mbu: I have been away on national duties for a long time. Oscar visited me around June 2018 in Abuja. I didn't know him much
He came and talked about cocoa allocation and out of court settlement he courageously fought in favour of our cocoa estate communities. He told me that if I help him get appointed as the estates allocation chairman from the Government, he will implement the terms of the agreement to the latter and our youths will be busy and 'restiveness' will be a thing of the past. He also said that he will ensure that all arrears of royalty monies will be paid. Take a look at this cocoa tree in my compound, it was Oscar who planted this special breed which started fruiting last year. I assured him of my support. He was later appointed and not too long he breached all the terms. In 2020 January I was home and he brought my mentor, Engr Ata Obi Tangban to my house as late as 2100hrs for an eighty-five year old to come and broker peace. I told Engr Ata and six others why I am angry. They were shocked and said loudly that Oscar told them something different.
What has Oscar's loyalty to Gov Ayade got to do with releasing a copy of the master list of Cocoa allocation indices to the cocoa landlord communities? Is AIG Mbu aspiring to overthrow Governor Ayade? Does Mr Oscar Ofuka the PhD impostor not know the long standing relationship between AIG Mbu and Gov Ayade? How did he get to that office in the first place? Oscar Ofuka should tell Governor Ayade that he allocated one hundred blocks of Cocoa farm to himself using different and fictious names.
The Nigerian Voice: AIG : What do you know about Cocoa development fund?
AIG Mbu: The Cocoa Development fund was introduced to assist farmers with subsidized chemicals, seedlings and other aids for Regeneration of the Cocoa farms. The fund is supposed to be operated by the Ministry of Agric and the Cocoa Association of Nigeria (CAN). However, the fund has been highjacked since 2017 by Oscar Ofuka and all proceeds accruing to the fund spent without accountability by Oscar
The Nigerian Voice: Do you think that the sudden change Oscar Ofuka's lifestyle is connected to his activities in Cocoa estate business?
AIG Mbu: Let him tell the governor why and how he spends over a million Naira everyday. How he came about the houses in Calabar, Lagos and the multi million Naira schools in Ikom and Bendeghe. He should know that I was a senior police officer.
The Nigerian Voice: Cross River Watch, an online news platform and Ayade advocate organization, another online platform based in Calabar recently criticized your heavy-handedness on Oscar Ofuka. Why did you discard their opinion?
AIG Mbu: CrossRiverWatch is a biased publication and I never granted them any interview. I have long ago withdrawn my respect for them. As for Ayade Advocate Organization I don't see them as anything. The mushroom platform who published a libellous article against me on: https://ayadeadvocate.org/aig-mbu-rtd-crack-to-assassinate-me-unless-i-renounce-ayade-ofuka-laments - as we conduct this interview has been brought down, most probably by the host of the platform as they have been inundated with petitions against the platform on various libellous stories.
I have the right to criticise the Governor over some of his policies. Let Oscar tell the people how he acquired so much money that in a day he purchased three cars. Oscar should ask the Governor of my contributions to his election victories. He should ask him what action I took for his safety during the #Endsars crisis. I don't belong to any Political Party. I believe in delivery of dividends of democracy to all our people. As far as I know, the Governor, His Excellency, Prof. Ben Ayade remains my friend even though I sometimes do not agree with some of his policies and I criticize him. I am not cheap and I don't go about begging even though most people I know avoid me since I am not in government. And its always so.
The Nigerian Voice: Mr Oscar Ofuka recently raised an alarm that you allegedly sent assassins against him on his way from Obudu. Why would you resort to such measure?
AIG Mbu: That is the cheapest and unintelligent propaganda and blackmail that anyone can peddle against me. It's a very mischievous statement that can be credited to me. Nothing will push me to such extreme. As Oscar Ofuka is indebted to the Cocoa Estate landlords and Communities, he must be alive to account for the people's money. The governor will soon see all the financial recklessness and fraudlent activities of the scammer who uses the name of the Governor to perpetuate all kinds of evil. The cocoa estates CZAR. Remember that Oscar Ofuka used our boys to raise cocoa nursery of over 20000 high breed seedlings in my own area Abia/ Bendeghe cocoa estate. He was coming at night with Ford Range pickup trucks in company of Policemen attached to him to convey the nursery seedlings to unknown destinations. I challenge him to take us to where they were finally planted in our cocoa estate. He was lucky I was not home then.
In my next interview I will expose the grand plan by Oscar , suspended Paramount Ruler of my local Govt, #Endsars Judicial Panel members with AG/ JC as Secretary and the office of AG over a murder charge in conspiracy with a Police ASP in Police legal department who was paid heavily while the SP heading the Legal Department was on leave. He used the Chambers where he had his attachment to file against the IGP on #Endsars bringing in my name. I never served in Cross River and the Panel had no jurisdiction over our community decision to fine the suspended Paramount Ruler over fraudulent activities. I was never invited.The Paramount Ruler feels I am the cause of his tribulations with the community while Oscar feels I am the most uncompromising in the cocoa project so I should be associated with cult death so they can have their way and share our estates with some people in the AG office.