HOLE-IN-THE HEART GIRL DYING, NEEDS N12M TO LIVE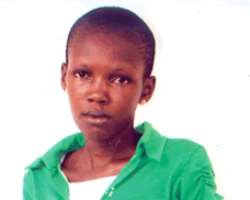 Chisom
At 15, death is staring Miss Chisom Okeke in the face. With a hole in the heart, this girl's life, hangs in the balance. It is only the grace of God and benevolence of Nigerians that would save her.
Chisom, who hails from Igboukwu, in Anambra State, is a JS3 student of Holy Family Secondary School, Igboukwu. She dropped out of school because the heart problem would not allow her to cope with the rigours of academics.
According to a health report by Prof. D.A. Oke, consultant physician/cardiologist, Lagos University Teaching Hospital, Chisom needs an urgent surgery. The report said: 'Chisom was seen in our health facility on the 2nd December, 2008, having been referred to us on account of a year history of recurrent breathlessness, which has been worsening, as it is associated with orthopnoea, paroxysmal nocturnal dysponea, easy fatiguability, easy satiety, palpitation and cough. She also has bilateral progressive leg swelling and joint pains.
'Having certified that she has a cardiac malfunction, as a result of a hole in the heart, she needs a valve replacement surgery in Ghana.'
Speaking to Saturday Sun , Mr. Pius Okeke, a petty trader in Igboukwu and Chisom's father, pleaded with kind-hearted Nigerians to come to their rescue as he cannot afford N2.5million needed for the surgery. He said he had spent so much money taking his daughter from one hospital to another before the problem was identified.
In like manner, Chisom asks Nigerians to assist her to enable her to undergo surgery to be able to embrace life again and fulfill her destiny.
Anyone, who wants to help can pay into a First Bank Account Number 1873010090088, with the name, Felicia Chinwe Okeke.