76 NOLLYWOOD STARS CELEBRATE SOYINKA @ 76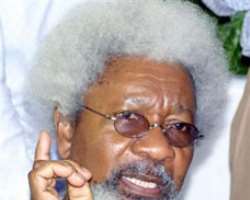 Soyinka
Nobel Laureate Professor Wole Soyinka has come a long way. The thespian, who turns 76 on Tuesday, July 13, 2010, deserves to be celebrated through every available means, most especially, theatre and movies. This is precisely the reason 76 theatre and Nollywood celebrities will be rolling out the red carpet to celebrate Soyinka at the Muson Centre, Onikan, Lagos on his birthday. And this is just the forerunner!
The main act of the birthday celebration is the command performance of Preemptive, a play put together by Zmirage Multimedia Limited in honour of Soyinka. So, as an icing on his birthday cake, the executive producer of the play, Teju Kareem has made a careful selection of 76 of those who over the years have acted in Soyinka's plays to grace the red carpet in honour of their mentor.
The roll call of the celebrities gracing the red carpet, a grand occasion that will be broadcast live on television, includes Richard Mofe Damijo, Joke Silva, Olu Jacobs, Jimi Solanke, Tade Ogidan, Tina Mba, Kola Oyewo, Peter Badejo, Jahman Anikulapo, Yibo Koko, Zack Amata, Bisi Marinho, Rachael Oniga, Bimbo Akintola, Larry Williams, Toun Oni, Ayo Adesanya, Ayo Lijadu, Olumide Bakare, Tunde Kuboye, Ayo Mogaji, Sola Fosudo, Duro Oni, Ben Tomoloju and Reuben Abati.
Others are Akin Lewi, Biodun Duro Ladipo, Segun Arinze, Dejumo Lewis, Ihria Enakhimo, Tunde Kelani, Peter Fatomilolla, Nobert Young, Hafiz Oyetoro, Ahmed Yerima, Yemi Sodimumu, Alex Osifo Omiagbo, Ngozi Nwosu, Abiodun Ayoyinka, Edmund Enaiibe, Felix Okolo, Uzor Maxiim Uzoatu and Stephen Ogundele.
Written by Niyi Coker Jnr. and directed by Segun Ojewuyi, Preemptive is set in New York City, United States and Zanzibar against the backdrop of an impending city-wide racial unrest. Police brutality and social paranoia have been made into a systemic weapon of mass separatism. In New York, we see a charged space of diverse histories and competing world-views. The characters must, therefore, wrestle with their inter and intra-racial demons, even in the age of Barrack Obama. Rather than come to a meeting of the minds; the audacity of hope is threatened. Ant the audacity of Preemptive strikes must be condemned.
According to Ojewuyi, Preemptive, which seeks to celebrate the indomitable energies and excellence of Nigerian and American theatre fused together, is a drama of magical transpositions and realities, where romance and love overpower the fear mongering that sets race against race and colour against colour.
He says: 'With a web of artistes and other professionals on three continents, the project has grown in confidence and purpose. I am hopeful that our gift of artistry is appreciated by our audiences, that we all become strong advocates for the bilateral and transnational interests we commonly embrace. Now as Nigeria beckons, the wits have begun to run dry of words. This has been 17 months of careful planning and mind-numbing attention to details.'
And true to Ojewuyi, who doubles as Artistic Director and Co-executive Producer, Preemptive parades a high calibre cast that includes Racquel Maria Mckenzie, Christopher Michael Collins, Tania Dawn Coambs, Basha Sharone Evans, Rachel Nicole Hastings and Cortez Johnson. While Mary Kathleen Ryan emerges as Assistant Director of the play, Set Designer is Bobbie Bonebrake and Glen Anderson is Associate Lighting Director.
Prior to hitting Muson Centre on Tuesday, however, the play had been staged at Errol Hill Theatre, Barbados on June 26 and at Shaw Theatre, London on Friday, July 2, 2010. Kareem states thus: 'The London and Barbados shows were largely successful. The audiences that turned up at the theatres have been overwhelming. We also hope to record a huge success as the play comes to Lagos on Tuesday,' Kareem says.