In Terms of Infrastructure, There Was Igbanke!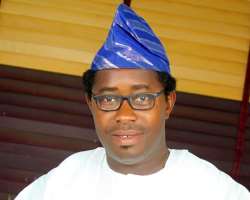 Engr.-Usiagwu Arthur Osaretin
According to Penguin Random House; a publishing business entity that is committed to helping authors realize their very best work and to finding innovative new ways of bringing stories and ideas to audiences worldwide, "There Was a Country", a book authored by Chinua Achebe, is a towering account of one of modern Africa's most disastrous events, from a writer whose words and courage left an enduring stamp on world literature. A marriage of history and memoir, vivid firsthand observation and decades of research and reflection, There Was a Country is a work whose wisdom and compassion remind us of Chinua Achebe's place as one of the great literary and moral voices of our age".
Without doubt, similar situation that ostensibly inspired the great writer of blessed memory has no doubt inspired this writer; though from a micro perspective, to bring into focus the reality of the situation in Igbanke. For the sake of clarity in this context, Igbanke is an Ika community in Edo State, located in Orhionmwon Local Government Area of the state.
Against the foregoing backdrop, it is expedient to say that there is nothing nostalgic about going down memory lane to recount the enviable number of infrastructural facilities that were in place in Igbanke during the school days or rather teenage days of this writer. In those days, there was a functional General Hospital, Post Office, Library, Rural Electricity Board, Water Board among other essential infrastructures that rendered services to the public with "motorable" road network that linked all the communities that made up Igbanke. The communities cut across Omolua, Idumuiru, Igbontor, Idumodin, Ake-Obiogba, Oligie and Ottah.
Classroom block donated by Usiagwu
But alas! Today, the state of infrastructures and their collective decay in Igbanke has remained a matter of great concern arising from the fact that infrastructural functionality plays a pivotal role in the socio-economic wellbeing of the populace and the overall growth and development process of the economy.
As you read this piece, the library, post office, water board among other source of essential services to the community have all decayed, and can be said to be in a state of uselessness. I deliberately avoid stating in this context that they are no more in existence as I am very optimistic that they can be brought back to the state of usefulness.
Talking about the Igbanke General Hospital that once served the health and medical needs of relatively distant communities like Ekpon, Umunede, Oza-Nisi, and even Abudu among other communities in those days, investigations revealed that it is bedeviled by a horde of problems which among many others includes shortage of manpower, outdated facilities, dirty and bushy environment, lack of power supply from the national grid and shortage of consumables.
Recently at a media parley while putting the state of the hospital in perspective, the president of Igbanke General Union Worldwide (IGU), Engr. Usiagwu Arthur Osaretin aptly painted the extant graphic picture of the hospital thus:
"Our general hospital has become a shadow of itself. As a community, we have done tremendously within our capacity to upgrade the facilities in the hospital. Few years ago, Association of Igbanke Professionals donated fans, matrasses, air conditionals chairs and benches for out -patients receiving section. Igbanke Union in the United States also recently brought in ultra-modem facilities needed to improve the status of the hospital. The major challenge facing the hospital is manning. We have visited the Edo State Hospitals Management Board (HMB) in Benin-city but to no avail. My appeal in this parley to the executive governor of Edo state is to urge him to help my community with qualified staff to man this facility for efficient service delivery to my people. I am confident he will address these areas. In fact, both association and individuals have for the umpteenth time made donations to the hospital in the bid to see that it begin to function again like a hospital in the true sense of the word.
It would be recalled at this juncture that the general hospital was built by late General Samuel Ogbemudia-led administration in the old Bendel State and commenced operations on December 4th, 1974.
In the area of education needs of all Igbanke children that are schooling at both primary and secondary schools in the community, learning has ostensibly become a burden as school structures across the communities that made up Igbanke are nothing to write home about. It is not an exaggeration to say that the situation is the same in all the communities. Unarguably due to the appalling and unconducive nature of school environments across the communities, the leadership of Igbanke Unity Forum (IUF) in April 20, 2019, presented school furniture to all 13 primary schools in Igbanke.
In the same vein, members of Igbanke Grammar School Old Students Association who were worried (and still are) by the growing infrastructural decay at its alma mater, commissioned, renovated and handed over to the school an administrative block.
Still in the same vein, Engr. Usiagwu said in an interview held recently with him by this writer that he has equally donated a classroom block to a primary school in the community. He said, "In my own little way, I recently built and furnished a block of two classrooms in my alma mater, Igbontor Primary school, Igbontor-Igbanke and in turn donated the project to Edo State Government". He said, the facility was commissioned by the Executive Governor of Edo state, Mr. Godwin Obaseki, who was ably represented by the deputy speaker of Edo state House of Assembly, Rt. Hon. Roland Asoro.
Against the foregoing backdrop, there is no denying the fact that members of Igbanke community have being compelled to resort to self-help towards the development of the town. Ordinarily, the onus of developing the community is on Edo State government. Unfortunately, since the government is not forthcoming in that direction of development, the people have no other option than to help themselves. Given the forgoing untoward development, it is little wonder that this piece is aptly headlined thus: "In Terms of Infrastructure, There Was Igbanke" as a reminiscence of what Chinua Achebe literarily did through "There was a country" in the case of Nigeria. Interpretatively put, the infrastructure that one characterized Igbanke as a community are no more present, and where they are present, they are no more functional, and no longer serving the purposes they were established for.
Speaking to this writer recently, Engr. Usiagwu said, "Sincerely, I am at sea on why the developmental initiative of NDDC is not visible in the community. In our local government, Igbanke is one of the top urban settlements and despite that, its continuous neglect has become very worrisome. For instance, no Igbanke man is on the board of NDDC. I think there is no plan yet on the part of NDDC to push developmental project to my community. This alienation is one too many. I want to appeal to the management of NDDC to include Igbanke community in their map for project that will transform the lives of the people of Igbanke. This neglect is actually becoming unbecoming and we are quite optimistic that this position will change for better".
Disclaimer:

"The views expressed on this site are those of the contributors or columnists, and do not necessarily reflect TheNigerianVoice's position. TheNigerianVoice will not be responsible or liable for any inaccurate or incorrect statements in the contributions or columns here."