President Buhari And Lai Mohammed: Jack Dorsey Tweets In The Language You Understand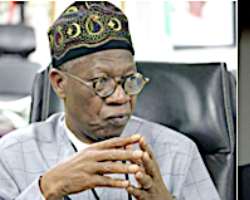 In the current world we live in, no person or government can effectively block things people want to see, watch, possess or do. Americans will always fight for liberty. And in every way possible Americans will always fight for freedom for other nations. The legacy of America has always been the fight for liberty and freedom, and will call for freedom, independence,and resistance to tyranny in anywhere in the world.
So, when Twitter CEO, Jack Dorsey, in defiance of the ban, tweets the Nigerian flag as Nigeria marks Democracy Day, he is hinting that you President Muhammadu Buhari and Alhaji Lai Mohammed, Minister of Information, should stay clear from repressive authoritarian policies or face the full weight of democratic forces such as America.
The CEO tweeted the Nigeria flag at midnight informing Nigerians of their constitutional right to peacefully protestwithout fear of retribution or censorship.
As of the time of this writing the tweet has attracted over 40,000 retweets by Nigerians and admirers of Nigeria.
President Buhari and Minister Mohammed, say what you like about Tweeter trying to take economic advantage of Nigerians, if you do not respect the peoples' fundamental rights, you will suffer a crushing defeat from the likes of America on matters of freedom of speech, the press, and association, and other human rights guarantees.
Nigeria's constitutional democracy and international human rights law, as set out in the Declaration of Principles on Freedom of Expression in Africa, protect the right to free expression, free press and access to information and provide that any restriction to this right must be justifiable in a democratic society.
President Buhari and Minister Mohammed, this is what America is advising you of through Jack Dorsey, the billionaire co-founder, and CEO of Twitter, so do not mess with America.
Prof. John Egbeazien Oshodi, an American based Police/Prison Scientist and Forensic/Clinical/Legal [email protected]
Disclaimer:

"The views/contents expressed in this article are the sole responsibility of the author(s) and do not necessarily reflect those of The Nigerian Voice. The Nigerian Voice will not be responsible or liable for any inaccurate or incorrect statements contained in this article."