Mr. Buhari, That Tweet Was Stupid, Now You Are Looked At Differently Across The World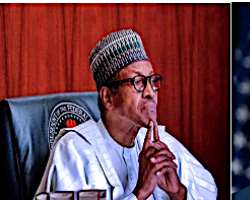 What is particularly striking about Nigerian President Muhammadu Buhari's tweet is how profoundly counterproductive it likely is to both his own interests and those of the country.
Mr. President, by your own admission and from your experience you will agree that the Nigerian Civil war, which lasted from July 1966 to January 1970, remains the weightiest event in the country's post-independence history in ways reminiscent of the Civil War in America.
At a time when the commemoration of the Nigeria-Biafra Civil War was taking place in Southern eastern region with an estimated one to three million deaths, mostly from the Igbo tribe, Buhari is threatening a second civil war on the Igbos through a tweet.
The civil war was a particularly traumatic conflict and yet we have a President of a democratic country spreading dangerous tweet. It was a time of tragedy and trauma that lingers on in the lives of many Nigerian generational families.
Buhari, in a now-deleted tweet, had written, "Many of those misbehaving today are too young to be aware of the destruction and loss of lives that occurred during the Nigerian Civil War. Those of us in the fields for 30 months, who went through the war, will treat them in the language they understand."
Buhari's message was not only removed by a US-based social media company, Twitter for violating its "abusive behavior and inciting violence" policy, Buhari's Twitter account was suspended for 12 hours.
Former US President Donald Trump was perhaps the most high-profile figure to be suspended, over incitement of violence, now the President of the largest democracy in Africa is probably the biggest threat to Nigeria's democracy, by this genocidal tweet. The words of a President matters, and the signal such words convey to Buhari's followers, his security forces including the police could have devastating consequences on the perceived enemies.
Nigerians of good conscience should be grateful to the Peoples' Gazette, an online publication on political affairs, whose report made Twitter act.
Almost all popular news outlet in the world carried the news and these include BBC, US News, Bloomberg, Swiss News, Reuters, NY post, African News, Yahoo, Voice of America, Aljazeera, and many others.
Give the chronic history of abuse of civil liberties in Nigeria the United Nations, the United States of America, the UK, the International Criminal Court, and other international organizations should be concerned.
In October of 2020, the now President of the United States of America, Joe Biden stated "I urge President Buhari and the Nigerian military to cease the violent crackdown on protesters in Nigeria, which has already resulted in several deaths. My heart goes out to all those who have lost a loved one in the violence. The United States must stand with Nigerians who are peacefully demonstrating for police reform and seeking an end to corruption in their democracy. I encourage the government to engage in a good-faith dialogue with civil society to address these long-standing grievances and work together for a more just and inclusive Nigeria."
In terms of Nigeria's unity and democracy the greatest threat to Nigeria now appears not to be independence agitators like Sunday Adeyemo AKA Sunday Igboho of Western Nigeria or Nnamdi Kanu of the East, but the nation's President himself. This tweet which constituted words of genocide towards the Igbos is worrisome.
If the President is so concerned about the nation's escalating insecurity, why did he not send out violent tweet to the people of the mostly Muslim North-Western region of Nigeria with long standing deteriorating security situation marked with vicious attacks on local communities and government properties?
At no time has he tweeted the same specific threats of war against the North where attacks by terrorists remains frequent.
Certainly, the President should not be threatening genocide to any part of Nigeria and for him, and his government to be targeting the predominantly ethnically Igbo region seems prejudicially motivated, and a sign of a hate crime as it relates to violence, motivated by partiality, religion, and ethnic orientation.
There is need for the world powers to tell Buhari to rethink his views regarding any planned genocidal onslaught in eastern Nigeria.
We do not want to see Buhari, an ex-general who ruled as a military dictator in the early 1980s, who fought against the Igbos the 1967-1970 Biafran war, starting another war that might again lead to the starvation of more than 1m 'Biafran' people.
Buhari must learn from former President Trump who for 'glorifying violence' is now permanently suspended not only from Tweeter but from Facebook and Instagram.
There is a social psychology lessen here and the likes of President Buhari, Garba Shehu, the media adviser to the President, the Minster of Information Lie Mohammad, and others is to spew out the usual Nigeria threats. 'You don't know whom I am I will deal with you; I will close your company down.' Tweeter is not in an unregulated society, and it is a social media platform with the power to regulate content according to their own rules. Tweeter is U.S based private company with solid rules on its website about inciting and glorifying violence, and when you violate it no amount of begging, bribing, or threatening will stop it to take actions when there is a violation.
President Trump once signed an executive order while in office aimed at limiting the broad legal protections enjoyed by social media companies, he not only failed his Tweeter, Facebook and Instagram accounts are banned to this day. Just some days ago a Tweeter account that was posting messages from Trump is now suspended. This happened to Trump a onetime most popular and powerful President in the world.
Let alone of a presidential head in a developing country that was once described by Trump as a "shit hole" country. No, Nigeria is not a "shit hole" or a banana republic. We just need leaders with interest in democratic governance, fair play, constitutional, civil, and political rights, and civil liberties, as such mentality will keep the people safe and make sure the equality and dignity of all citizens are not at risk.
Prof. John Egbeazien Oshodi, an American based Police/Prison Scientist and Forensic/Clinical/Legal Psychologist. A government Consultant on matters of forensic-clinical adult/child psychological services in the USA; Chief Educator and Clinician at the Transatlantic Enrichment and Refresher Institute, an Online Lifelong Center for Personal, Professional and Career Development. The Founder of the Dr. John Egbeazien Oshodi Foundation, Center for Psychological Health and Behavioral Change in African settings, as such l. In 2011, he introduced the State-of-the-Art Forensic Psychology into Nigeria through N.U.C and the Nasarawa State University where he served in the Department of Psychology as an Associate Professor. The Development Professor and International Liaison Consultant at the African University of Benin, and a Virtual Faculty at the ISCOM University, Benin of Republic. Author of over 36 academic publications/creations, at least 200 public opinion writeups on African issues, and various books.
Prof. Oshodi was born in Uromi, Edo State, Nigeria to parents with almost 40 years of police/corrections service, respectively. Periodically visits home for scholastic and humanitarian works. [email protected]
Disclaimer:

"The views/contents expressed in this article are the sole responsibility of the author(s) and do not necessarily reflect those of The Nigerian Voice. The Nigerian Voice will not be responsible or liable for any inaccurate or incorrect statements contained in this article."