Sowore Shot By A Female Police Officer In Abuja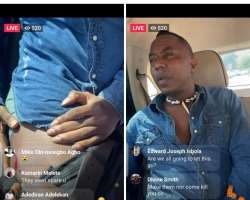 The #RevolutionNow henchman, Mr Omoyele Sowore has reportedly been shot in Abuja.
Communicating what transpired, a Social Crusader and Human Rights lawyer, Mr Inibehe Effiong, published on his Facebook timeline that Sowore was shot.
"Sowore has just been shot by a female police officer at the Unity Fountain in Abuja," said Effiong.
He although added that it could not be ascertained at the time of filing this report whether Sowore was shot with a live bullet but he was shot.
"It is not yet clear whether the officer fired a gun or a teargas cannister. What is clear is that Sowore was directly targeted," added Effiong.
Unraveling the identity of the officer, Effiong said, "The officer is said to be an ACP. I watched Sowore being shot live on Facebook."
Blaming the country for what happened, the lawyer concluded, "This is what Nigeria has been turned into under Buhari. They've declared war on the Civic Space.
"The FCT Police has fenced the Unity Fountain with iron and cables to prevent protests."
All attempt to reach either Sowore or the police headquarters in this was yet to be successful.