Elshcon Records Another Marine Logistics Milestone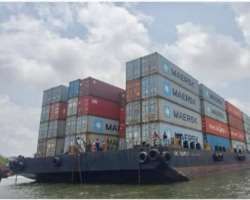 Another non-oil and gas shipping milestone has been recorded as Elshcon Nigeria Limited's "ENL Superior" Anchor Handling Tug (AHT) and "ENL Triumph 2" Offshore Cargo Barge commenced movement of MaerskLine - 480 TEUS containers (per voyage) on behalf of Clarion Shipping West Africa Limited from Lagos to and from the African West Coast.
This historic milestone is quite significant as it gives effect to the marine logistics aspect of the African Continental Free Trade Area (AfCFTA), starting from the West Coast.
It will be recalled that Elshcon has been providing Inland and Offshore Marine Logistics including Supply Base Services supporting the oil & non-oil sectors for decades in the country.
Impressively, the company already has many international and local companies, as clients.
Elshcon (also into Steel Fabrication/Construction and Maintenance of Pipelines/Facilities) is an ISO certified company, and prides as a member of the British Safety Council, including member of both the Nigerian and West African Chambers
In his remark, Dr Emi Membere-Otaji, Managing Director/CEO of Elshcon said he is pleased to be associated with this milestone, adding that, having made several successful voyages since the project started he believes real integration of trade and commerce in the sub region in particular and Africa at large, is the right thing to do. He used the opportunity to commend West African Chambers of Commerce, FEWACCI, ECOWAS, Nigeria's NEXIM Bank and others for keeping faith in the regional Sealink scheme.