Seeing Uche Nworah Through The Lens Of Igbo Culture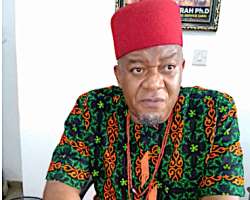 If there is any Igboman whose mindset is deeply rooted in what can in this context be called Igbo 'Aku Luo Uno' Philosophy, he is unarguably Chief Uche Nworah, the Managing Director and Chief Executive Officer of Anambra Broadcasting Service (ABS), Awka.
While millions of Ndigbo in Diaspora take time off on annual basis, particularly during the yuletide, to join their age – grade, "Ezeudo" as his admirers are wont to call him has always been abreast with the age – grade system. For the sake of clarity, the age-grade system "Is an association of people of equal or about the same age, operating within a given territory or area with the aim of individual, collective and societal transformation/development". However, the organization, structure and activities of age grade practices in most Igbo communities differ.
According to Nworah in one of his write-ups, being a writer as well as an author of "The Long Harmattan Season"; a satirical Commentaries who Amazon described as Nigeria's Award Winning Internet Columnist, "The age-grade system helps in cultural propagation, maintenance of law and order, and community development. Some age – grades take on solely certain development projects in their communities".
To those that are not familiar with the socialite and grassrooter, seeing him interacting with his 'Umunna', Ndi Ummunna'm otherwise known as 'Umuokpuora' in his Umuakwu village, Enugwu-Ukwu would be taken aback. The reason for the foregoing cannot be farfetched as it would be difficult to reconcile his elitist or rather intellectual disposition with his traditional and cultural understandings.
His socializations with those at the grassroots, more often than not, are usually highlighted with drinks, Nkwuenu, beer etc while Kola nuts are broken by the elders, and accompanied by prayers and stories of successes. Ezeudo surely knows when to leverage the unity that binds him and his people. The reason for his cultural and traditional disposition cannot be pooh-poohed as his sense of community service and love of his people is by each passing day literarily replenished.
Being at home with Igbo culture and tradition, he is unarguably a lover of masquerade displays, house warming ceremonies, Ofala and Igu Aro festivals by traditional rulers, Chieftaincy, Nze, Iyom, Ozo title taking and other ceremonies. When it comes to appeal funds that are linked to community projects, and extending hand of assistance to the less privileged, Chief Nworah is no doubt a down-to-earth supporter.
At this juncture, it is not unexpected for this piece to be misconstrued as not few readers may have been interpreting it from pyrogenic perspective. Nay! It is far from being a pyrogenic write up. Rather, the piece is aimed at recognizing him for consistently been committed to the preservation of Igbo culture and tradition. Culture, as widely known, is the identity of the people. On the other hand, it is not an exaggeration to say that if Nigeria literarily has Chief Uche Nworah in virtually all the communities across the country that the lamentations that have been trailing the rapid erosion of cultural and traditional values in Nigeria could not have been possible. Also, describing him as a custodian of Igbo culture and tradition may be difficult to comprehend to those that are not familiar with him. However, exploration of the google space about his comments on Igbo culture and tradition are convincing enough to believe that he is worthy of being praised at such.
The expediency of this piece cannot be cheapened as even the governments, at all tiers, have not relent in putting in place policies, programmes and institutions that are geared toward the preservation of culture. For instance, "The Nigerian Government in September, 1988, launched the "National Cultural Policy". This policy document defined culture as " the totality of the way of life evolved by a people in their attempt to meet the challenges in their environment which gives order and meaning to their social, political, economic, aesthetic and religious norms and modes of organization, thus distinguishing the people from their neighbor". As a further step, the Federal Government in June 1999, created the Federal Ministry of Culture and Tourism by mid-2006, the ministry was renamed Federal Ministry of Tourism, Culture and National Orientation, with the mandate to promote the nation's rich cultural heritage, through the identification, development and marketing, of the diverse cultural and tourism potentials. However In November 2015, Ministry of Culture and Tourism was later merged with ministry of information, which is now known as Ministry of Information, Culture and Tourism".
Without any iota of exaggeration, culture is the lifeblood of a vibrant society, expressed in the many ways we tell our stories, celebrate, remember the past, entertain ourselves, and imagine the future. Our creative expression helps define who we are, and helps us see the world through the eyes of others. Nigerians participate in culture in many ways, as audiences, professionals, amateurs, volunteers, and donors or investors.
In fact, the benefits of culture for individuals can spill over to society as a whole, even as culture helps build social capital; the glue that holds communities together. By bringing people together, cultural activities such as festivals, fairs, or classes create social solidarity and cohesion, fostering social inclusion, community empowerment, and capacity-building, and enhancing confidence, civic pride, and tolerance.
The concept of culture has many definitions and interpretations. In social settings, it is often used broadly to represent entire ways of life. Included in such ways of life are rules, values, and expected behaviors. At its most basic level, culture can be seen as the shared products of a society. These products have a common meaning that accumulates over time and also reflect shared attachments among community members.
Culture can be seen as consisting of ideas, rules, and material dimensions. Ideas include such things as the values, knowledge, and experience held by a culture. Values are shared ideas and beliefs about what is morally right or wrong, or what is culturally desirable. Such values are abstract concepts and are often based in religion or culture in that they reflect ideals and visions of what society should be. Such values often shape expected behavior and rules. These rules are accepted ways of doing things and represent guidelines for how people should conduct themselves and how they should act towards others.
Disclaimer:

"The views/contents expressed in this article are the sole responsibility of the author(s) and do not necessarily reflect those of The Nigerian Voice. The Nigerian Voice will not be responsible or liable for any inaccurate or incorrect statements contained in this article."