Photo News: Osita Chidoka Goes Traditional In Kenya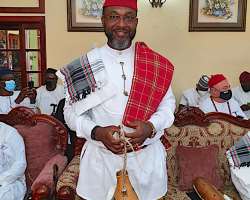 The former FRSC boss, former Minister of Aviation and a former governorship Candidate in 2017 Anambra State election, Chief Osita Chidoka (Ike-Obosi) was recently spotted in far away East African nation of Kenya. His mission was to perform the task of the Lead negotiator in 'bride price settlement' between his kinsman, Dr. Alex Ezenagu and June Ruto (Daughter of Willian Ruto - Deputy President of Kenya).
Chief Osita Chidoka, his kinsmen and other relatives and friends accompanied Dr. Alexander Ezenagu to Kenya to perform his traditional wedding rites. Dr. Alexander Ezenagu is an Assistant Professor in the College of Law at HBKU. He is an international tax expert specializing in international tax law, transfer pricing, tax planning, investment advisory and commercial law advisory and practice.
As expected, Chief Osita Chidoka was not found wanting as they haggled, negotiated and agreed on how many cows would be a fair 'bride price' for the hands of June to Alex and it all ended "to loud chants of Igbo kwenu!!.
Their host, William Ruto (Deputy President of Kenya) and his wife were impressed with the tradition and culture of the Igbo. "I regaled them with Igbo customs, proverbs, and more. They are looking forward to visiting Ani Igbo to eat roasted yam and red oil. They also want to see Umuaro and Umuofia as described by Chinua Achebe. Well, I told them that visiting Obosi and Alex's village Uli will suffice."