President Buhari, This Could Have Been Your Son Victimized by Danladi Umar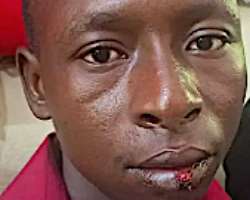 President Muhammadu Buhari end the silence, speak to us about the grisly video of his beating by your Conduct Tribunal Chairman, Danlandi Umar and his uttering about the 'Biafran Boys.'
Mr. President, this young man deserves to hear from you. He was filmed while being brutalized by Umar who always maintained that he works under your presidency.
Clement Sargwak, is a 22-year-old man who was posted as a security guard to Banex Plaza, in Wuse, Abuja. President Muhammadu Buhari, Clement has no part in Nigerian-Biafran War, I doubt if even he knows anything about the 1967-70 civil war.
Mr. President, as a military officer during the civil war with many older Nigerians still haunted by those gruesome images, why will Barr. Umar wants to make his public misconduct an extension of "us versus them".
All Clement asked of the Chairman of public conduct issues in the nation, was for him to park his car very well at the car park of Banex Plaza, for doing his job Umar slapped him, pulled him down and severally inflict bodily harm on him, as you can see above.
Mr. President, the beating and humiliation of Clement continued, "I was slapped and kicked again by Mr. Umar, policeman."
"When the man arrived with the security men, the Oga slapped me again in front of the police and ordered a police officer to also slap me which he did and thereafter ordered me to kneel down and I obeyed. As I went on my knees, the Oga also kicked me in my face and hit my mouth. I fell and my head guard then took me to my M. D's office. That was when the Maitama Police Division came and took us to their station."
Mr. President, for your information Clement is reportedly hospitalized in Nigeria at a time when you flew to London for medical routine checkup.
Nigerians are very infuriated about the unprofessional and acting out behaviors of Umar, so I beg you Sir have compassion and empathy, and speak to us as the father of the nation. Almost everyone knows the feeling of a physical wound and the psychological pain that comes with it. Like this one inflicted by Umar on an innocent citizen.
Mr. President, again this could have been your son, so showing empathy towards him and addressing this matter directly will show a compassionate or empathic response from you no matter your present destination.
Let me end by saying that in the April 1, 2021 edition of the National Daily Newspaper with the title, "Massive corruption pervasive under President Buhari – US: it specified, "…that critics were subjected to threats, intimidation, arrest, detention, and sometimes violence." Exactly, the fate and the treatment Clement got from a public officer and a legal official like Danlandi Umar.
Prof John Egbeazien Oshodi, an American based Police/Prison Scientist and Forensic/Clinical/Legal Psychologist. A government Consultant on matters of forensic-clinical adult/child psychological services in the USA; Chief Educator and Clinician at the Transatlantic Enrichment and Refresher Institute, an Online Lifelong Center for Personal, Professional and Career Development. The Founder of the Dr. John Egbeazien Oshodi Foundation, Center for Psychological Health and Behavioral Change in African settings especially. The Development Professor and International Liaison Consultant at the African University of Benin, and a Virtual Faculty at the ISCOM University, Benin of Republic. Author of over 35 academic publications/creations, at least 200 public opinion writeups on African issues, and various books.
Prof. Oshodi was born in Uromi, Edo State, Nigeria to parents with almost 40 years of police/corrections service. Periodically visits home for scholastic and humanitarian works. [email protected]