Mlk/fbi And Ozekhome/efcc And Lessons For The Nigerian Law Enforcement System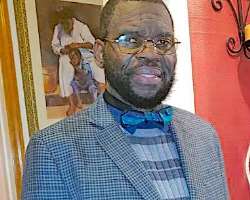 Prof. John Egbeazien Oshodi
Like Dr. Rev Martin Luther King with the FBI, Dr Mike Ozekhome of Nigeria incessant and repeated invitations by EFCC is abnormal.
From the angle of psychological lens, the Federal Bureau of Investigation (FBI) was obsessed with Dr Martin Luther King Jr, and it appears that the Economic and Financial Crimes Commission (EFCC) remains explicitly addicted to the name Dr. Mike Ozekhome (SAN), a Constitutional law litigator, educator and civil right activist.
Dr Rev. Martin Luther King Jr. was a national and open critic of the then FBI Director J. Edgar Hoover, just like Ozekhome's open and sometimes face to face critic of Ibrahim Magu, a Commissioner of Police, who served for the five years as acting Director of the EFCC until his dismissal from the agency.
These two police officers strongly resented criticism of their agencies from public voices and power machines like these critics, Dr. Martin Luther King Jr, and Dr. Mike Ozekhome (SAN).
Like J. Edgar Hoover openly admitted having deep-seated hostility for Dr. King, could that be what Nigeria is seeing with Mr. Magu as it relates to his troubling relationship with Dr. Ozekhome?
Hoover's deep personal dislike for Dr. King was in the open and Mr. Magu with his ongoing ordeals appears to have a deep dislike for Dr. Ozekhome.
Like King's known powerful provocative stance against institutional injustice, law enforcement brutality and selective justice, Ozekhome's continued powerful confrontational speeches against institutional tribalism, law enforce corruption, police brutality, institutional irresponsibility, leadership fraud and selective justice makes him an emotional thorn and burden to authorities like Mr. Magu and EFCC.
The FBI was known to engage in years of wiretaps and eavesdropping on King, went to extreme lengths, to place bugs in his hotel rooms; they tapped his phones; they bugged his private apartment, compiled document of King's sex life, on a nightly bases, asked him to commit suicide, and he received State related charges of tax evasion, all led to no apparent successful outcomes. The EFCC has stated that there are ongoing investigations against Ozekhome amongst which are money laundering and tax evasion, and other lot of cases which any court of law apparently is yet to see in terms of official charges and prosecution.
Like the FBI doings with King, which included using undercover informants and directing aggressive personal attention towards him, the EFCC possible undercover acts towards Ozekhome are yet unknown. Let's hope his travels and residences are not being documented including his sex life and private movements.
Like Hoover who was known for his revenge and tried to use the FBI to destroy King in his capacity as civil rights activist, Ozekhome sees Magu's influence, although gone, still affecting the EFCC in regards to continued acts of intimidation and unending constant invitation marked with threats of arrest, detention and humiliation.
While I will not go into any internal legal processes between the EFCC and Ozekhome, like King, Ozekhome appears not ready to stop being openly loud against systemic injustice, and unethical leadership acts.
Ozekhome has now been widely recognized in Nigeria as one of the most prominent figures of the civil rights movement, constitutional law/rights practitioner, human rights defender, and a social justice activist.
Like Hoover, King saw Hoover as a man who did some awful terrible things and a man that doesn't reflect the good people of the American law enforcement systems, a perception that Ozekhome holds for Magu whom he saw as a man who gave law enforcement a bad reputation.
From the point of productive and aggressive policing, the Nigerian citizens would like to see EFCC more involved with investigatory speed, tactical focus and unbiased policing—and other interventions that can help uncover many of these reported kidnappings which may be politically or religiously motivated, the constant extortions and nonstop huge ransom payments. Such focus and prioritization will certainly be consistent with its mandate to combat financial crimes and injustices.
Certainly no one, not even Ozekhome will deny the fact that law enforcement agencies through their investigators must carry out their investigation by interrogating suspects or invitees in an attempt to elicit as much information as possible, but its approaches must be devoid of harassment, unnecessary abuse of time, prolong detentions, unwarranted use of force, use of psychological torture, and gross violations of the interviewee's human rights.
While I make no attempt to question the agency about Ozekhome's cases with the Agency, his interaction with EFCC investigators must revolve around protective investigation devoid of investigation harassment, retaliatory investigation and law enforcement criminal or civil harassment.
Ozekhome, like King who stressed for the forgiveness of rogued leaders, and the need for leaders with sound integrity, we should hope that with the world watching through social media lenses and the eyes of uncompromised judicial officers ,restraint, civility, duty and professionalism will replace extreme forms of official misconduct.
Prof John Egbeazien Oshodi, is an American based Police/Prison Scientist and Forensic/Clinical/Legal Psychologist, a government consultant on matters of forensic-clinical adult/child psychological services in the USA; Chief Educator and Clinician at the Transatlantic Enrichment and Refresher Institute, an Online Lifelong Center for Personal, Professional and Career Development. The Founder of the Dr. John Egbeazien Oshodi Foundation, Center for Psychological Health and Behavioral Change in African settings especially. The Development Professor and International Liaison Consultant at the African University of Benin, and a Virtual Faculty at the ISCOM University, Benin of Republic. Author of over 35 academic publications, at least 200 public opinion writeups on African issues, and various books.
Prof. Oshodi was born in Uromi, Edo State, Nigeria. Comes to Nigeria periodically visits home for scholastic and humanitarian works.
Sources:
https://tribuneonlineng.com/court-bars-efcc-from-arresting-ozekhome-for-criticising-magu/
http://omojuwa.com/2012/05/nigerias-police-is-corrupt-efcc-is-not-sincere-united-states/#.T8JtRnkZy1M.twitter
https://thenationonlineng.net/magu-court-bars-efcc-from-arresting-ozekhome/
Disclaimer:

"The views/contents expressed in this article are the sole responsibility of the author(s) and do not necessarily reflect those of The Nigerian Voice. The Nigerian Voice will not be responsible or liable for any inaccurate or incorrect statements contained in this article."