I'm Sorry. Mr. President, It Isn't Working, Change Course!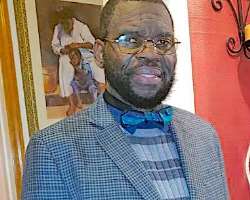 Prof. John Egbeazien Oshodi
Dear President Buhari, it hasn't been this bad in recent times.
It is not too late to change the course of things.
There is what we in Psychological Science call Intelligence Quotient (IQ) in individuals, it is a measure of intellectual ability.
Let's apply it to the Nigerian society as a geographical brain and body. It is the "ability" of performing. In other words, the ability for comprehension, combinations, and learning. As a nation it isn't that we are less intelligent, but the enormous psychological and physical conditions of our national geography, make us look so stupid. It has never been so bad like this in recent times.
As a country, our terrible state of intelligence is being influenced by the nonstop, uncontrollable national, political, and geographic straining factors.
Diagnosing Nigeria: one of the most religious and violent countries in the world.
Diagnosing Nigeria: where attacks by terrorists, bandits and criminal herdsmen, and kidnappers show potent coordination.
Diagnosing Nigeria: where ethno-religious (intra and inter) violence spreading openly from states like Borno, Yobe and Adamawa up to Zamfara, Kaduna and Katsina.
Diagnosing Nigeria: where a helpless army and law enforcement competes hopelessly with violent actors from north to south.
Diagnosing Nigeria: where ungoverned spaces and overpopulation complicates adequate identities and economic strains.
Diagnosing Nigeria: where politicians and authority occupiers verbally question who is sympathetic to those causing mass insecurity on account of religiosity and ethnicity.
Diagnosing Nigeria: where lawlessness prevails among security and law enforcement officials and brutality by armed officials compounds the issues of rape, illegal arm sales, abuse of power across the nation.
Diagnosing Nigeria; where counterterrorism or so-called counter-insurgency funds have been known to be stolen by those supposed to protect the money for better arms.
Diagnosing Nigeria: where public and security funds rogues have pending court cases with no end in sight, opt for plea bargains, and cases go into silence.
Diagnosing Nigeria: where the acquisition of equipment has proven to be marked with confusion and all around blaming due to accusations of thievery.
Diagnosing Nigeria: where religion and ethnic-inspired leadership results in policy dysfunctions.
Nigeria that can: do less of conversation, negotiation, ransom payments, amnesty, and integration of repentant insurgents into the army and society will begin to win the fight.
Nigeria that can: separate ethno-religious sentiments will strongly protect its internal security architecture, intelligence, and operational arrangements.
Nigeria that can: strengthen institutional structure will win the fight
Nigeria that can: resolve conflicts among conflicting parties (various scholars and leaders from various zones) then we can win the fight.
Nigeria that can: reduce mutual suspicion across the various geographical divides.
Nigeria that can: aggressively find ways to ensure effective use of resources like specialists, military, land reforms, economics, external coalitions including diaspora will win the fight.
Nigeria that realizes that: its institutions and some of its people are mentally sick especially those motivated by ill political goals and unusually worried about the domestic domination by a different ethnic group.
Nigeria that realizes that: a process of interaction between different parties is very urgent.
Nigeria that realizes that: ethnic and religious preoccupations cannot help define rule of law and must not be a precondition to shape democracies.
Nigeria that realizes that: It must reduce inequality of power and have the willingness to integrate dissident groups in order to reduce alienation from the political system.
Nigeria that realizes that: violent clashes, poverty, corruption, overpopulation, intra/inter political competition, poor, chronic jobless and angry young men all must be seen as in need of full blown and urgent attention.
Prof John Egbeazien Oshodi, is an American based Police/Prison Scientist and Forensic/Clinical/Legal Psychologist, a government Consultant on matters of forensic-clinical adult/child psychological services in the USA; Chief Educator and Clinician at the Transatlantic Enrichment and Refresher Institute, an Online Lifelong Center for Personal, Professional and Career Development. The Founder of the Dr. John Egbeazien Oshodi Foundation, Center for Psychological Health and Behavioral Change in African settings especially. The Development Professor and International Liaison Consultant at the African University of Benin, and a Virtual Faculty at the ISCOM University, Benin of Republic. Author of over 35 academic publications, at least 200 public opinion writeups on African issues, and various books.
Prof. Oshodi was born in Uromi, Edo State, Nigeria. Comes to Nigeria periodically and recently taught as an Associate Professor of Forensic/clinical Psychology at the Department of Psychology, Nasarawa State University, Keffi, Nasarawa, Nigeria [email protected] [email protected] Reference:
Disclaimer:

"The views/contents expressed in this article are the sole responsibility of the author(s) and do not necessarily reflect those of The Nigerian Voice. The Nigerian Voice will not be responsible or liable for any inaccurate or incorrect statements contained in this article."