So Help Me Allah, So Help Me God, Include So Help Me Ogun; A New Radical Leadership Oath For Public Office In Nigeria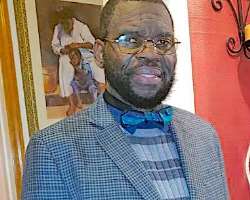 Prof. John Egbeazien Oshodi
In a leading daily newspaper in Nigeria, The Nation, Vincent Akanmode on March 13, 2021 in the article titled "Ibori's Moment of Sacrilege", writes about a country where leadership, corruption and bad governance are synonymous to each other, and remain the bane militating against development in the country.
I am not going to focus on the Ibori's wahala (matter), since in the last thirty days or so, here are just a few headlines articulated around widespread corruption amongst public officials especially:
"Former CBN Bankers Accuse EFCC Of Collecting Bribe To Release Them From Custody", "Court Jails Ex-Enugu Poly Rector For Defrauding Students", " Delta State Permanent Secretary Used N52.6 Million To Buy Microphones", "How APC Chieftain, Danu, Customs Boss Defrauded Nigerian Government Of N51 Billion, Wired N2.5 Billion To Buhari's Daughter","N3billion
Fraud Allegation: Court Remands Dickson's Former Aide In Prison For 30 Days", "EFCC Arraigns Three FIRS Directors, Six Other Officers for N4.5 Billion Fraud", " JP Morgan Bank Releases Documents Further Indicting Former AGF, Adoke In $1billion Malabu Oil Deal", " Jonathan's Power Minister, Wakil Sent To Prison Over Alleged N27 Billion Fraud", "N2.2billion Alleged Fraud: Court Grants Fayose Leave To Travel Abroad", "Alleged N26million Fraud: EFCC Presents Third Witness Against Fani-Kayode" ,"Delta Head Of Personnel Management Who Is RCCG Pastor, Treasurer Enmeshed In N2.4million Salary", "ICPC Arraigns Ex-Nigerian Polytechnic Rector, Bursar Over Fraud", "EFCC Arraigns Executive Members Of Delta College Of Education Over Alleged N32million Embezzlement", "EFCC Finds N1.76billion With Ex-President Jonathan Minister's Brother Who Earned N33,000 Monthly.", "Lawyers Gave N9.4bn Bribes To Judges In Three Years –ICPC". These are just a few of the ever streaming cases of grand corruption, involving public sector.
Corruption and ineffective leadership have gravely impacted negatively on Nigeria's democratic steadiness and its economic development.
The long-standing fight against corruption in Nigeria has not been successful because those who should take leadership of the war are themselves entrenched in corrupt practices and are busy facilitating it aggressively with the understanding that time is of importance. Corruption is now seen as a deepened Nigerian mentality, especially as evidenced by what I once read which goes like this "Nigeria is not corrupt, Nigerians are corrupt."
A great number of these public leaders are consequences of their lives as students' in terms of inherent attitudes towards dishonesty.
In this regard, I go back to Vincent Akanmode, who pointed out that "It is now fashionable among governors, senators and other public office holders to head straight for the altar to give thanks after some abominable exploits. That explains why every election year, we are confronted with the sight of politicians storming churches and mosques for thanksgiving after rigging their ways to victory, conscious of the evil means they deployed, including the shedding of innocent blood. They think nothing of their abominable deeds because they know that with the patient and merciful God Christians and Muslims worship, there would hardly be consequences for their actions".
Akanmode presses further: "The foregoing is the basis of the agitation by some of our patriotic countrymen that political office holders should no longer be sworn into office with the Bible or the Quran but with the symbols of traditional deities like Ogun, the god of iron. I wager that most of them would shudder at the prospect of being sworn into office with a piece of iron, knowing that they risk being ripped apart by lightning if they renege on their oath".
Psychologically, Akanmode seems to be educating Nigerians to the reality that our politicians and public officials the seniors ones especially, are used to taking an oath as a Bible-believing Christian, or Quran believing Muslim , and thereafter heading straight into the deep ends of bribery and corruption without fear and respect for the Bible or Quran. With the continued conviction that despite their immoral and wrongful acts against their oath, their call for forgiveness and mercy is always heard. All this they do as they continue with their dishonest behavior which continues to violate the trust placed in them as public officials.
As reasoned by Akanmode, I see the psychology behind his logic as in regards to the intensity of fear responses to swearing or taking oath with an element like the iron god, as it poses a clear and imminent physical and psychological threat to many Africans.
Nigeria is generally a secular nation along with its almost equally Christian and Muslim bearing populations, as such an additional oath taking is needed with something more arousing in terms of apprehension, and feelings of dread in anticipation of engaging in something bad and against their oath of office. Using the god of iron (Ogun), as a central element for swearing in before assuming charge of a public office, gives everyone a new momentum for public accountability and public trust.
While placing a piece of metallic tool on their head, and periodically kissing it in the form of a piece of iron, a machete, or a knife the public official will solemnly state that "I will be faithful and bear true allegiance to the Federal Republic of Nigeria at all times. Do solemnly swear/affirm that I will be faithful and bear true allegiance to the Federal Republic…I will perform my functions honestly…"
Unlike the manner by which many politicians and public officers interact with the Bible or the Quran, the invocation of the divinity of Iron during oath taking could instill psychological, physical and spiritual fear in the public official since the Ogun in the African cosmology is associated with swift justice and God's wrath. A cloud of anxiety and apprehension is believed to accompany the power of the god of iron. Once a public officer is sworn in using the god of iron, no compromises by way of asking for mercy and forgiveness is present, as the oath taker is marked to die instantly for civic dishonesty like stealing of public money. To combat pervasive levels of corruption, bribery , nepotism, and promote good governance, and imbibe the spirit of anti-corruption mentalities, including honesty, integrity, transparency, and impartiality, introducing the strategic thinking of Vincent Akanmode might just work, especially when every traditional measure continues to be treated with systemic impunity. Could the god of iron be used to force politicians and public officials to tell the truth before and after service?
We will never know until they are impacted by the power of Ogun the god of iron as we all geared towards protecting the public from political and public leadership deception.
Prof John Egbeazien Oshodi is the Founder of Psychoafricalytic Psychology [email protected]
Disclaimer:

"The views/contents expressed in this article are the sole responsibility of the author(s) and do not necessarily reflect those of The Nigerian Voice. The Nigerian Voice will not be responsible or liable for any inaccurate or incorrect statements contained in this article."