Casualisation: An Exploitation Of The Nigerian Labor Force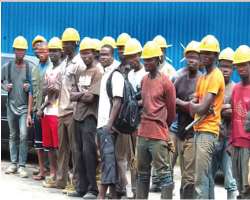 Statistically, over 60% of the Nigerian youths are fit for work, but unemployed, whether they are employable or not, that is debatable, but one thing is certain, they have become slaves to penury while in the search for a better tomorrow. Sadly, to multi-nationationals who have come from under foreign skies to milk their fertile land dry.
While this piece will follow two dimension, first, my personal experience as a casual worker, and a neutral narration from a holistic point of view, both are seeking for one answer although, either there's a review of casualisation in our country, or the total scraping of anything of such.
When you wonder what Nigerian youths go through in order to survive on a daily basis, especially considering how helplessly the naira has continued to sunk against the dollar, you will blame a man less for spending his 24-hours on what will be regarded as hand to mouth feed. Others have being casual for almost all their lives with little or nothing to show for it, even at the twilight of their peak periods.
Some of the sad experiences of this contract staff or casuals, remains the fact that their options are usually limited, they are the first to be affected when it comes to downsizing, majority are even oppressed by the full time, staffs of the organization they are contracted to, they try to live up to the jonzes of the recruiting company, because these are people expected to look like they earn double the figure they are paid, especially considering the fact that they do more than the original staffs of the company in terms of the core works.
While most of them do not get medical allowance, we also should not forget the harassment some of them face, especially the females among them. But this is Nigeria after all, and anything happens.
The situation of searching for a job endlessly after graduation had push many of our vibrant youths into this unfortunate situation, some don't even know they are being contracted, without their knowledge, but how would they care when all that matter is getting a job, and this had led someone to have work in the bank for example for eight years, no promotion, no allowances. Nor the manufacturing industry for example, owned by multinationals, so many Nigerian youths are found at the corridors of these factories seeking for employment, and thereby used mercilessly, in the present of their fellow countrymen, who would do nothing in the name of discharging their duties. We all can remember the sad story of the UI, student who washed away at a soap factory last year in the name of Casual-staff.
If you are a contract staff, do not expect to be promoted, and even if such opportunities arise, a fractional percentage are the lucky spec, a good example is out of 100 contract staffs, maybe just two are picked the rest are picked from elsewhere. This stigma even follows you to the outer space where you can seek for employment, immediately they get to know you are a contract staff, its either they look down on you or even pend your application processes, neglecting the fact that you have more than what it takes to run whatever process you might be employed for.
The typical casual worker gets a miserable N1000 at most per day. But then, casualisation is thriving because of high rate of unemployment, even though it contravenes Section 7 (1) of the Labor Act, Cap 198, Laws of the Federal Republic of Nigeria, 1990. The Act provides that, "Not later than three months after the beginning of a worker's period of employment with an employer, the employer shall give to the worker a written statement specifying the terms and conditions of employment, which include the nature of the employment and if the contract is for a fixed term, the date when the contract expires." and it continues to look as if to boost the labor act, section 17(a) of the 1999 Constitution condemns casualisation because is at variance with its provisions, which guarantees equal pay for equal work.
Furthermore, Convention 153 of the International Labor Organization (ILO), which Nigeria is a signatory, does not support any form of discrimination in the workplace. In fact, the section holds that casualisation is out of tune with 21st century best practices. Hence, the discrimination in pay between permanent and casual employees should not exist. Besides, the section frowns against discrimination on account of sex or any grounds whatsoever
Having observed various industries, banking sectors, and several companies making use of contract staff, I can therefore assume that a mere 5% of the whole sector using contract staffs, take care of their CASUALS, to a little minimum if my experience and observation if something to go with, the situation is horrible, and because the system is not functioning well. This is the reason a contract staff may oneday look back and feel he or she had wasted all his or her life, this people are then discharged without any gratitude, after meeting targets upon targets. Let me tell you this is massive stealing, and unfortunately nothing is being done about it.
What then is the job of Nigerian Labor congress, or the International Labor Organizations' law on employment, does it mean this will continue, or does it mean we would continue to waste the future of our brimming youths?
These is things we need to take seriously, this Contract staff situation is getting terrible by the day, well, I have being a contract staff for the past 8-9 years, and so continue the long walk to freedom, with less hope, and you even begin to look older than your age, you look back you realize you are wasting some precious time of your life, but you even look into the future, you realize you are not yet free. Not yet free from exploitation, from hardship, exposure to prostitution, in the regards of our ladies.
Although the year 2020, according to the premium times, Mr Raji a lawmaker, had led the front line for banning of this casual troubles, he had said the bill seeks to add a clause to the Act which provides that every worker shall enjoy full employment benefits as a permanent staff after six months of engagement.
But with all the aggression to a level of even stating categorically that any employer who disengages a worker after a period of six months from the date of first engagement without regularizing the worker's employment shall at the date of disengagement pay to the worker full salary, allowances and entitlements due to a permanent staff for two months provided the worker has not been found liable of any criminal act involving fraud resulting to financial loss to the company," he said, but even to date, while many youths continue to lose their lives to this harsh reality, and females continue to be exposed to the pain likewise, I look to the future for we are not yet free.
Disclaimer:

"The views/contents expressed in this article are the sole responsibility of the author(s) and do not necessarily reflect those of The Nigerian Voice. The Nigerian Voice will not be responsible or liable for any inaccurate or incorrect statements contained in this article."