2011: YOU'LL RUIN JONATHAN, DAVID WEST TELLS CLARK, HORSFALL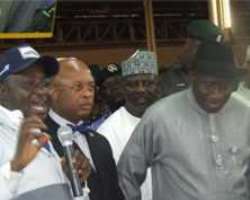 President Goodluck Jonathan
Former oil minister, Professor Tam David-West, has blasted Chiefs Edwin Clark and Albert Horsfall over the duo's outbursts, regarding President Goodluck Jonathan and the 2011 presidential race.
In the thinking of the professor of virology, recent statements by the two Niger Delta leaders suggesting that retaining the presidency next year, was a fait accompli for Jonathan were provocative and capable of alienating the North, which was also in contention for the same prize.
First Republic information minister, Clark, had stirred the hornet's nest in an interview he granted Sunday Sun in which, he dared the Northerners to stop the president's quest, claiming the backing of Niger Delta people.
In similar vein, Chief Horsfall, a former chairman of Oil Mineral Producing Areas Development Commission (OMPADEC), declared in an interview published in Monday's edition of Daily Sun that the president had no choice, but to run on the insistence of Niger Delta.
But David-West said he was dismayed and disappointed with the vituperations of the two elders, saying they smacked of indiscretion, cronyism and opportunism that could be counter-productive to Jonathan's ambition.
He observed that many Northerners were sympathetic to Jonathan's cause, but could easily be annoyed and put off with Clark's utterances.
His words: 'What he's done is counter-productive to Jonathan's ambition. It is politically dangerous and very indiscreet, without prejudice, because, there are some people in the North who seem sympathetic to Jonathan's ambition, and this kind of talk can lead to what the Americans call a backlash, that is, putting the North together against Jonathan, because it is an insult to them.'
The former minister also maintained that Clark was not qualified to speak on behalf of the Ijaw people of Niger Delta as he claimed.
'Is Clark Hercules? Did Clark know Jonathan before now? He qualifies as one of the greatest opportunists and myopic jingoists, hanging around Jonathan for pecuniary expectations. He certainly has no mandate to speak for and embarrass the Ijaw nation,' David-West fumed.
He said it was ridiculous for Clark, who could not politically match or contain former Delta State governor, Chief James Ibori, to dare the North on presidential election. 'Ibori became governor in spite of Clark, he installed his cousin as governor in spite of Clark. How can Clark then arrogantly claim to be daring the North?' the former oil minister further queried.
David-West also described Horsfall's statement as reckless. He observed that Jonathan became president by default, owing to the death of his former boss, Umaru Yar'Adua, and not through the mandate of the Niger Delta people, to justify such optimism.
Consequently, he argued, the president could not be conscripted to run and that even if he intended running, he had to go through the grills of primaries to get his party's ticket.