Prof. Ademola Olugbenga Awoyemi Bows out of the University of Ilorin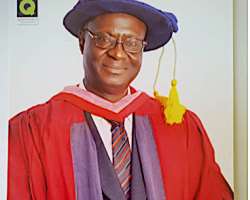 Prof. Ademola Olugbenga Awoyemi
On Wednesday, January 27, 2021, one of the most experienced hands in mass healthcare in the country, Prof. Ademola Olugbenga Awoyemi, bowed out of the University of Ilorin where he has been a Professor of Epidemiology and Community Health and a lecturer since the early 80s, upon joining the septuagenarian club. In an environment where life expectancy is some 20 years less, clocking the age of 70 is a monumental grace. It is an age that attracts compliments greater than respect. I reckon 70 as the first age of reverence. Prof. Awoyemi's retirement is therefore a due and well-deserved rest. It is a time in which he would reflect joyfully, as he reminisce on the decades he had spent serving humankind, to the best of his ability. He would joyfully recall how he had inspired generations of doctors as a lecturer and as a medical practitioner for close to five decades, for the rest of his life. Retirements, such as his, however, come with a tinge of mixed feelings for keen and current observers, who would note that this doctor-don has become a retiree at a time when Nigeria, and indeed the world, cannot have too many experienced hands on deck, in tackling the Coronavirus pandemic. This is because the virus, which now has new variants, is extremely violent, as it sneaks around in silence. It continues to threaten us with novel and more deadly variants and it threatens us with the probability of new strains.
Born in Iperu-Remo, Ogun State, Professor Awoyemi trained as a physician at the University College Hospital, Ibadan,before he specialised as one of those medical practitioners whose clinic is whole communities, cities and even larger human settlements. For Awoyemi, the Ilorin township was his major clinic, and his work space extends to other parts of Kwara State and also crossed boundaries to some of the states in the far north of Nigeria. He also made impact beyond the nation's frontiers. In Ghana as well as in Britain, Professor Awoyemi's researches helped in improving community wellbeing. Very few sacrifices compete with his choice of career, and none will dismiss his choice. Few will match it; none will diminish the practice of medicine. In his own particular specialisation, from the unborn to the elderly, from the agile youth population to those who used to be as humans, indeed, across all categories of human life, his kind of career touches us all.In the beginning, the retiring medical practitioner practiced in clinics which were offices and cubicles, but for most of his career and practice, his clinic were those communities where he made his diagnosis and declared his prognosis. Prescriptions, in his line of duty, were too lengthy for pieces of paper. They were always very complex for they were not meant for individuals, but for a mass or masses of people. Those prescriptions were, therefore, often published in scientific journals and publicised as technical reports.
In the course of his training, which were mostly in Ibadan and Britain, and his career which was mostly in the service of indigenes and residents of Ilorin and elsewhere in northern Nigeria, Prof. Awoyemi studied and published on child feeding practices, health problems and working conditions of workers in the stone quarry industry of Britain and Nigeria, socio-economic Impact of soil transmitted Helminthiases in Nigeria, stool parasite profile as an index of environmental sanitation in Ilorin, procured and induced abortion in Ilorin, pulmonary tuberculosis in a rural community in Kwara State, occupational health problems of sawmill workers in Ilorin, medical examination of army recruits in Ilorin; knowledge, attitude and practice of family planning among religious and community leaders in Ilorin; ergonomic problems associated with muscular and skeletal disorders among traditional cloth weavers In Ilorin; malaria morbidity amongst hospital workers in Ilorin; influence of environmental sanitation practices and hygiene on incidence of diarrhea in Koforidua Municipality, Ghana, as well as Technical Reports on National Immunization days in different parts of Nigeria, at different times. Similarly, in the year 2000, he was co-author of the report entitled "Community Based Experience And Service (COBES): Twenty-Five Years of Innovative Medical Education at The Faculty of Health Sciences, University of Ilorin", to list but a fraction of his scholarly publications. The collaborative research among these publications also highlights him as a scholar who is a team player.
In the classroom, his career was among other things, a platform to nurture for posterity. Former students recall his towering physical height and grace that's rivalled by a few things among which is his dedication and service. The courses he taught were assurances of progress and lifelines against the threat of aborted dreams among medical students under examination. Others would recall as he commuted with them to rural communities, far from the luxury that electricity and pipe-borne water avails urban dwellers, as they camped in villages and hamlets to practically learn how to forestall epidemics, pandemics and much more, as they collectively begin a journey towards successfully answering one of life's most crucial questions, what is it that they will do to improve the wellbeing of others?
In the science and practice of epidemiology and community health, Professor Awoyemi had seen it all and his record of service stands tall. He is a gentleman who abhors publicity but I am sure his colleagues and students, along with our people in Ilorin township and beyond, will agree with Benjamin Franklin who opines that if a career is remarkable like Professor Ademola Olugbenga Awoyemi's is, it is very much worth writing about. In pursuit of his career, he made impact and his place in the history of epidemiology, community health training and practice is well assured. On one or two occasions in the living room of his University of Ilorin Senior Staff Quarters residence during my teenage years and early adulthood, Professor Awoyemi had joined his children and I to watch a movie or more. That memory remains with me as a prescription for parenting. I am sure such memory does remain with Segun Awoyemi, his siblings and their friends, as practical classes for a small community of youth population.