AWUJALE ADETONA TELLS HIS OWN STORY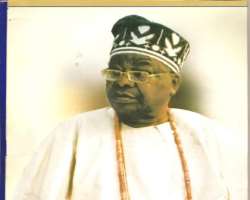 PHOTO: THE AWUJALE OF IJEBULAND, OBA S.K. ADETONA.

That every man has a story to tell is a notorious fact. The Awujale of Ijebuland, Oba S.K. Adetona has now told his own in an autobiography, Awujale (275 pp) which was launched in Ijebu Ode on Saturday, June 26, 2010 to coincide with his 50th coronation anniversary. The Oba rejected a commissioned biography about ten years ago, saying, "I knew it was not my story".  And then one night he had a dream, and "I saw the book, my book with the title and the various chapters, I woke up in the morning and I started to write the book. Here is the book", the Awujale is quoted as saying. If this is a way of whetting the readers' appetite, I think it is quite smart.
The Awujale of Ijebuland is one of those few obas in his category whose opinions are respected because they can be trusted to be forthright even when they are wrong.  He gives the impression in this book that only he, and a few of his friends including the Oba of Benin, Erediauwa II, the Akija of Ikija, Oba Adekoya, and Alaafin of Oyo, Lamidi Adeyemi III have demonstrated exemplary integrity in the face of pressures. This may be debatable but the truth is that since 1960 when the present Awujale ascended the throne of his forefathers, so much has happened to discredit the traditional institution. 
Many traditional rulers have become notorious for their lack of decorum, victims of the politicization of the traditional institution, the collapse of values, and the transition from a tradition to modernity, and of course, their own hubris. As recently as last month, one oba in Akure, one fellow formerly known as the Deji of Akure, threw his crown into the gutter when he went to the home of an estranged wife to take the law into his own hands and behaved like a thug. There have been reports of traditional rulers who have been found to be patrons of armed robbery gangs, traditional rulers who were caught pants down with the wives of their subjects or were struck down by thunderbolt, what the Yorubas call magun, that is "don't climb," a traditional voodoo method of eliminating male adulterers. In his account, Oba Adetona offers additional instances of traditional rulers turning themselves into "boys" under military rule, and of the same so-called highnesses and royal majesties betraying their people in order to be accepted by the politicians or soldiers in power.  Awujale is a strong defender of the traditional institution and its continuing relevance, and of the need to modernize it and for its principal figures to be upright. 
His account of (a) the sycophancy of his colleagues on the Western State Council of Traditional Rulers under Col Oluwole Rotimi (as he then was), and in other instances  (b) of the Ooni of Ife, Olubuse II and the Alaafin of Oyo refusing to pay him a courtesy call when they attended former Governor Olabisi Onabanjo's daughter's wedding a stone throw from the Awujale palace, just because Onabanjo had deposed him; of the Ooni, he says "he took pleasure in my distress" (p.109) (c) his documentation of what he presents as the Ooni's duplicitous role in the June 12 saga, and (d) all the pressures that the conflict between tradition and modernity impose on traditional rulers, serve as a backdrop for  his assessment of the traditional institution in Nigerian politics. With regard to his acclaimed forthrightness, the Awujale does not disappoint, and this is perhaps what is bound to make this book controversial. He wants the myths around the enthronement and burial of kings exposed, he insists on the modernization of the institution in relation to ancient practices. Some of the people he criticizes in this book are dead, but he shouldn't be surprised if their descendants insist on other versions of the story!
It is a book that should be read also by any aspiring or future traditional ruler, and students of the traditional kingship system in contemporary Nigeria.  Awujale Adetona offers an assessment of the institution from the colonial era to the present. Being one of the longest serving traditional rulers alive today, having assumed office, six months before Nigeria's independence in April 1960, he is also able to offer a panoramic review of the some of the highlights and personalities in Nigerian history during the period. In the traditional setting of old, for example, traditional rulers never lacked because they got a percentage of every harvest within the kingdom, tradition ensured that even when a hunter killed an elephant, he had to deposit the tusks with the Awujale! Oba Adetona demonstrates how colonial rule, military rule and democratic rule changed all that.  This is a book about changing power patterns in Nigeria and the implications for the traditional institution.
British colonialism truncated the growth of the traditional institution as the British intervened in the power system for their own purposes. In the new dispensation, the children of slaves, of the lower class, suddenly became the new elite, united with the colonialists by education, religion and language.  This new class soon assumed political authority, and its first task was to dismantle all structures of old. The social dynamics also changed. Citizens no longer felt obliged to serve the palace. Traditional rulers found themselves placed under the authority of soldiers and politicians who put them on a pay roll and became the new masters with appropriated divine authority.
The Awujale served in the Western House of Obas, he has been Chairman of the Ogun State Council of Traditional Rulers, he has served as special envoy to South Africa, also as member of the Political Reform Assembly and as Chancellor of a Federal University, his book also shows that at many critical moments in Nigerian history he has been privileged to exercise influence, offer advice and guide the new leaders, but nonetheless, he laments the violation of the traditional institution by ambitious arrivistes as the root cause of the Nigerian crisis,  even as he points out the opportunism of the traditional ruling elite.
His book is a wake-up call for present and future traditional rulers. He offers in Chapter 17, three guidelines as to how a traditional ruler can maintain his integrity, and rediscover the veneration of ancient times. A traditional ruler must have an independent means of livelihood, and not be vulnerable to the "caprice of the politicians in power." A traditional ruler must also be neutral in political matters. Three, he must be "stubborn and unwavering in his refusal to compromise the truth or the integrity of the Obaship institution, whatever the occasion."  The entire book is devoted to an illustration of these three prescriptions. Realising very early the fact of his indigence and economic vulnerability, because he was paid a paltry sum as salary, the Awujale narrates in Chapter Five, how he had to set up businesses to maintain himself and his family. In no time, he had become a major entrepreneur, owning as many as 50 trailers involved in haulage and transportation and he was able to train his siblings and set up his mother as a major distributor of beer and soft drinks. His business commitments were strongly criticized among the people, but Awujale had become a modernizing Oba willing to take on the challenges of an institution in transition.

His financial independence offered him an opportunity to be assertive against every attempt by military and political leaders to use his office for their own ends or denigrate it.  But what comes across clearly in his story is that leadership is a matter of character. There are interesting passages about Awujale's encounters and conflicts with other power centres determined by age, wealth or political authority. His relationship with Chief Obafemi Awolowo and other members of his political movement, Col Oluwole Rotimi as Governor of the Western Region, Chief Bisi Onabanjo as Governor of Ogun State, General Ibrahim Babangida, Chief Ernest Shonekan, General Sani Abacha, and President Olusegun Obasanjo are potentially explosive episodes in this narrative. The Awujale comes across as a man who is acutely aware of the traditional sovereignty of his office and is willing to protect it. The conflict between traditional and modern authority as a central theme in his narrative should be of further research interest.  
In describing the travails of the traditional institution, he makes a strong case for its continuing relevance. Through his own example and that of others, Awujale demonstrates how traditional rulers can serve as agents of political stability. He however opposes the idea of a National Council of Traditional Rulers, recommending that a special bureaucracy is not necessary. I agree. Throughout, he use the word "aafin" instead of palace, and he insists that he is neither a Royal majesty or Highness but "Alaiyeluwa- a conservative radical to the core. This is a cleverly written book, in which the author takes time out to settle scores, to set records straight from his own perspective and to write testimonials on historical personages.
He portrays the two Odutola brothers as misers, Awolowo as arrogant and inflexible, Olabisi Onabanjo as an ingrate, twice Obasanjo is described as a Judas (p. 174 and p. 181), MKO Abiola as vain (p. 130), Oladipo Diya as a prodigal, Awujale says "he was an Ijebu man" (p. 127) but in subsequent pages, he balances it all out by identifying the positive sides of the same persons that he had dismissed, almost in the same measure in which he carefully identifies all the Ijebu sons and daughters and his own relations who have supported his obaship in the last 50 years.  The author tries to be the father of all as his office requires, but although he says he avoids partisan politics, it is obvious enough that this is a monarch who enjoys politicking, and who does not forget a hurt easily. He wants the Yewa to be Ogun Governor, and he wants an Ijebu state too! His prejudices are not so cleverly disguised after all especially in his commentaries on the Odutola brothers, Olabisi Onabanjo, Awolowo and Obasanjo/Mike Adenuga; the good news is that his damning submissions will be hard to ignore. 
The insights he offers into traditional administration and in particular the organized nature of the Ijebu traditional system, and his argument about how this is a superior form of democracy is most refreshing and informative. He is totally frank about his private life, documenting his affinities and differences with his own brother, Supo Adetona openly, his health problems, his relationships.  He also admits: "I think I am a better grandfather than a father (p.47)" Every sentence is well constructed; the writing is precise and accomplished.
There is a missing word in the last line on page 145; the spelling of government is wrong on page 153, line six, and on page 69, Justice Emmanuel Ayoola is referred to as "former head" of the Independent Corrupt Practices Commission (ICPC) whereas he is still in office. On page 118, we are told that the first meeting of Yoruba obas summoned by the colonial authorities included the Oba of Benin. Was the Oba of Benin a Yoruba Oba as at 1937; if so, why the story telling by Egharevba and Igbafe? As expected, traditional flavour and parables characterize this story, but the Awujale's passion for the reform of the traditional institution comes through strongly. His effort is commendable but his story is only one side of his own story. He should know that.   
Disclaimer:

"The views/contents expressed in this article are the sole responsibility of the author(s) and do not necessarily reflect those of The Nigerian Voice. The Nigerian Voice will not be responsible or liable for any inaccurate or incorrect statements contained in this article."
Articles by thewillnigeria.com