Dee Obashagwu, In Your Death a Golden Heart Stopped Beating
An Iroko Tree Has Fallen In Ofodim, Umuneke, Ugiri, Mbano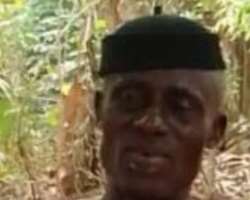 Dee Amaku, if one had told me that I would be saying adieu to you at this time I would not have believed. How could I have thought about this sorrow? You told me the last time we spoke – and to all that called you - with an assuring strong voice that nothing would happen to you. So, when the news of your death came, it shockingly broke the hearts of your loved ones into pieces.
If only I knew that 2019 December would be my last time of seeing you, and I'm equally convinced too that if those that came for the burial of your brother, Dee Levi, who saw you had also known that they would not be seeing you again, I am quite sure that we all would have reacted differently, but death is an inevitable entity that comes like a thief, and no one knows the hour.
You were a man many loved and cherished so much. I have memories with you that I will continue to treasure till eternity. The first jeans T-shirt I wore in my life as a little boy which was given to me by you was one of those unforgettable memories.
You were an epitome of integrity and you were full of wisdom. Every land you stepped your foot on and all the people you met while alive are all confessing and saying that you were a symbol of unity and a man of peace personified. Your generosity and compassion are second to none. The way you had comported and mediated when there were conflicts, the wise words you used and the peace you brought or the hope you gave even in situations that had seemed helpless speak volume of how highly intelligent you were, and I proudly consider myself privileged to have been your nephew. You are a gem.
Indeed, an iroko tree has fallen in Anusie's family, and in your death a golden heart stopped beating in Umuneke.
Dee Amaku, if wailing and tears can bring back the dead, I am very optimistic that you would not be in that isolated cold room right now. It is exceedingly very difficult for all of us to say goodbye, but we are sadly compelled by nature - knowing that this is the last time the opportunity has availed itself - to do so in respect. We are very sorry that our efforts were not enough to keep you alive. "And we know that for those who love God all things work together for good, for those who are called according to his purpose," Romans 8:28. Who are we to question Him? As we cry here angels in heaven rejoice for what we lost they gained. Therefore, as it pleases God to break our hearts for you to have eternal rest it also pleases our souls, but we are just only human.
I have thought deeply about you, your character and personality and it is so difficult to find the right words compassing enough to describe you adequately. Oh death, where is thy sting? Dee Amaku, you were welcoming, tolerant, caring, open and intelligent. After the demise of your brother Dee Levi you were the only iroko tree shading Anusie's family and the vacuum your death has created cannot be taken or be filled satisfactorily by anyone.
Certainly, a very big iroko tree has fallen in Ofodim, Umuneke and a golden heart has stopped beating in Isiala Mbano, Imo State, and we are in pains.
In this time of our adversity, this my piece is not just only a tribute to my late respected uncle but also to awaken our consciousness that whatever we sow we must reap. Consequently, as we pray for God to give us the strength to overcome this irreparable loss, and for Him to guide our thoughts, words and actions, it is proportionately very important to ask ourselves this pertinent question today; how many of us will be remembered like we have remembered Dee Amaku when we are no more?
Remember that the things of this world are vanity. "For what shall it profit a man, if he shall gain the whole world, but lose his soul?" Mark 8:36. Therefore, let us dry our tears and let this song below be on our lips and let our actions and deeds be a reflection of the song for the sake of eternal life.
"Nearer to thee nearer to thee Lord
"Draw me nearer nearer to thee Oh
"My songs everyday Father nearer to thee
"Draw me nearer nearer to thee …"
Dee Amaku, people are in tears, we have missed you. Ga ijegi nkeoma dedem – Farewell! We will meet at the appointed time in heaven where there will be no more sorrow and pains.
Ijeoma, ijeoma, ijeoma! Goodbye dedem!
Disclaimer:

"The views/contents expressed in this article are the sole responsibility of

Uzoma Ahamefule

and do not necessarily reflect those of The Nigerian Voice. The Nigerian Voice will not be responsible or liable for any inaccurate or incorrect statements contained in this article."