Adaora Ukoh, actress and TV host now Activist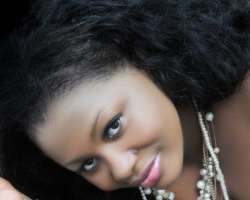 Nollywood diva, actress and TV host, Adaora Ukoh joined the Rhema Women's empowerment program last Saturday; 20th June 2010, in London to motivate vulnerable women from minority groups as they faced the daily challenge of life in the UK.
Still on vacation in London, Adaora Ukoh was invited by the Rhema Women's empowerment group Director; Christine Shepherd to grace this occasion. Mrs Shepherd said that "We invited Ms Adaora Ukoh to grace talk to our women because she has successfully portrayed through her film roles the kind of women we deal with daily." That is why Adaora Ukoh has been chosen as the face for Rhema Group Africa.
Speaking at the Rhema center on Saturday, Adaora Ukoh said how grateful she was for the opportunity to put her name to such a worthy cause. "It is customary for women to go to extreme lengths to make their home lives comfortable and this sometimes includes silence on the financial and emotional difficulties they face at home. I can only imagine how more difficult it is in a society where your loved ones are hundreds of kilometres away" said Adaora Ukoh.
The Rhema Women's empowerment group is one of the UN-sponsored charities that is working towards the United Nations' endpoverty2015. This is following the historic promise 189 world leaders made at the UN Millennium summit in 2000 when they signed the millennium Declaration and agreed to set clear deadlines to meet to improve the lives of the world's poorest people.
The Director of the Rhema Women's empowerment group, Mrs Christine Shepherd expressed how impressed and honoured she was by the commitment Ms Adaora Ukoh had shown to the cause in such a short period of time and said she looked forward to a "long and highly beneficial partnership with Ms Adaora Ukoh and the Rhema group."