Nakande Declares For Senate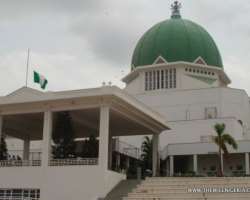 JOS, July 04, (THEWILL) - Former Minister of State for Information and Communications, Alhaji Ibrahim Dasuki Nakande, has declared his intention to run for the Plateau North Senatorial seat in the 2011 elections.
Nakande, who made this known in a statement, said the idea of representation at the national level has to be well captured in a way that will make meaning to the ordinary people hence his offer to contest and serve the people.
He said his coming out to contest should be viewed purely form the point of service and appealed to the people of the zone to demonstrate their willingness to come out of stagnation by identifying with and supporting him in his zest to serve them.
He confirmed he will be contesting on the platform of the PDP.
The former minister expressed happiness with the current trend in Nigerian politics where merit is placed above other considerations adding that the cosmopolitan setting of the zone he is out to serve gives him confidence that his ambition would be placed in the right perspective.
He urged all to continue to support the effort towards attaining peace and security in the state saying without peace no meaningful development can occur.