I WANT MY ORGAN BACK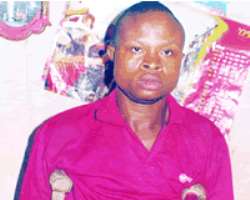 Francis
'The day was indeed black. It was on May 27, 2005, a day when children all over the world were celebrating. That day, a daredevil hit and run driver visited me, a visit that has left me urinating with the aid of pipe.'
That was the lamentation of Ogwashi Ukwu, Delta State-born Frank Ememifeozor who uses pipe to pass out urine following internal injuries he sustained in Lagos. Really, the day will ever remain black in his memory because it was on that day that what appears to be partial incapacitation started in his life
Unconscious
Frank, who hails from Ogbeishago village in Ogwashi Ukwu, Anioma Local Government Area, Delta State, was hit by a reckless and fast moving bus driver around Costain in Lagos, leaving him unconscious for three days. He woke up at the General Hospital in Marina where a good Nigerian woman had rushed him to after the accident. This was when doctors had battled for three days to save his life. In the end, he was left with a broken leg and a punctured urethra. By this development, he was told that he could no longer urinate through his penis without an aid.
So, the doctor then fixed a catheter (a pipe) on him so that he could be urinating through it pending when the urinary tract operation is carried out on him. Recalling the doctor's statement, he said: ' After series of tests had been conducted on me, the doctor said I had internal bleeding because my urinary pipe was cut and I would require a urinary tract operation before I could pass urine with my penis.
Delicate,expensive operation
'I was referred to Lagos State University Teaching Hospital (LASUTH) where facilities for the urinary tract operation are available but after the operation, doctors told me that I still needed to undergo some other major operations before the problem would be properly corrected so that I can use my penis to pass urine like before and I was told that the operation would cost about N1.5m excluding other miscellaneous expenses.'
He said that since after the initial admission in the General Hospital, Marina, he has been going there every three weeks to change the catheter.
'Each time I go to the General Hospital Marina,' he said, 'I spend N3, 500 to change the catheter. This is because without the catheter, I cannot urinate since my penis does not function again.'
Hard luck
He said the accident happened when he was going about looking for job. He had earlier in 2003 lost his wife to a strange sickness because he could not afford to take her to hospital for proper treatment. This, according him made him swore to find a good paying job and it was while he was searching for the job that a fast moving bus came from his back and knocked him down leaving him with a punctured urethra and a fractured right leg.
Frank would also require an orthopaedic surgery to get his right leg in good shape. That, according doctors at the National Orthopaedic Hospital, Igbobi, Lagos would also cost about N500.
To compound his problem, he became homeless after he was discharged from the hospital.
He said, 'While I was in the hospital, my landlord sold the house where I lived before the accident. The new people that bought the house threw my things outside because there was nobody to pay the rent again.
'I slept outside for three months under the rain before help came through friends who I'm now squatting with.'
Frank, who is an orphan, said that his only younger sister spent all her life savings fighting to save his life.
'My parents are dead. I am an orphan. I have a younger sister who is the only person that was attending to me when I was in the hospital. She has spent all she saved for this my problem and it is still not over. She lives in Lagos, but right now, she has no job.She is also searching for job,' he lamented.
Cry for help
At present, he needs the assistance of philanthropic individuals, corporate organizations, government particularly Delta State government and even international donor agencies to be able to carry out both urinary and orthopaedic surgeries. He also needs money to sustain the changing of the catheter pending when he is able to raise the money for full operation. Changing of the catheter costs him N3, 500 every three weeks. He is equally relying on the magnanimity of Nigerians to continue to maintain the change of the pipe until he goes for the main operation.
'Now, I am calling on Nigerians, corporate organizations, Delta State government and every philanthropic individual to come to my aid so that I can use my penis again. I want to get well, get a job, get married and raise children like other people. I once married but my wife died in 2003.
'I am equally appealing to Nigerians to assist me in changing the catheter as it costs me N3, 500 every three weeks and I don't have any job now. In short, I am leaving on the bills of some of my friends.'
All donations should be made to:
Account name: Francis Ememifeozor
Bank: UBA Bode Thomas
Type of account: Savings
Account number: 00800520163650
Or
Account name: Francis Ememifeozor
Bank: Diamond, Bode Thomas
Type of account: Savings
Account number:0511060007009